Scooter
breed: 1997 chestnut Arab gelding
registered name: Padrons Secret
type of rescue: Pierce County Animal Control seizure
intake date: 2/17/2012
adoption date: 6/18/2012
length of time with SAFE: 4 months
ADOPTED by Lorinda
In February 2012, SAFE was contacted by Pierce County Animal Control about 16 horses seized from an Arabian breeder the previous November. SAFE rallied to the call for help, agreeing to take five of the horses, including two stallions. What we did not know at the time was just how difficult those two stallions would prove to be. We made arrangements to transport them directly to Northwest Equine Stewardship Center (NWESC) where they could be safely housed until they were stable enough for gelding. Upon their arrival, however, Dr. Hannah Evergreen immediately determined gelding these two absolutely could not wait. They were extremely aggressive and "studish" towards humans and horses, having lived out their lives in extreme isolation and handled only for breeding. So much so that it was initially only safe for Dr. Hannah to handle them. Hannah personally handled their daily post-gelding forced exercise and worked with them on basic ground manners.
SAFE takes the safety of our volunteers and potential adopters seriously. If we feel a horse is a danger to itself, other horses, or to people, we will opt to humanely euthanize the animal rather than risk injury. In this case, since Dr. Hannah felt confident handling Scooter and Oscar, we agreed to give Scooter and Oscar 30 days to see whether gelding them would turn them into manageable horses.
Scooter was a challenging case and his path to rehabilitation was not nearly as clearly defined as Oscar's. Not only had his difficult behavior persisted, he wasn't sound. Adding to that, his age (15), and lack of socialization made him a poor candidate as even a companion horse. We felt we were running out of options for Scooter and that a difficult decision might have to be made soon. The board discussed and debated how to move forward with Scooter. As rescuers, we face a lot of difficult decisions but the decision to let a horse go is, by far, the most difficult.
It was about this time that we received a phone call from NWESC. One of their volunteers had a friend with a lifetime of experience handling Arabians and Morgans, including difficult to handle stallions. Lorinda had heard about Scooter and wanted to meet him. After spending time handling him, Lorinda felt a great connection with this horse, who reminded her quite a lot of a stallion she trained in the past. Lorinda loves a challenge and she decided that she and Scooter could be a very good match. She came to us with several great ideas to combat his soundness issues and to establish his trust in order to improve his behavior. And best of all, Scooter seemed equally amenable to this new relationship, and responded very positively to Lorinda.
And so we began the adoption process, all the while marveling that we'd been so close to making the decision to euthanize this horse and now we were sending him off to a wonderful and safe new home. Lorinda was able to treat his soundness issues and give Scooter a future as a saddle horse.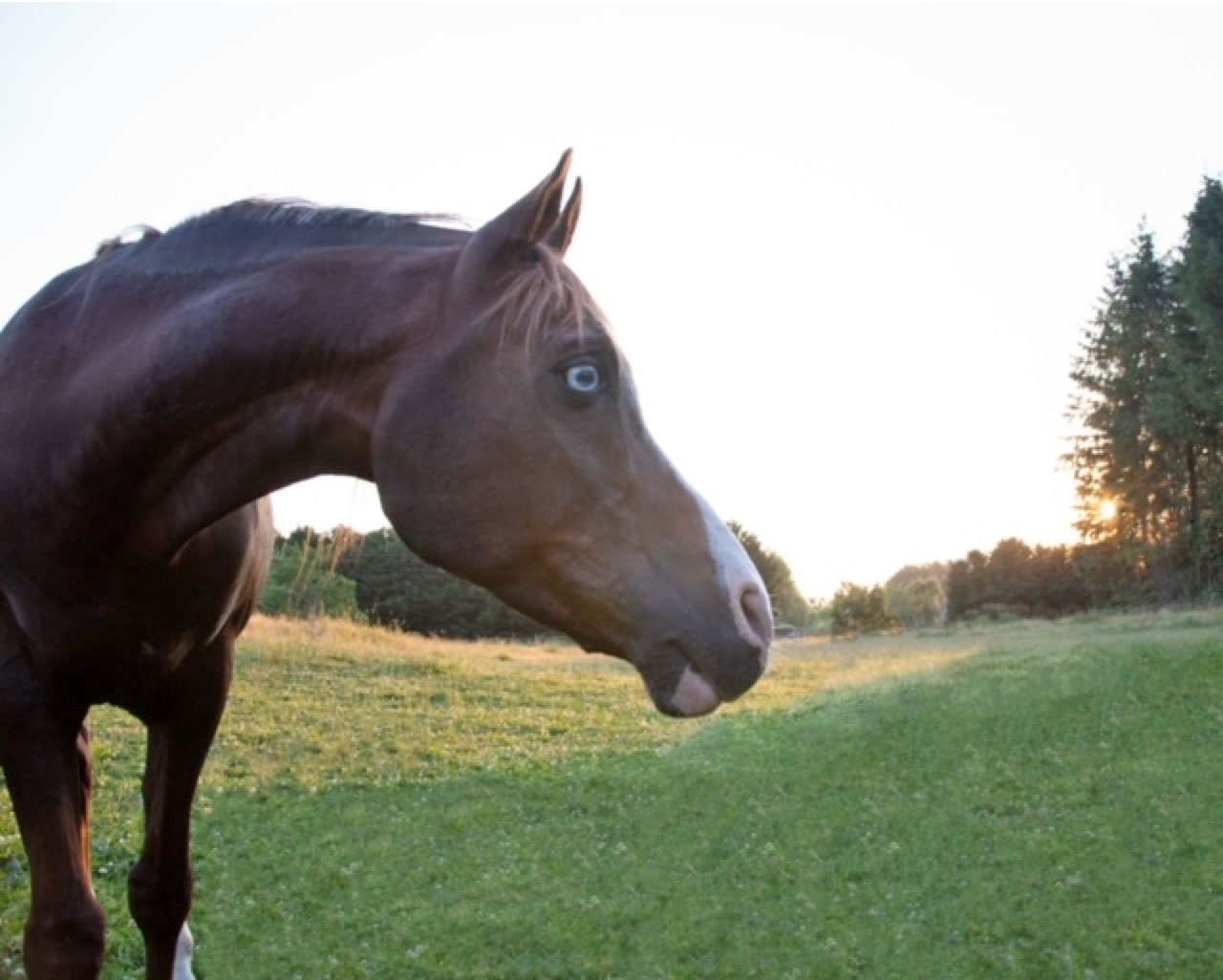 Scooter came to SAFE early in 2012 as part of a group of Arabian horses seized by Animal Control after terrible neglect. Scooter was one of two stallions in the group (the other being Oscar) and the information SAFE was given about these two in particular was horrifying. They were both 15 years old, and had been used in a breeding program. They were found locked in tiny pens, standing on concrete pads and isolated from other horses. All of the seized horses were thin and filthy. It was truly a tragic situation.
In 2012, SAFE was a much different organization than the one we are now. We saved and rehabbed plenty of horses and found good homes for them. But we didn't have much of a training program, and when it came to challenging horses like Scooter and Oscar, we were often out of our depth. Plainly speaking, we didn't know what to do with these two. They were untrained, unruly, difficult to handle, and rather intimidating to be around. All they really knew how to do is breed mares, which made them dangerous. And at age 15, we weren't sure that gelding them would change their behavior much if at all. We did not have a lot of experience with horses like these, and we were afraid that someone could get hurt by one of them. I have to admit that we considered humane euthanasia as a possible solution to this problem.
SPOILER ALERT: We didn't euthanize either of these horses.
With the help of Dr Hannah Mueller, who took them in at her clinic and worked with them before and after their gelding surgeries, both Scooter and Oscar had their lives transformed for the better. Oscar was the easier of the too, and was successfully started under saddle by dressage trainer Andrea Lucianna and adopted some time later. These days he's retired from riding, but still living his best life as a gelding with his adopter Vickie and her other horses.
Scooter proved to be much more of a challenge. Even as a gelding, his difficult behavior persisted, and he wasn't completely sound. His lack of socialization during his life as a breeding stallion made it difficult for him to behave around other horses, so we weren't sure we could even place him as a companion horse.
That's when Lorinda entered the picture. She was introduced to SAFE and Scooter by someone who knew that she had lots of experience training horses, especially difficult and challenging ones. When she met Scooter, he reminded her of another stallion she'd known, and the two seemed to make an immediate connection. Lorinda was up for a challenge, and as we got to know her better, it was clear that she had the ability to help this horse, and a good plan in place to help him through his issues. So Scooter was adopted, renamed Pistol, and his new life began.
Over the nine years that Lorinda and Pistol were together, we got amazing updates on his progress. As his testosterone ebbed, he became easier to handle and Lorinda was riding him successfully within months of his adoption. Later we were treated to photos of him happily being ridden bareback, and being led around by small children. In the herd, he was the low man on the totem pole, so he got along great with other horses. As he got healthier and fitter, his resemblance to his famous sire Padron become more obvious. And the relaxation and happiness in his eyes were unmistakable.
Several weeks ago, we received the sad news from Lorinda that Pistol was gone. He'd broken his shoulder while playing in his field and had to be humanely euthanized. It's devastating when a horse leaves this world too soon, but knowing that he had nine years in which he was cared for and respected and loved eases the hurt a little. SAFE will always be grateful to Lorinda for taking him in and taking him on and giving him that gift. She shared these beautiful photos taken not long before Pistol passed away, and at age 25, he was still a very handsome and vibrant horse.