Sparky
SEX:
gelding
BREED:
miniature donkey
REGISTERED NAME:
none
INTAKE DATE:
5/13/22
COLOR: grey and white
MARKINGS:
YOB: 2011
AGE: 11 yrs old
HEIGHT: 8.2 HH
WEIGHT: 315 lbs
LOCATION: foster
ADOPTION FEE: TBD
Online Adoption Application
SAFE's first miniature donkey, "El Burro Esparkalo," or Sparky for short, is an 11 year old gelding who was seized by animal control. We don't know much about his past, but boy he really is a sweetie. He had a body condition score of 9, so he we put him on a diet and exercise regime, having volunteers walk him throughout the day. His hooves were also very overgrown, and a previous founder left him with some significant rotation (11%), so we worked on getting him back on properly cared for feet. We would challenge anyone to meet this sweet little man and not fall instantly head over hooves for him. He currently is living the good life at foster, making friends (with another donkey, horses, dogs and goats!) eating (and grazing with a grazing muzzle!) and just being a donkey. Sparky will continue to make appearances at SAFE for events. He loves attention and scratches from people and is a perfect ambassador for SAFE.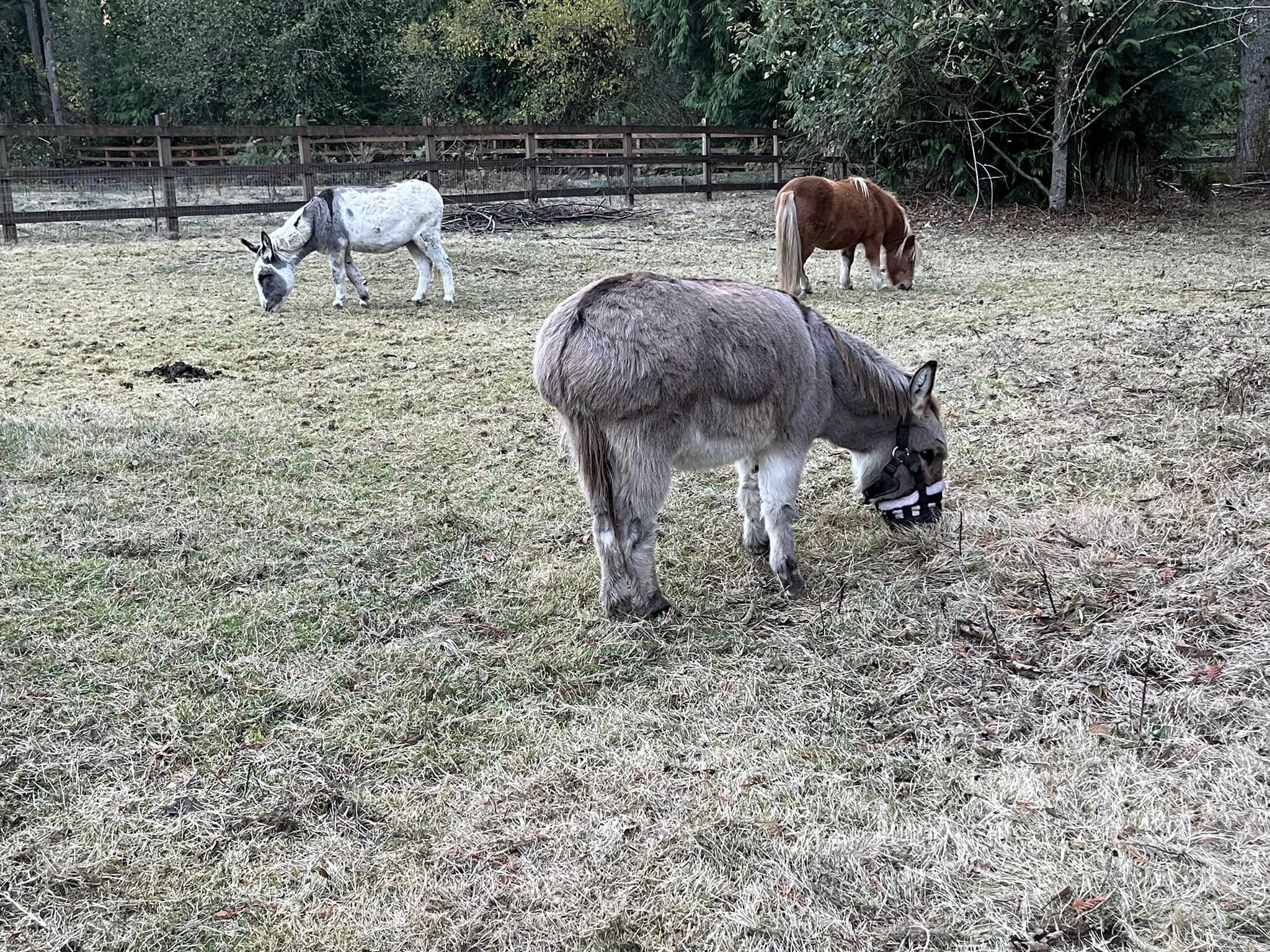 Since Sparky arrived last May, we've tried pairing him with a few friends for company. At first it was Ruckus, a pony, but he was adopted shortly after we paired them up. Then we tried our minis, Sunny and Shasta, but they had their routines and little home and decided they weren't keen on sharing it with the new guy just yet. Sebastian was the first horse we introduced, because of his gentle nature and easy going attitude, we were hopeful, but the two just seemed to ignore each other.
Then one of our long term fosters (and volunteers!) offered her home as an option. Jackie has horses, ponies, dogs, goats and most importantly, another donkey. So Sparky headed to Slacker Camp, as Jackie calls it, to search for a friend and a little more fun.
When Sparky first stepped off the trailer and towards his new life, Odie the donkey, let out a huge HEE-HAW! Sparky's pace quickened and he let out a little squeak. The two met through the fence with no drama and now Sparky gets to spend his time with multiple friends. We all would be so lucky to live at Slacker Camp and just get to be ourselves, hanging out with friends, just eating and sleeping. Sparky will still make appearances for events, he really seems to enjoy the human interaction and scratches. In between his public appearances for SAFE he will get to live the good life at Slacker Camp, making the rest of us very jealous. A big thank you to Jackie for providing a loving and caring home for our little El Burro Esparkalo. We know he is in the most excellent (and fun!) hands.

Sparky's Friends:
1. Ann D.
2. Ashley F.
3. Lisa G.
4. Megan K.
5. Susanne M.
6. Debbie M.
7. _____________________
8. _____________________
9. _____________________
10._____________________
Every horse deserves at least ten friends! Even a small monthly donation can make a difference. Plus, SAFE horse sponsors receive discounts at local businesses through the SAFEkeepers program!