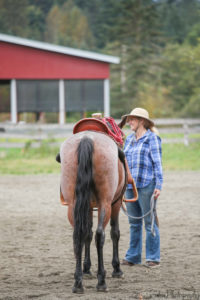 Asha recently completed her training with Nick Donahue and is back at SAFE. She had a slow start in training because she got a sinus infection before starting work and needed antibiotics to get rid of it. Once she was well, Nick took some time on the ground to help her accept the saddle and find more comfort with new things. Once Nick began riding her, she did very well with the work and they were able to ride both in and outside of the arena without trouble.
This very sensitive mare made her way into the hearts of a wonderful woman named Makia. She fell in love knowing that Asha was not quite ready for adoption but wanted to get to know her and learn the horsemanship work Asha had started learning with Nick. To help this bond grow and to allow Asha a little more training before adoption, we decided to move her home to Redmond and work with her and Makia for the next month.
Already Asha is settling and a few of the green horse issues are falling away as she matures as a riding horse. Makia comes out to work with her during the week and the pair is bonding and growing into a partnership can last. There are little things about green riding horses that just take a bit of time and experience. Asha is a very willing and smart mare who has a ton of try. Makia plans on finishing her bonding time at our November Joel Conner clinic and then take this sweet mare home! We are thrilled that this adoption is going well and that we are able to support them both during this transition time.