Cramer
2014 Draft Type gelding
Type of Rescue: Animal Control Surrender
Intake Date: 12/4/21
Adoption Date: 3/31/23
Length of Time with SAFE: 1 year 5 months
ADOPTED!! by Lauren and Bryan
Cramer
Cramer is a HUGE boy who arrived at SAFE in rough shape. His brands indicate that he was a rodeo bucking horse, but upon his arrival as an eight year old, he was basically unhandled. Cramer was part of a three horse seizure by Snohomish Animal Control, along with three-year old Otto who also came to SAFE and a third horse that went to our friends at Skagit Animals In Need (SAIN). Cramer arrived underweight and infested with lice. Once he regained his health, and we started working with him, we found him to be a smart, sweet, goofy boy who captured the hearts of many volunteers.
Today
Cramer now gets to live the good (retired) life with his new loving family which includes SAFE alumni, Phoenix, Denton (King), and Ruckus, a few cows and a sweet dog. His new family had recently lost one of their horses, also a SAFE alum and were looking to fill the horse shaped hole in their hearts. Lucky for us, they always come to SAFE, hoping to help another horse who needs a home. When Lauren met Cramer, she fell immediately in love. This gentle giant scored big and we are so happy for him and his forever home.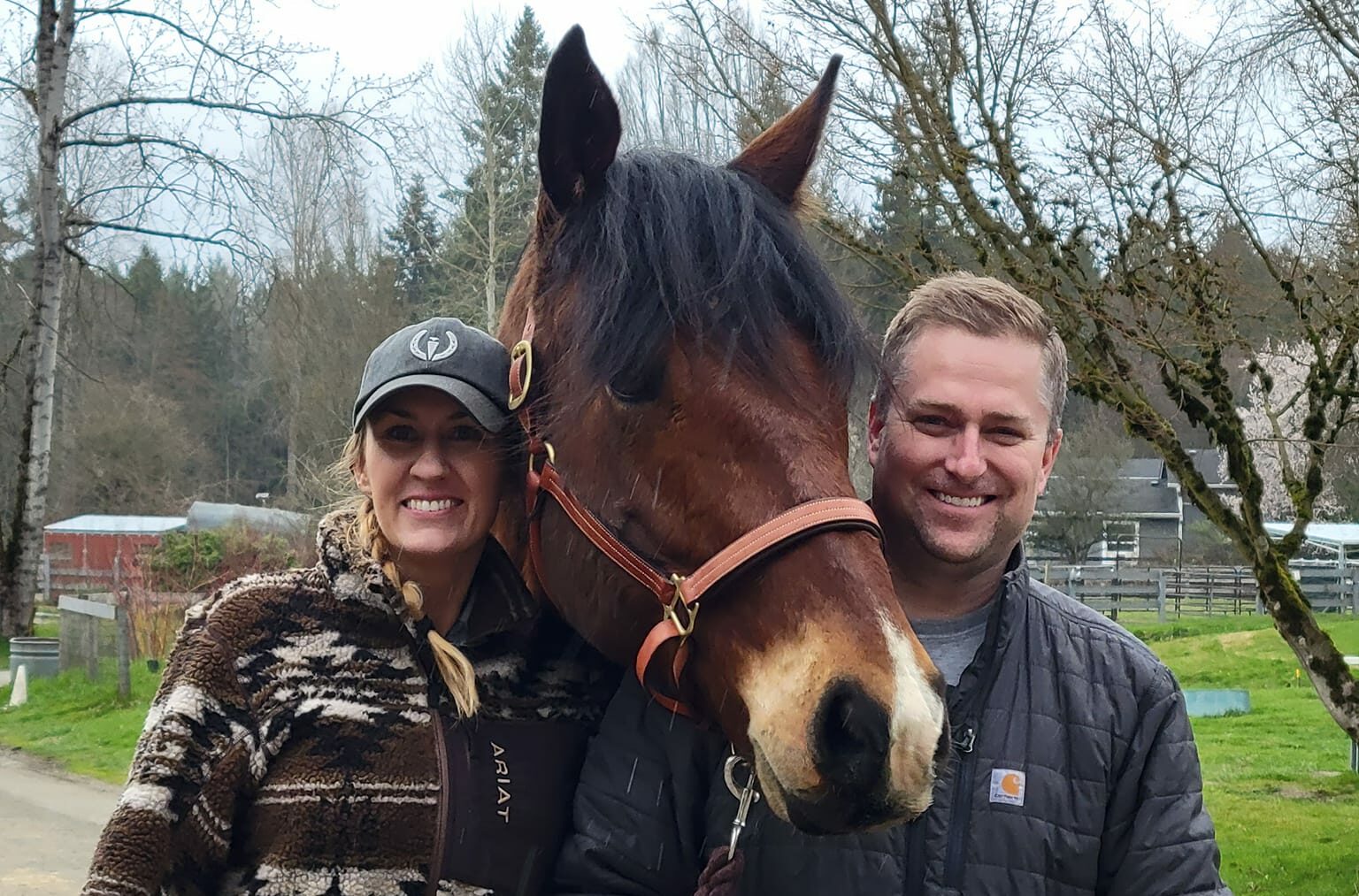 Once upon a time, there was a big bay horse. Before he came to SAFE, he had cut his teeth at the rodeo, used for years as a bucking horse. When his quarter ran out, he was relegated to a practice horse for people to hone their skills, and when his time there was done, he found himself bound for a feedlot.
The antagonist of this horse's story does not have a name we know, but there are unfortunately legions of the same type of villain – people who perhaps start out with good intentions, or who have never had them to begin with, but who end up with horses they cannot or should not have. The exact details of this part are unimportant; the precise way in which someone neglects the animals they take under their care are for police reports and nightmares, but what is important is the fact that because he was discarded by someone, this big horse came to SAFE.
We called him Cramer. When he stepped off the trailer, despite his hollowed back and his exposed ribs, it still felt as though he shook the ground. Such a big horse – an unknown quantity at that – cannot help but have a certain intimidating quality.
But as his uncertainty melted away, and his knowledge and belly grew, we found ourselves in possession of a true gentle giant. He went from not being able to be haltered, from reacting to fearful stimuli by spinning a quick 180, from needing significant management when being led around the property, to a horse who could teach beginners the basics of groundwork, who melted like butter in the hands of his groomers, who came into a stall at night. This ex-bucking horse was ready for an easy retirement.
Cramer's happy ending begins with a tragedy – a family had lost a member. All of the horses in this family had come from SAFE, and the loss of one of their own had left a horse-sized hole in their hearts. So one afternoon, the family's mother, Lauren, came to meet some potential new family members.
With Cramer, it was love at first sight.
And how could it not be? With his soft brown eyes and gentle demeanor, Cramer doesn't have to beg you to fall in love with him. At this point, he had been with us for over a year, had gone from a slightly wild rodeo king to a docile and well-educated equine citizen. His crown was still there, but worn in a different context. Lauren was enamored, and set plans in motion to give this handsome guy his storybook ending.
Not too long after their first meeting, and following a few other dates, a day came where an empty trailer pulled into SAFE's parking lot. Cramer had a one-way ticket home with Lauren and Bryan, and the party of two who arrived left as a party of three.
Now, a month later, all continues to go well. Cramer is fitting in with his new herd, which includes alumni Phoenix, Denton (King), and Ruckus, as well as some cows and a very sweet dog. And while Cramer's story isn't over, his chapter at SAFE is.