Cramer
SEX:
gelding
BREED: Draft Cross

REGISTERED NAME:
none
INTAKE DATE:
12/4/21
COLOR: bay
MARKINGS: star, snip, RH pastern, LH sock
YOB: 2014
AGE: 8
HEIGHT:
WEIGHT:
LOCATION: Redmond, WA
ADOPTION FEE: TBD
Online Adoption Application
Cramer is a HUGE boy who arrived at SAFE in rough shape. He is believed to have been a bucking horse in rodeos and at 8 years old was still unhandled. The staff got right to work getting him used to people by finding his favorite spot to be scratched. Cramer was part of a 3 horse seizure from Snohomish Animal Control. Another young 3‑year-old horse, Otto came to SAFE a few days after Cramer, while the third horse went to our friends at Snohomish Animals In Need (SAIN). Both horses needed to be brought up to a healthy weight and were infested with lice. Now lice free and looking better, we look forward to getting to know this gentle giant.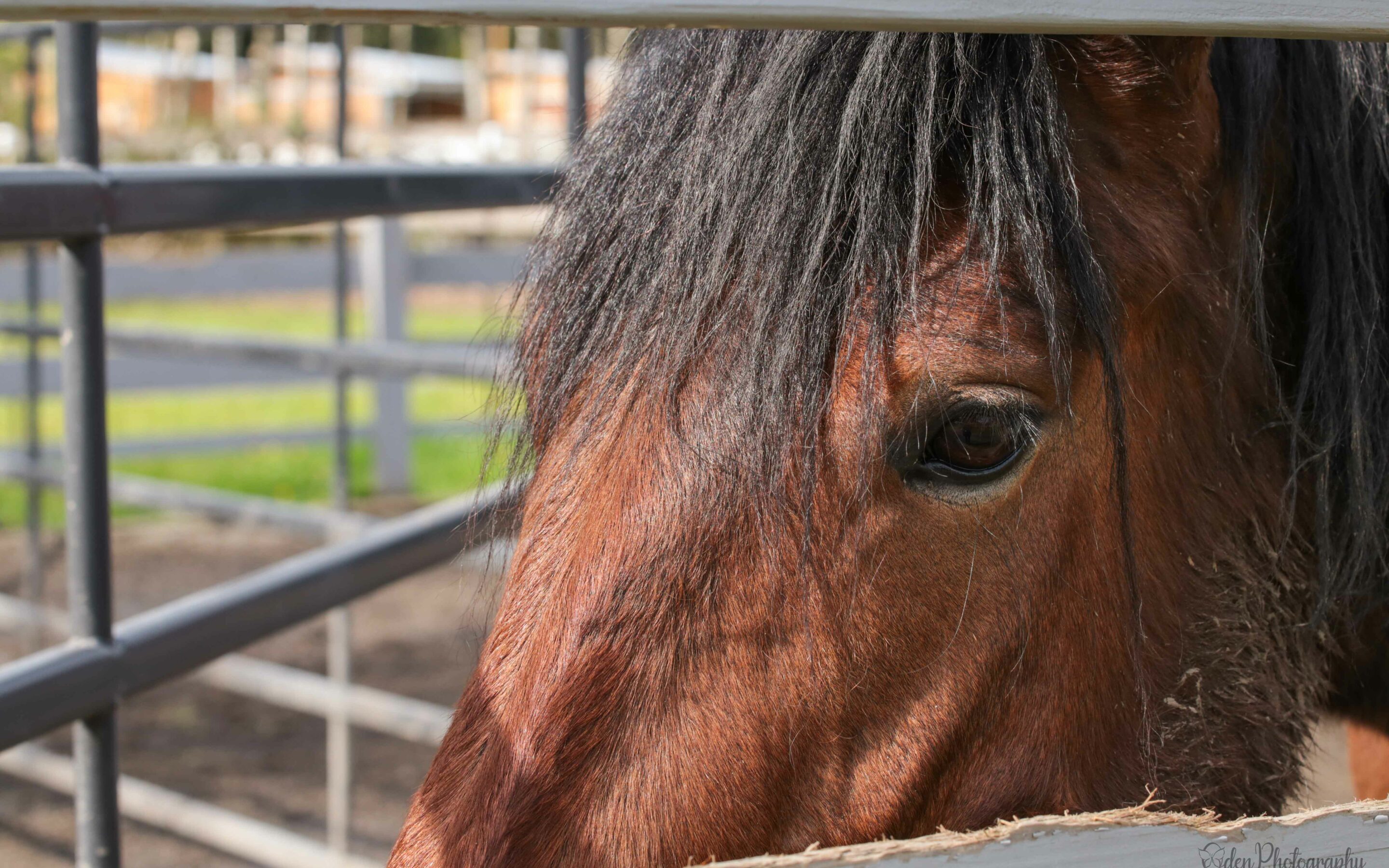 Cramer's trouble is that he was improperly halter started in the past or never was taught to come with the handler. He was likely pulled on in an attempt to lead. Evidence of this is in his confusion and "stuck feet" especially when outside energy is raised. You can manage fairly well around him when it is all his idea, but when we add any element that he is unsure about, his initial reaction is to turn and run. While that clearly worked in the past, Cramer is now learning to keep his mind with the handlers and not to "cut and run." This is a hard habit to break, but when it is worked out he will be leading correctly, respectful of the lead and choosing to stay with the handler.
Goals for Cramer in the weeks to come:
Working on less overreaction to outside energy. Less confusion about things like the rope or the flag that don't "mean anything" unless the handler's feel says they have meaning.

Continued work on Cramer's attention to the handler. Helping set up ways for him to search out more connections with her while she works with him. This too will help with his "overreactions."

Not plateauing: working to get more exposure to things that will help bring "the trouble to the surface." Just helping bring him to acceptance by closing the bind (place he feels uncomfortable) just slightly and giving as he turns loose. As a domestic horse, he will be asked for the rest of his life to be ok with things that might not all the way feel comfortable to him. We are helping him feel free in his feet to know that he is not stuck and when given this freedom of his feet he can choose to stay with us without being braced and anxious. It is a beautiful thing to watch: a horse who comes into SAFE so stuck in their feet, finding freedom. Their bodies turning loose, and in turn losing the anxiety they were holding in all interactions with humans before coming to us.

Cramer's Friends:
1. Sean C.
2. Amy Q.
3. Jean E.
4. Jennifer M.
5. Susan C.
6. _____________________
7. _____________________
8. _____________________
9. _____________________
10._____________________
Every horse deserves at least ten friends! Even a small monthly donation can make a difference. Plus, SAFE horse sponsors receive discounts at local businesses through the SAFEkeepers program!