Ruckus
breed: 2012 black Miniature Horse
type of rescue: owner surrender
intake date: 10/7/2016
adoption date: 4/8/2017
length of time with SAFE: 6 months
ADOPTED!

Ruckus was one of five horses surrendered to SAFE after their owner passed away unexpectedly. He and his friends came to SAFE in good health but with very uncertain futures. Ruckus quickly became a volunteer favorite, and we delighted in the way this tiny horse conducted himself among his much larger herd mates, each of whom clearly adored him. Ruckus was especially close with Prince. The two horses shared a stall and run at our Woodinville home and got along wonderfully. When we were contacted by a family looking for a companion for their retired racehorse, The Great Face, we immediately knew that Ruckus was the perfect little man for the job. Ruckus and Aurie spend all their time together, and are very happy! His new family reports "Ruckus is definitely a permanent member of our family and we just love him. And he and Aurie are the cutest pair together and already best friends."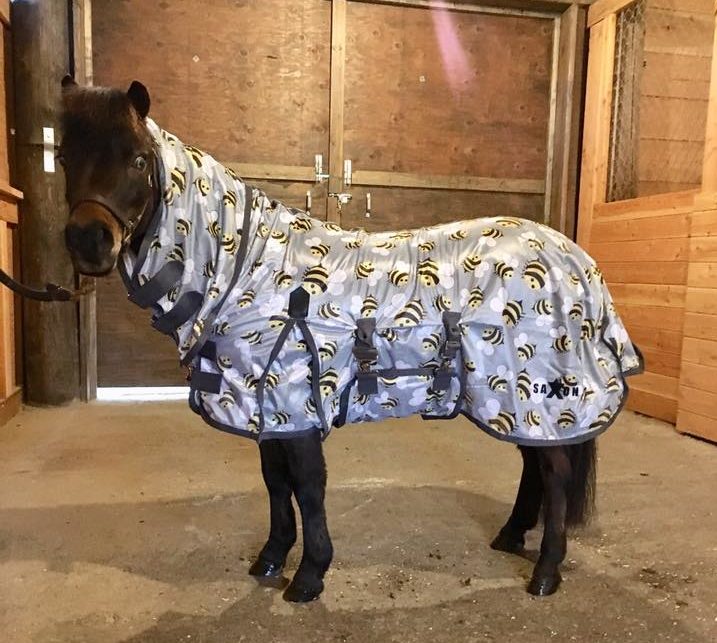 another brilliant update from Ruckus' family:
Hello hello,
Here are some pics of Ruckus is his big boy bridle driving and also with his new fly sheet for this season with the cutest bee print ever 😂 We are calling it the "Busy Bee" very fitting for little man Rucky. He's done super driving at the walk and jog, I hope to get him cantering once I get him a little more developed on the lunge line so I can collect him a bit. But he should be ready to drive in the big arena soon! He seems to like it, he was very natural at it.
Enjoy!