Ruckus
SEX:
gelding
BREED:
Pony
REGISTERED NAME:
none
INTAKE DATE:
5/11/2022
COLOR: black
MARKINGS: blue eyes
YOB: 2012
AGE: 10 yrs old
HEIGHT: 10 HH
WEIGHT: 450lbs
LOCATION: Redmond, WA
ADOPTION FEE: TBD
Online Adoption Application
Ruckus was one of five horses surrendered to SAFE after their owner passed away unexpectedly. He and his friends came to SAFE in good health but with very uncertain futures. Ruckus quickly became a volunteer favorite, and we delighted in the way this tiny horse conducted himself among his much larger herd mates, each of whom clearly adored him. Ruckus was especially close with Prince. The two horses shared a stall and run at our Woodinville home and got along wonderfully.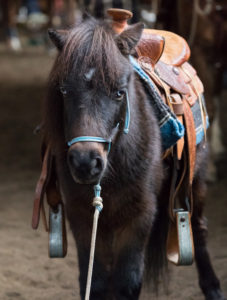 SAFE's volunteer riders and their horses spent last weekend working with Joel Conner. Here's a report from Terry about her session with Ruckus:
When I found out SAFE was getting another mini, I thought we would be thinking of him as a companion only. Sunny and Shasta are the only minis I had ever worked with and they are SO tiny. But when I met Ruckus, he was totally different…he stands at 10 hands and weighs 400 pounds and acts more like a horse than a mini. I thought maybe we should see how he would do in the groundwork clinic with Joel.
So there I was with my little buddy standing at my side in the arena with 11 large horses towering around us, thinking what the heck did I get us into? To my complete surprise Ruckus was a ROCK STAR!! I took things slow since I had done nothing with him to prepare with him for the class, we were literally starting at day 1! I would offer him the "good deal", maybe have to turn up the ask just a little and he would respond. He was willing to go along with what I was asking of him with a good expression and little fuss. I was very surprised at how little I needed to ask for things like the back up off the halter knot to have him respond to my presence and light aid. The first day was a lot of information all at once, but we just took it in little bite size steps. He was a bit out of shape so I didn't ask for too much and while we has willing I could tell that he was taking in everything around him and his focus trailed off to the other horses frequently.
Joel helped me saddle Ruckus for the first time at SAFE. We were told that he had been saddled and ridden before but had no idea what he might act like now. He didn't even bat an eye! Super gentle about the whole endeavor. We worked for the remainder of the morning with the saddle on without any trouble. One of the things that Joel said Ruckus will needs to do really well if kids are going to ride him is be able to stop on the one rein. I spent a good amount of time on this Saturday morning and felt some good changes.
On the second day I realized something amazing: I was officially working with a little genius! He remembered everything we had been doing the day before and we were able to build way beyond what I thought we would be doing in just 2 sessions. Now when I reached for the rein to bend him, he was reaching back for me. Little Ruckus was doing things that some of the larger horses it takes weeks to accomplish. He was 100% more focused Sunday morning, looking to me for what to do next and where to move his feet. After just one try, he was doing the half circle exercise like a pro. Granted I am totally bragging on how great this little guy is but seriously IMPRESSED! We still need a little more work from right to left but with just a small correction he was figuring it out.
While he looks just CUTE AS A BUTTON in the kids saddle, he is not ready for a rider yet. I want to spend some time working on his stop and getting him a bit more in shape. We have a few very light adult volunteer riders that are willing to sit aboard when he is ready. Honestly, if I do my work right it should be a very uneventful pony ride! We will keep working at it and see what Ruckus tells us about this riding thing… He might just be the whole package: beauty, brains, and bravery!
Here are some photos Jessica took of us at the clinic. Enjoy!

Ruckus's Friends:
1. Tiffany L.
2. Jean E.
3. _____________________
4. _____________________
5. _____________________
6. _____________________
7. _____________________
8. _____________________
9. _____________________
10._____________________
Every horse deserves at least ten friends! Even a small monthly donation can make a difference. Plus, SAFE horse sponsors receive discounts at local businesses through the SAFEkeepers program!