Mina
description: 2014 dark bay Warmblood cross mare
type of rescue: Owner surrender
intake date: 4/4/2018
adoption date: 6/5/2020
length of time with SAFE: 2 years, 2 months
ADOPTED by Elissa!
Mina is a lovely big bodied mare who was surrendered to SAFE by her owner who could not care for her. Mina came to SAFE pregnant and gave birth to a healthy filly on November 1, 2018. After her filly was weaned, Mina underwent surgery to repair a hernia. She was then sent to trainer Nick Donohue to be started under saddle, where she had a fabulous start. In June 2020, Mina was adopted by Elissa and we look forward to seeing what this pair can do together!
All SAFE horses are adopted with a no-breeding clause, no exceptions.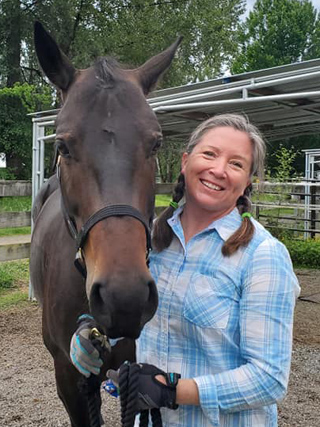 Our big sweet mama mare Mina has found a lovely home with Elissa! This young mare has a ton of potential but finding the right fit for a green horse takes time. When Elissa came to meet Mina, everything lined up! She is a very capable rider who can help Mina bridge the gap between inexperienced riding horse to seasoned pro. SAFE is grateful that Elissa looked to a rescue for her next horse.
Mina's story really highlights the mission of SAFE. She had a crummy start to life; not even halter started, young, pregnant and with a sizeable untreated hernia, she was on a path that's future was bleak. Through the medical care and training she was able to receive at SAFE, she has a hopeful future. Mina was given a foundation that will keep her protected and ensure that she will never be tossed away again.
It is families like Elissa's that make this work so rewarding. They see the value in Mina and are excited to be her care takers for this next chapter of her life. Between us…I would love to be adopted into this family! Mina has a beautiful place to call home and most importantly a family that adores her!