Montana
SEX:
gelding
BREED:
Quarter Horse Paint
REGISTERED NAME:
unknown
INTAKE DATE:
9/24/21
COLOR: Dark Bay

&

White Pinto
MARKINGS: bald face, blue eyes
YOB: 2016
AGE: 6 yrs old
HEIGHT: 14.3 HH
WEIGHT:
LOCATION: Redmond, WA
ADOPTION FEE: TBD
Montana
and Darla were surrendered to SAFE by their owner, an elderly man who suffered a stroke and could no longer care for them. His family was able to successfully rehome his other horses, but Darla and Montana are both untrained and were at a greater risk of falling into bad situations. So SAFE agreed to take them on so they can benefit from our horsemanship program.
Montana is a striking dark bay and white pinto, who was originally purchased as a yearling to be a riding horse, but they were unsuccessful at halter starting him. Now at 5, he is still quite unhandled, and very tentative about being approached. He will need a lot of patient work to be gentled and started under saddle, but fortunately he is quite good looking so we'll be able to enjoy his beauty as we work with him.
Being the beautiful horse that he is, we have received a lot of interest in Montana. SAFE makes a commitment to each horse to train and rehabilitate so when they pass through our gates they can go on to lead a bright future. We do not know a lot about Montana's previous experiences with people and will be starting him from the very beginning and going at a pace that meets his needs. To confirm him as a riding horse and then match him with his perfect home could take anywhere from 6 months to a year. We need to ensure he is a safe and sound riding partner before asking someone else to take over his care. At this time we are not taking applications for Montana, but we hope people follow his story through our website and visit him during our Open Houses.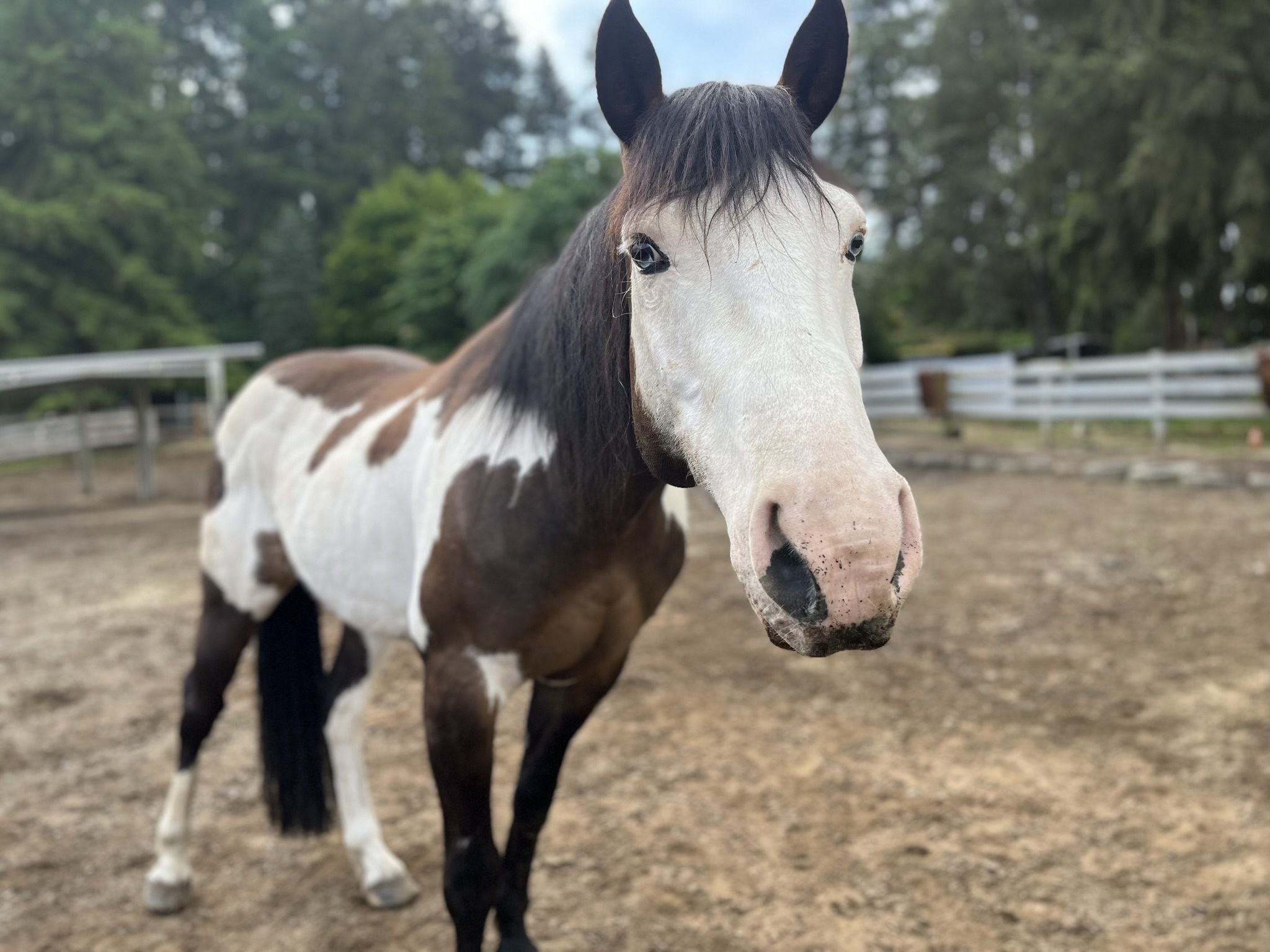 Montana is NOT a baby.
You wouldn't think he was, looking at him, but there's something about a sensitive guy like Montana that makes it so people's first inclination is to handle him with kid gloves. There's a hesitation when they go to pet him, and it's understandable why – his nervous snorts, the taut arch of his neck, the way he slides backwards when you draw near, all signs stylizing him as a wild horse from a hallmark movie, one who needs to be approached with a slowly extended hand and the promise of a human who really understands him.
But this feeling towards him does nothing to aid Montana's faith in us. Each time we hesitate around him we reinforce his uncertainties. So Lexee, who spends the most time with Montana as of late, helps remind us to treat him just like any old horse with the mantra, 'he's not a baby.'
Approaching Montana with a casual but determined air helps him learn that people aren't always going to be tiptoeing around him, and that's okay. That there is comfort in a pet that comes from the hand of someone with a big feel just as much as from someone more timid (also, being pet is a comfort, and will hopefully one day be felt as such). That he doesn't always need to react, react, react — that taking a moment to respond instead will ultimately result in a much happier future for him. Each time we walk up to Montana and treat him like he's bomb-proof, we manifest that for his future.
So next time you're thinking of hesitating for the sake of a horse like Montana, remind yourself that they're not a baby, and get in there to pet 'em!

Montana's Friends:
1. Sean C.
2. Cyndi M.
3. Lucy P.
4. Barb & Jon B.
5. Barbara B.
6. Renee W.
7. Geoff B.
8. _____________________
9. _____________________
10._____________________
Every horse deserves at least ten friends! Even a small monthly donation can make a difference. Plus, SAFE horse sponsors receive discounts at local businesses through the SAFEkeepers program!