Montana
SEX:
gelding
BREED:
Quarter Horse Paint
REGISTERED NAME:
unknown
INTAKE DATE:
9/24/21
COLOR: Dark Bay

&

White Pinto
MARKINGS: bald face, blue eyes
YOB: 2016
AGE: 6 yrs old
HEIGHT: 14.3 HH
WEIGHT:
LOCATION: Redmond, WA
ADOPTION FEE: TBD
Montana
and Darla were surrendered to SAFE by their owner, an elderly man who suffered a stroke and could no longer care for them. His family was able to successfully rehome his other horses, but Darla and Montana are both untrained and were at a greater risk of falling into bad situations. So SAFE agreed to take them on so they can benefit from our horsemanship program.
Montana is a striking dark bay and white pinto, who was originally purchased as a yearling to be a riding horse, but they were unsuccessful at halter starting him. Now at 5, he is still quite unhandled, and very tentative about being approached. He will need a lot of patient work to be gentled and started under saddle, but fortunately he is quite good looking so we'll be able to enjoy his beauty as we work with him.
Being the beautiful horse that he is, we have received a lot of interest in Montana. SAFE makes a commitment to each horse to train and rehabilitate so when they pass through our gates they can go on to lead a bright future. We do not know a lot about Montana's previous experiences with people and will be starting him from the very beginning and going at a pace that meets his needs. To confirm him as a riding horse and then match him with his perfect home could take anywhere from 6 months to a year. We need to ensure he is a safe and sound riding partner before asking someone else to take over his care. At this time we are not taking applications for Montana, but we hope people follow his story through our website and visit him during our Open Houses.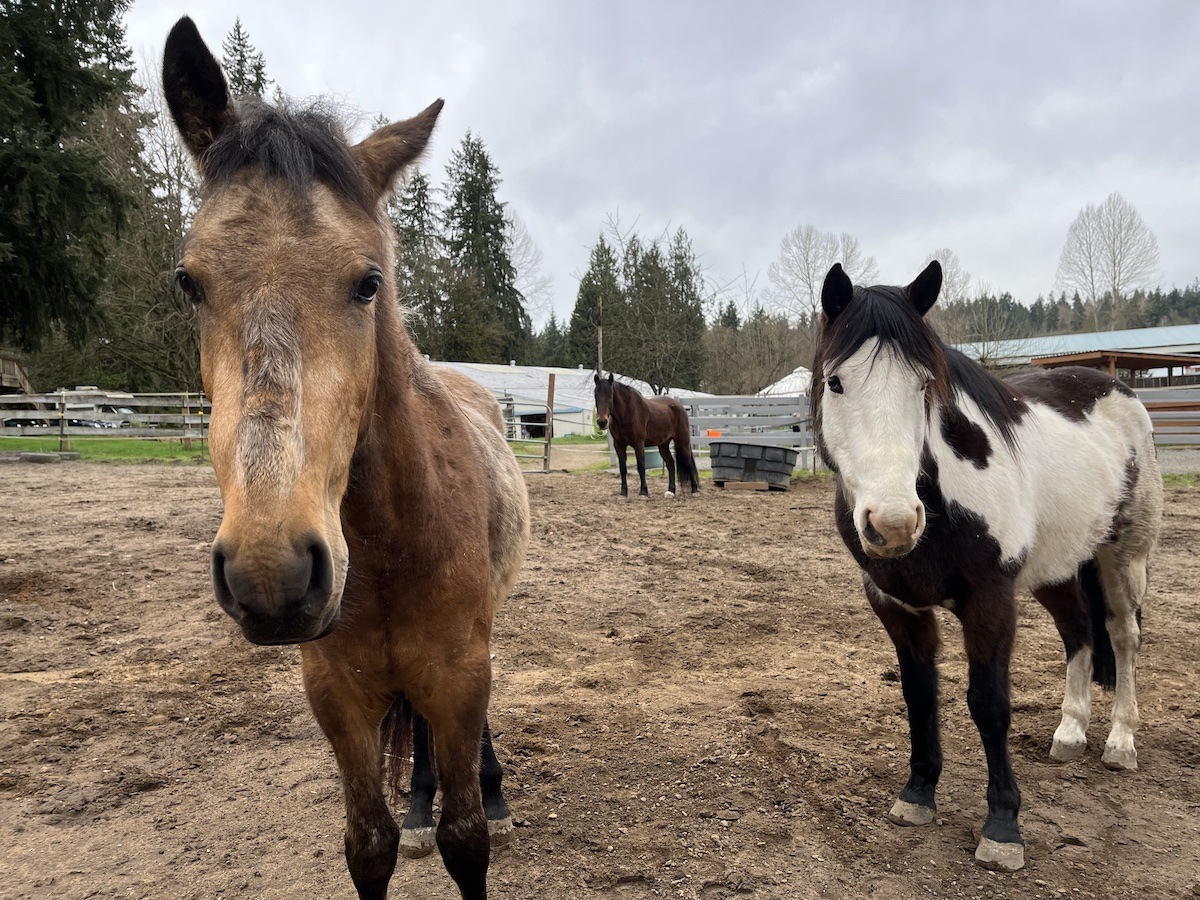 I'll admit, the title is a bit misleading. But to see new herd-mates Nyx, Montana, and Otto out together, I think it would quickly become apparent to anyone who are the men and who is the baby. A brief description of the herd has –
Nyx starring as the benevolent leader of the pack, a gentle giant not only in appearance but also in mannerisms. His signature display of dominance involves floating a hind leg up in warning, rarely if ever following through with a half-hearted kick that never lands.
Montana cast as a (mostly) stoic member of the band who often spends his time sidled up to the fence line that adjoins the filly's paddock. He has been known to participate in a romp or two with Otto, but is just as comfortable lounging around with Nyx.
and
Otto, rising star. It is hard not to look at Otto and not be reminded of your little brother or mischievous younger cousin. Most of the time, Otto would rather run and play than eat breakfast – often he can be found nipping at Nyx's heels or tail in an attempt to draw his large friend away from the food (it has not worked yet). When Nyx won't play, Otto tries his luck with Montana, and often is able to rouse a bit more interest from his paint companion.
These three boys were fast friends, and it's clear that they really enjoy each other's company. Often, all three can be spotted eating from the same hay net (Nyx and Montana usually work on the net itself, while Otto finds vacuuming up the fallen scraps to be more his speed), and they have been known to take communal naps together on occasion. It is truly a pleasure to watch the three of them, as their personalities mesh so well together despite being so different, and it's clear that they all have something to learn from each other.

Montana's Friends:
1. Sean C.
2. Cyndi M.
3. Lucy P.
4. Barb & Jon B.
5. Barbara B.
6. Renee W.
7. _____________________
8. _____________________
9. _____________________
10._____________________
Every horse deserves at least ten friends! Even a small monthly donation can make a difference. Plus, SAFE horse sponsors receive discounts at local businesses through the SAFEkeepers program!