Rae
| | | | |
| --- | --- | --- | --- |
| SEX: filly | BREED: Warmblood type | REGISTERED NAME: none | |
| COLOR: Black | MARKINGS: none | | |
| DOB: November 1, 2018 | AGE: 2 | HEIGHT: | WEIGHT: |
| LOCATION: Redmond | NOT CURRENTLY AVAILABLE FOR ADOPTION | | |
Rae was the second filly born at SAFE Harbor in 2018. She's the spitting image of her dam, Mina, and even has Mina's sweet personality. Poor Rae has had some health issues and injuries in her first couple years of life, but she continues to pull through and is a champ for the vet! Unfortunately it looks like Rae may not be completely sound, but we will reevaluate when she's a little older to find out if she may be rideable or not. For now, Rae enjoys hanging out with the other fillies and getting scratches from her human friends.
All SAFE horses are adopted with a no-breeding clause, no exceptions.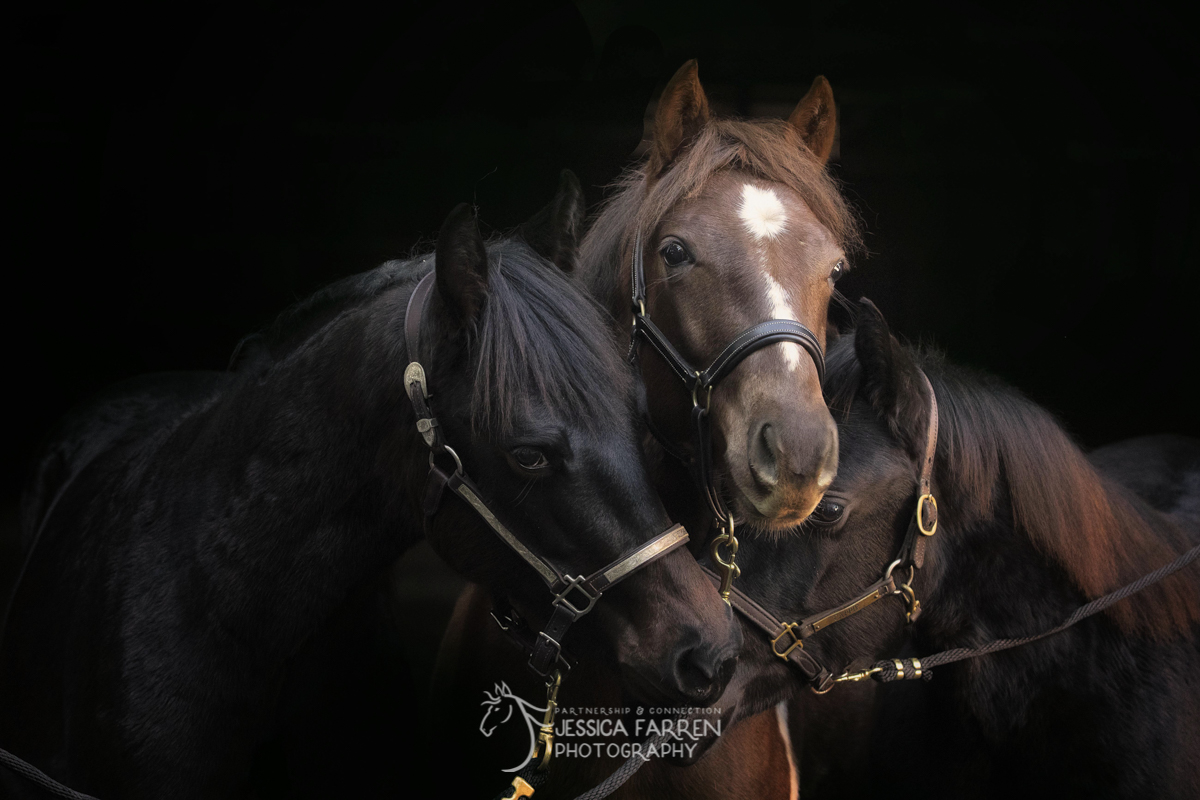 It's hard to believe that our three resident bundles of joy were born over a year ago! Nova, Rae, and Pippi have blossomed into beautiful young ladies, full of life and personality. We have enjoyed watching them grow and are looking forward to seeing what their futures hold. They're leading well and standing patiently (usually) for their vet and farrier visits. They still have some "baby antics" that they use to try to see if they can get away with things, but they all seem very smart and figure things out quickly.
The trio are ready to fly the coop for now, and we'll be sending them to foster soon where they can continue to grow up and learn how to be horses. Our current setup is not ideal with the number of volunteers we have that need to work around them in their pasture daily. The girls could gain bad habits from accidental reinforcement of pushy behavior, so we want to minimize that possibility. We have a foster home picked out and we just need to finalize a few things before sending them away to grow up.
It'll be difficult to say goodbye, even though we know it's only temporary. We've gotten used to being able to watch them grow up in our own backyard, so not seeing them every day will be a little sad at first. But it's for the best, and we know they'll enjoy their new place. Assuming all goes to plan, we'll bring them back in about a year and a half to begin groundwork and working toward starting them under saddle.

Rae's Friends:
1. Elissa T.
2. Beck. W.
3. Stephanie H.
4. Mary E.
5.Robert E.
6. ___________________
7. ___________________
8. ___________________
9. ____________________
10._____________________
Every horse deserves at least ten friends! Even a small monthly donation can make a difference. Plus, SAFE horse sponsors receive discounts at local businesses through the SAFEkeepers program!