Rae
2018 Warmblood type mare
Type of Rescue: Born at SAFE to a rescue mare
Intake Date: 11/1/18
Adoption Date: 4/22/23
Length of Time with SAFE: 4 years 5 months
ADOPTED!! by Christina
Rae was the second filly born at SAFE Harbor in 2018. She's the spitting image of her dam, Mina, and even had Mina's sweet personality. Poor Rae has had some health issues and injuries in her first couple years of life, but she continues to improve and is a champ for the vet! Rae really blossomed into a nice riding horse and traveled to multiple off site clinics.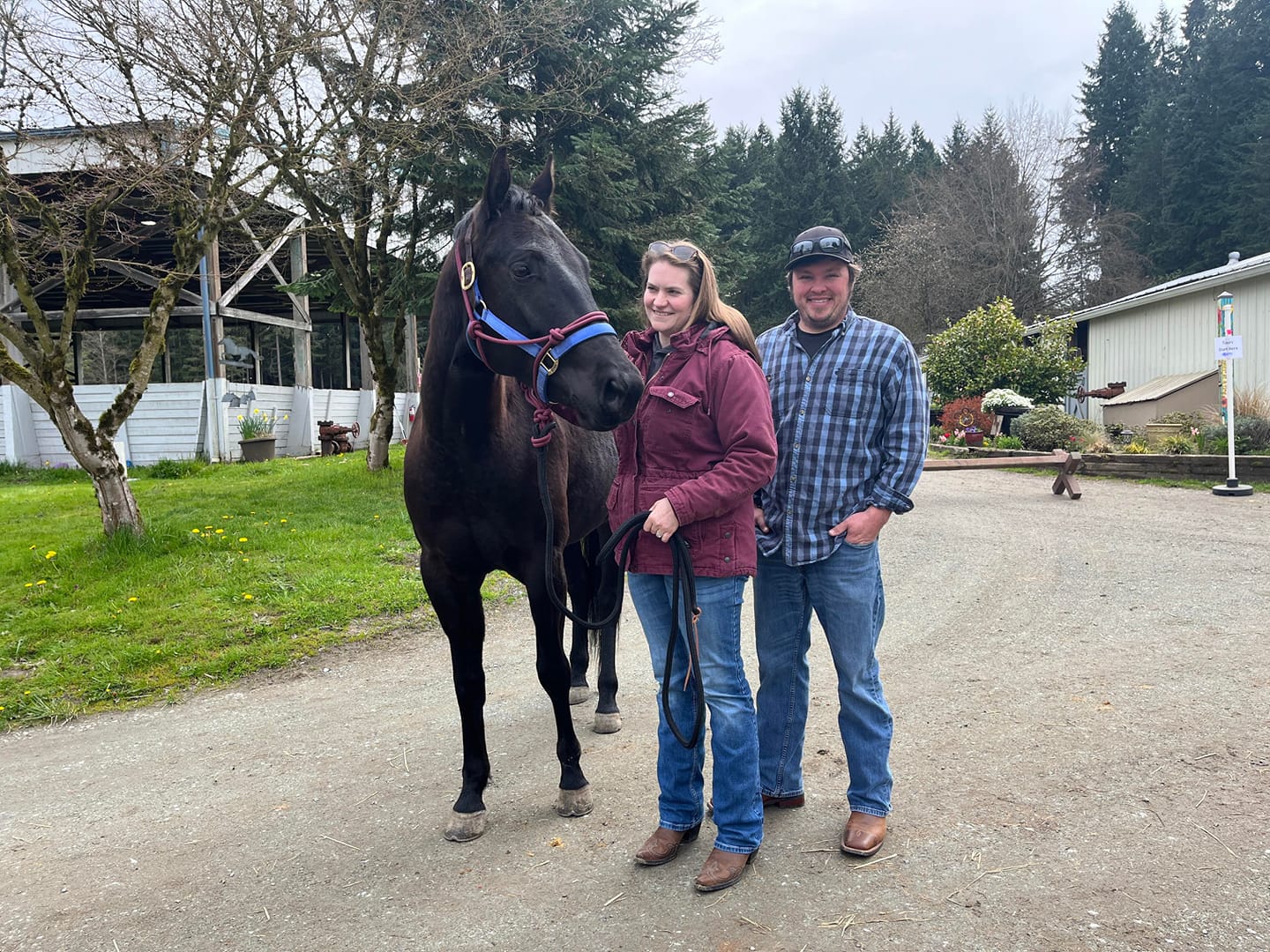 Our nest at SAFE is never empty — when one leaves the coop, another one (or several!) are waiting in the wings to fill their spot. But for babies born at SAFE, the empty nest syndrome is perhaps a bit more acute.
With Nova off at training, Rae was our last SAFE-born baby on the property. But like any young adult, she was ready for the next step. Rae had been to clinics both on and off property. She had ridden outside. She was gentle in so many ways. The only thing missing from her life was a forever home.
Until Christina. Christina came to see Rae while she was under saddle with Terry at an on-site clinic. She watched a full day of miss Rae, and wanted more. The second time she came to visit, it was to make proper introductions and put a ride on herself. Rae has historically not been the most motivated horse when it comes to moving out, but with Christina, her expression stayed pleasant and she got — and kept — going.
It was quite set after that. Rae's sweet velvet head (along with the rest of her) would be going home with Christina, who would provide her a most loving home alongside new horse siblings, and some chickens.
After some work trailer loading, Rae was ready to go. The big day came, and Rae put on a brave face and loaded without too much fuss – the human who wants to anthropomorphize in me says any hesitancy in her could be attributed to the fact that she was embarking on her biggest journey yet, how could you not be a little nervous? But after some practice loads to really get her comfortable, the doors were shut behind Rae, and she was off to her new home.
Since then, Rae has been settling into life with her new family very well indeed. When the chickens clustered at her feet, she did not fuss. And when her new sister, Mocha, wanted to share a hay pile, Rae said "sure." Our little baby, who had at times struggled to fit into a group, was now the belle of the ball.
What a lucky match Rae has made! We couldn't be happier for our sweet girl to have found such a soft place to land amongst two and four-legged friends alike.