Stormy
breed: 1994 grey Appy mare
type of rescue: Animal Control seizure
intake date: 9/19/2016
adoption date: 6/26/2017
length of time with SAFE: 1 year, 8 months
ADOPTED by Leigh C of Olympia!
Stormy is a 23 year old blind Appy who was seized from her owner by Pierce Co Animal Control after she and another horse were discovered living tied to trees and starving. The two horses were held in Animal Control custody for nearly 7 months while their owner unsuccessfully petitioned the court for their return. Stormy has uveitis in both eyes, and is completely blind. Our veterinarian determined that one of her eyes was causing her pain, so surgery was performed to remove it. Since then, Stormy appeared much more comfortable and happy. Stormy spent her time at SAFE in the company of two companions — the first, King, was the horse she was rescued with, then after King was adopted, she became best buds with Mason. She got along so well that it was easy to forget that she was completely blind. Stormy was adopted in 2018 by a woman who was willing and able to provide for this special needs horse. Thanks to Leigh, Stormy got the fairytale ending she so deserved!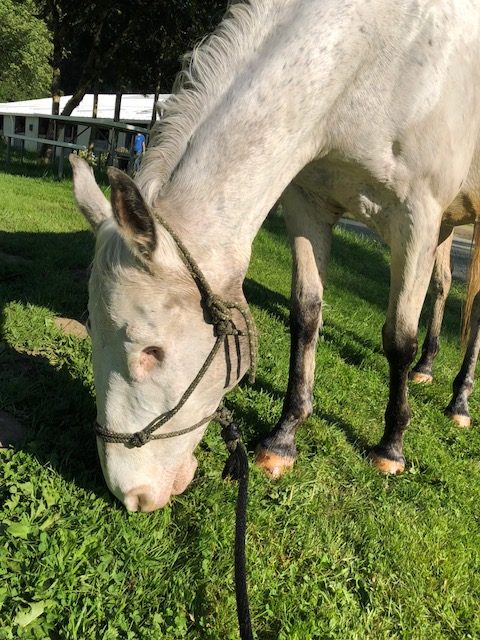 Stormy took advantage of our nice weather this week by requesting a spa day. She must know that bath time is followed by grazing on fresh grass while fur is drying.