Valentine
2005 chestnut Grade mare
Registered Name: none
Type of Rescue: Animal Control Surrender
Intake Date: 1/5/21
Adoption Fee: $300
Online Adoption Application
Valentine and three ponies were seized by Animal Control after a 5th horse on the property died due to neglect. The survivors all suffered from overgrown hooves, lice, malnutrition, enormous worm loads, and lack of dental care, causing painful ulcerations in their mouths. Valentine suffered a laceration over her right eye during transport. Our vet was able to stitch the wound cleanly, and Valentine won our hearts right there and then with her kind and calm demeanor during the process. She is a good-sized mare who seems quite gentle, but we can't tell for sure if she was a riding horses in the past or not. Valentine was adopted in March 2021 along with Tilt, but due to unfortunate circumstances, both are again seeking homes as companions. Ideally, they would find a new home together as they are now bonded. Please fill out an adoption application if you are interested in one or both!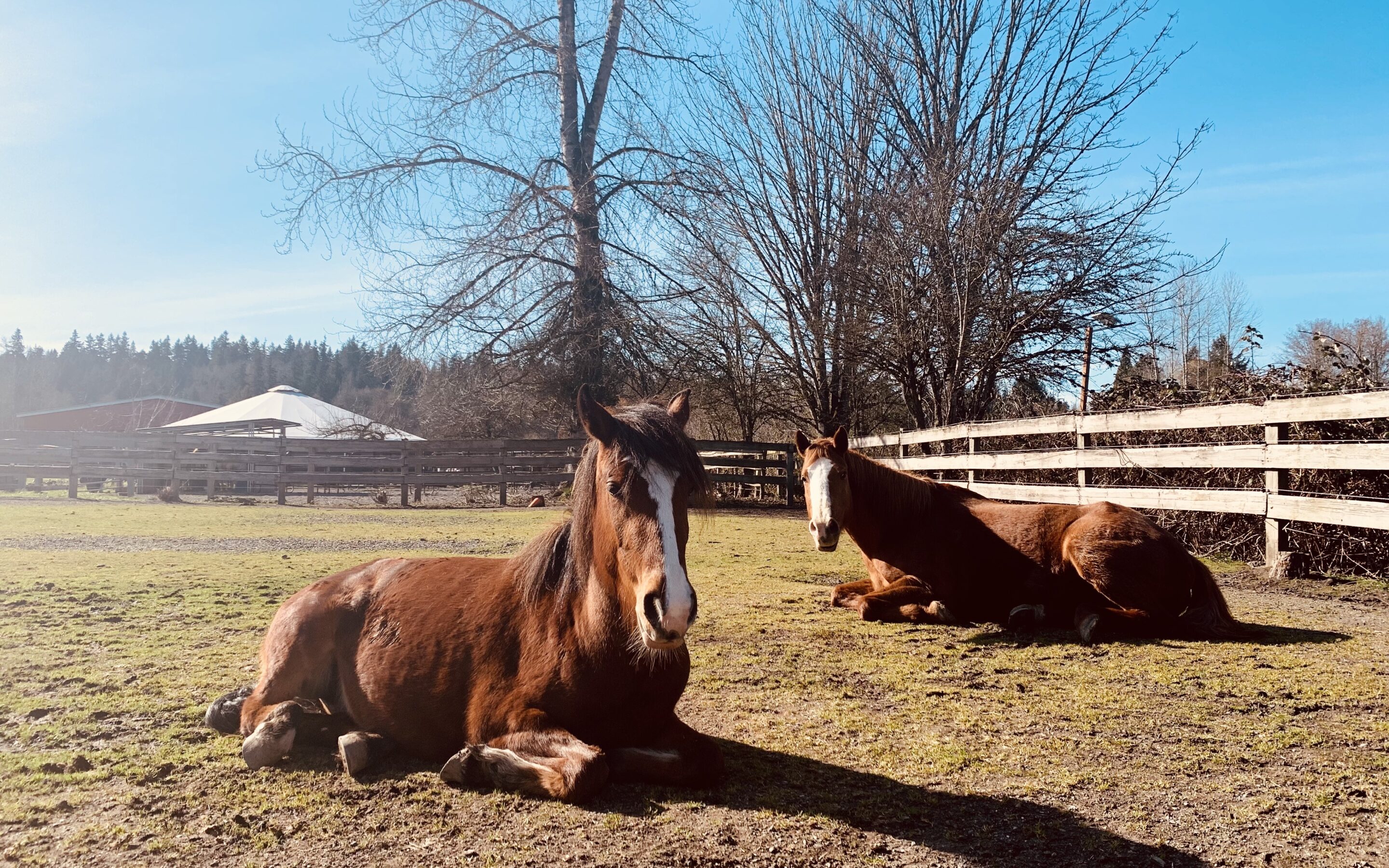 Tilt and Valentine are looking for a new home in a hurry! They are SAFE alumni and their adopter regretfully must rehome them, hopefully together. Please share if you know someone looking for two very sweet pasture pals!
Tilt is a bay 5‑year-old 14hh Yakima Reservation mare from the Fall City 40 herd that SAFE took in January of 2020. Tilt's special for lots of reasons, but the reason for her name is probably the most obvious–her hips have a tilt that will prevent her from being a riding horse. But she doesn't seem to be in any pain, and not only is she a great companion pony, but she's turned into a bit of a lovebug, too! In a herd situation, she's the boss, which her buddy Valentine doesn't mind at all.
Valentine is a chestnut 17-year-old 15hh grade mare who came to SAFE in January 2021 with three little pony pals, so we know she's good with smaller critters. They all suffered from malnutrition, lice, overgrown hooves, enormous worm loads, and ulcerations in their mouths from lack of dental care. Valentine also arrived with an eye laceration, and she won the hearts of our volunteers right away with her kind and calm demeanor while being treated.
Both Tilt and Valentine have blossomed with their adopter in the past year, as you can see from the photos, and ideally they would be adopted together for a nominal adoption fee. They are pasture sound, in good health, and currently located in Snohomish, WA. SAFE will be handling adoption applications and references will be requested.