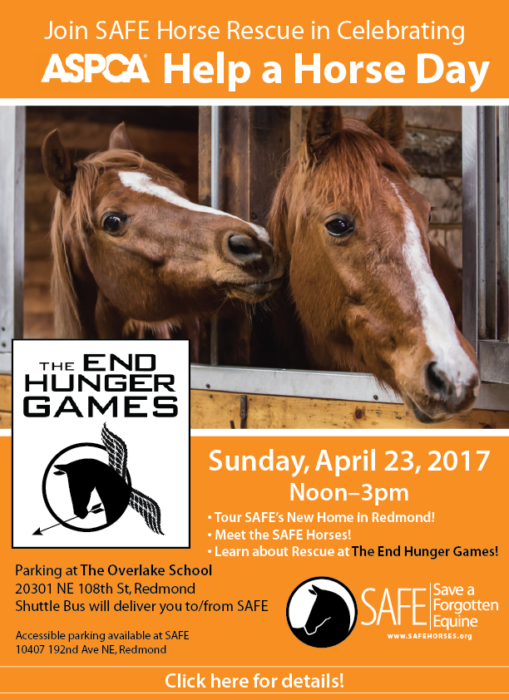 WHEN: Sunday April 23, 2017 — Noon to 3pm
WHERE: Safe Harbor Stables in Redmond
WHO WE NEED: You!!!
COST: FREE to everyone!!!
WHAT IS "HELP A HORSE DAY"?
Help a Horse Day is a nationwide competition sponsored by the ASPCA. Equine rescues and sanctuaries around the country put on events to raise awareness about the work they do year-round to care for at-risk horses. These events are judged on their creativity, effort, attendance, media coverage, and more. The winning rescue receives a $25,000 grant from the ASPCA. Five more rescues will win $10K and five will win $5K. SAFE is going all out this year to capture the prize and you can help by coming out to support us!
WHAT ARE "THE END HUNGER GAMES"?
The theme for SAFE's Help a Horse Day event is The End Hunger Games. Visitors will be taken step by step through the rescue process as they visit the thirteen Districts, each one devoted to a particular stage of the work that SAFE does:
District 1: Intake
special guest: Regional Animal Services of King County and Washington Animal Response Team
District 2: Triage
special guest: Pilchuck Veterinary Hospital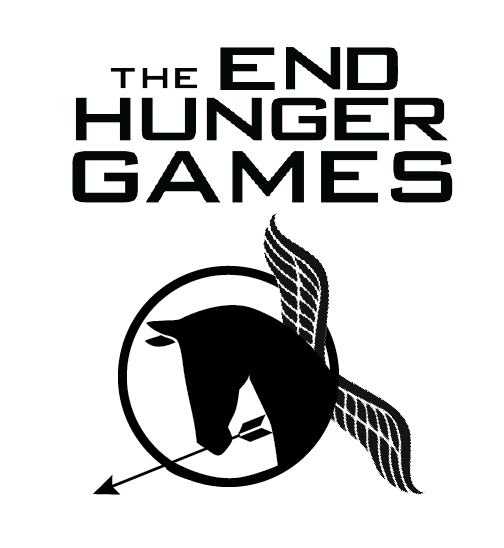 District 3: Farrier
special guest: Olympic Forge Farrier
District 4: Foundations
District 5: Horse Keeping
District 6: Groundwork
District 7: Riding
District 8: Nutrition
District 9: Annual Vet Care
special guest: Laura Voss Monahan, DVM
District 10: Adoptions
District 11: Alumni Program
District 12: Jobs for Horses
special guest: Snohomish Search & Rescue
District 13: Involvement
You'll continue on through the different Districts, learning about training, farrier work, proper diet, readying a home for a horse, all the way through to adoption. And District Thirteen will show you all the ways you can get involved with SAFE! Each District will be informative as well as interactive. In the end, you'll have a much better understanding of what SAFE does to help horses!
CONCESSIONS available from


PARKING
Visitors to Help a Horse Day will park at The Overlake School, which is 3 minutes down the road from Safe Harbor Stables. A shuttle bus will provide continuous service to and from the parking lot. Accessible parking will be available on site at Safe Harbor Stables.
The Overlake School
20301 NE 108th St
Redmond WA 98053
Directions to The Overlake School
Safe Harbor Stables
10407 192nd Ave NE
Redmond WA 98053