Sienna
| | | | |
| --- | --- | --- | --- |
| SEX: Mare | BREED: BLM Mustang | REGISTERED NAME: none | |
| COLOR: Sorrel | MARKINGS: Blaze | | |
| YOB: 2007 | AGE: 12 | HEIGHT: 14.3 hh | WEIGHT: 1,223 |
| LOCATION: Redmond | ADOPTION FEE: $2,000 | Online Adoption Application | |
Sienna's Story
Sienna and her herdmate Koko were surrendered to SAFE and NWESC by their owner, who was unable to care for them. Sienna grew up fairly unhandled and lived a pretty rough life as a result. When she was surrendered, her front hooves were so overgrown that she could barely even walk. Her weight was good, but she clearly was unhealthy and badly in need of an upgrade in life. Sienna was collected from the Coyote Lake HMA in Oregon and looks like she might be descended from an escaped draft horse! She's big but becoming quite pretty as she grows more healthy. All SAFE horses are adopted with a no-breeding clause, no exceptions.
Sienna Today
Sienna has changed in leaps and bounds since her arrival at SAFE in the fall of 2017. She has just returned from over 60 days of professional training and is ready to meet potential adopters! If you have experience supporting a green this mare is worth the time. She is a quick learner, forward and wants to please. This is a NICE horse with a kind heart. She needs an experienced rider to guide her through this next phase but she is uncomplicated and soon will be a very trusted partner.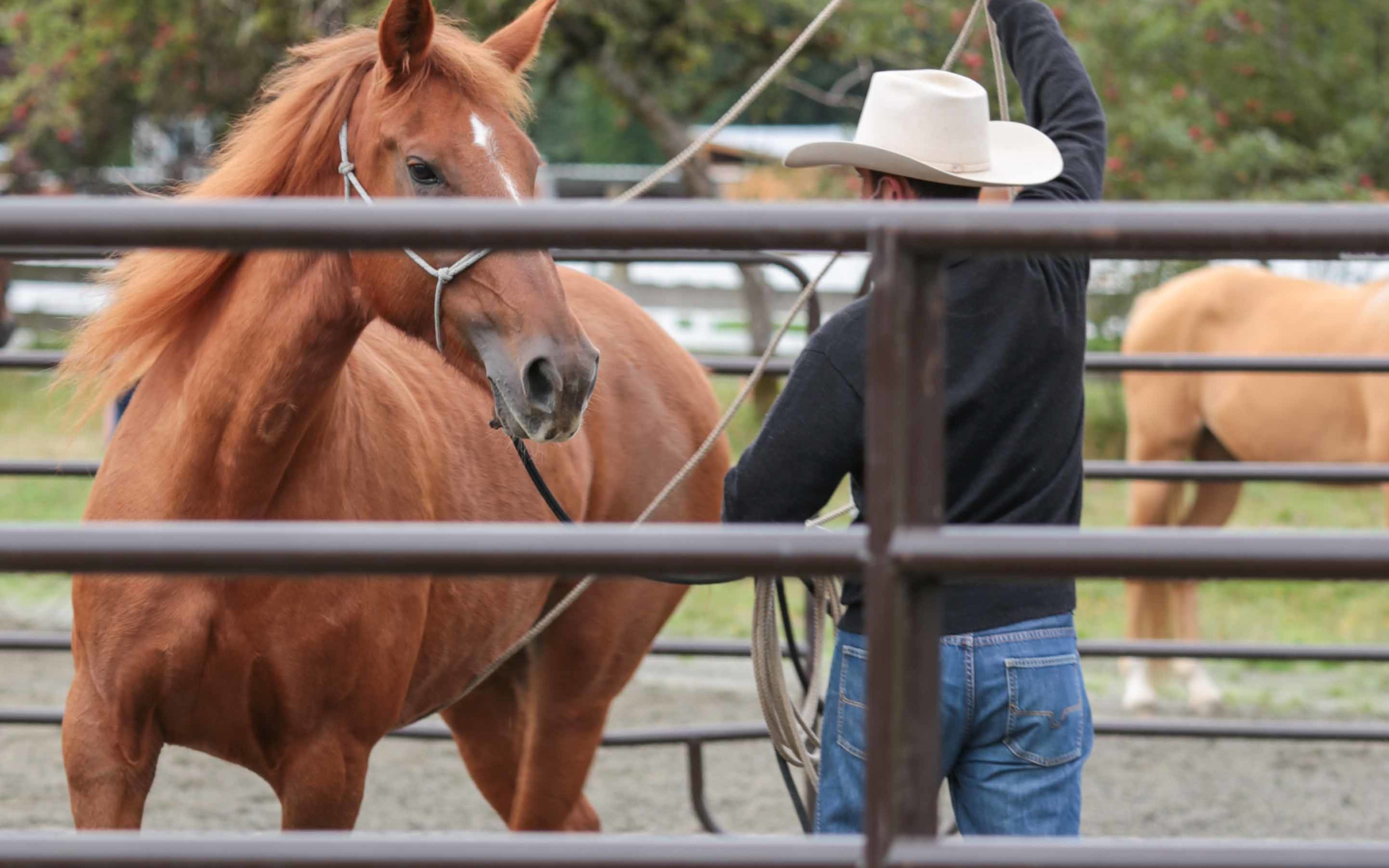 Sienna has made some excellent improvements since we took a little extra time with her groundwork training. Our friend Joel Conner felt that Sienna started out training holding so much trouble inside of her that once she started to free up her feet, her residual anxiety started to come to the surface. This may explain why she did so well in the first months of training and then became so sensitive in her hind, especially near the back-cinch.
Since August I have been diligent with her groundwork. I have been taking her through all Buck Brannaman's "Groundwork" exercises and paying close attention to her "feel" or emotional state. Her ability to hold her feelings inside and hide her fears can be deceiving. It is crucial to not expect her actions and responses to be mechanical. I have to be careful not to stop before she reaches true acceptance. Leaving just a little trouble in there, especially if it is allowed to build up, can make her very reactionary and frightened. I have seen big changes by drawing her troubles to the surface and supporting her so she can let them go and find true freedom, balance, and peace.
When I went back to riding her again, everything felt different. She was much softer, she would "feel back to me;" that is, when I asked for her to bring her head around, she was reaching for me as I asked for her. Most importantly, she was connected to me in a way that she had never been before. I am continually in wonder and fascination with how well this style of horsemanship helps troubled horses find peace. I am thankful we have the tools to help horse like Sienna. Through this work, she is able to partner with humans to experience a trust and friendship that she never experienced before.

Sienna's Friends:
1. Jessica F.
2. Jane M.
3. Sharon S.
4. Jennifer M.
5. Janae R.
6. Sandi N.
7. _____________________
8. _____________________
9. _____________________
10._____________________
Every horse deserves at least ten friends! Even a small monthly donation can make a difference. Plus, SAFE horse sponsors receive discounts at local businesses through the SAFEkeepers program!