Jacob
2014 Yakima Reservation gelding
Suitability: For Intermediate Handler
Color: chestnut
Markings: star, snip, LF, RH
Height: 14.0 hh
Weight: 850 lbs
Adoption Fee: $300
Jacob, along with Edward and Esme, were obtained by their previous owners through a now defunct rescue organization by a family that moved to Washington state hoping to keep horses on a rented property near their home. They soon discovered that the property flooded rather badly during the fall and winter months. With no other options available to them, these horses just had to live in the wet. Thankfully, they were able to survive under these poor conditions. Edward had been suffering from equine asthma for quite some time, resulting in severe weight loss that left him quite emaciated. Jacob and Esme looked better, but that was somewhat deceptive because they had large parasite loads, making their bellies look big. Their owner turned to SAFE for help after coming to the realization that caring for these three horses was more than they could handle.
Jacob is, for the most part, a pretty chill gelding, but this is not to say he can't have an opinion, especially when asked to move out. While we had started Jacob under saddle, we are currently in the assessment period to determine whether or not he would be happier as a companion. In the meantime, this big goofball enjoys spending his days hanging out with his best buddy, Edward.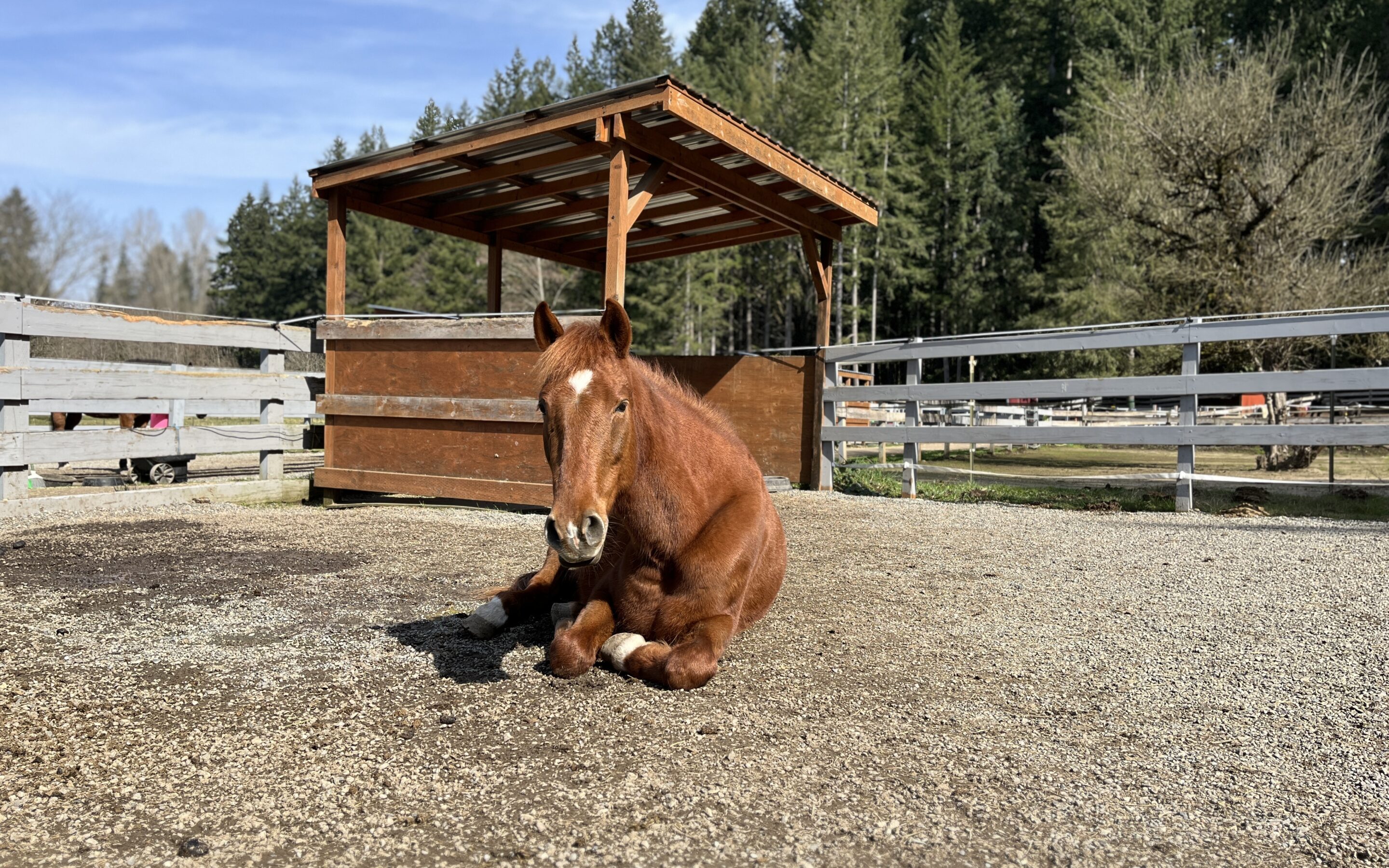 Part of our adoption process at SAFE involves doing our best to ensure the matches made between horse and human are the best fits possible. We try to make sure of this before the horse is out the door – adopters are encouraged to come and visit with their potential new family member as many times as they like to feel fully comfortable with the partnership, as sometimes a single meeting is not quite enough. But there are always some factors we cannot account for here at SAFE, which is why we have a trial period written into our adoption contracts. If for whatever reason it's not working out during that time, the horse is free to return to SAFE.
When Jacob left for his adoption trial, we crossed our fingers that all would work out, as we always do. But, as sometimes happens, the fit was not quite right, and after giving it a very fair shake, it was decided the best course of action would be for Jacob to return to SAFE.
I don't want you to think of this as a sad story. Of course our wish for all of the SAFE horses is to find forever homes, but sometimes that process is non-linear. More often than not, the horses who take a little longer to place are just waiting for the home that ends up being storybook perfect for them. It's a marathon, not a sprint, and we are committed to giving each horse the time they need to find the best situation for all parties involved. We are also so grateful for adopters who are open and honest about how things are going – being able to recognize that the fit isn't quite right and make that decision benefits the horse so much in the long run. It also helps us to better understand what that horse's ideal fit looks like going forward.
Jacob's arrival back at SAFE meant his reunion with best friend Edward. The two were always thick as thieves, and acted as though no time had passed when reintroduced – they were back to kicking up their heels together and biting (lovingly) at one another's necks in no time.
Jacob's return also made us consider his future. It is no secret that his confirmation is not that of a prize-winner, but Jacob was doing well as a light riding horse before he left. However, he was adopted out as a companion, which is perhaps a more ideal path for him going forward. We will think on it a bit more and consult further with our vets, but in the meantime let Jake get settled back in here at SAFE, where his hunt for a home will continue, but where he can stay for as long as he needs.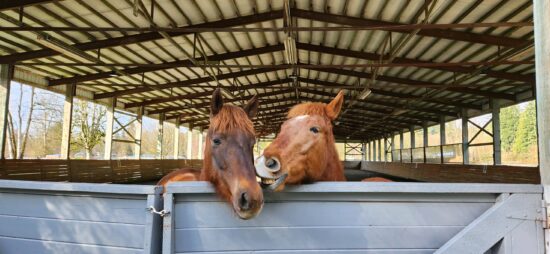 Jacob's Friends:
1. Julia P.
2. Carrie S.
3. Ruth K.
4. C.C. Schott
5. Sundee R.
6. _____________________
7. _____________________
8. _____________________
9. _____________________
10._____________________
Every horse deserves at least ten friends! Even a small monthly donation can make a difference. Plus, SAFE horse sponsors receive discounts at local businesses through the SAFEkeepers program!