Veronica
| | | | |
| --- | --- | --- | --- |
| SEX: filly | BREED: Yakima Reservation Wild Horse | | |
| COLOR: chestnut | MARKINGS: Blaze | | |
| YOB: 2015 | AGE: 6 | HEIGHT: | WEIGHT: |
| LOCATION: Redmond | NOT CURRENTLY AVAILABLE FOR ADOPTION | | |
Veronica is one of 24 wild Yakima Reservation horses seized in December 2019 by King County Sheriff's Office, in cooperation with Regional Animal Services of King County and SAFE.
All SAFE horses are adopted with a no-breeding clause, no exceptions.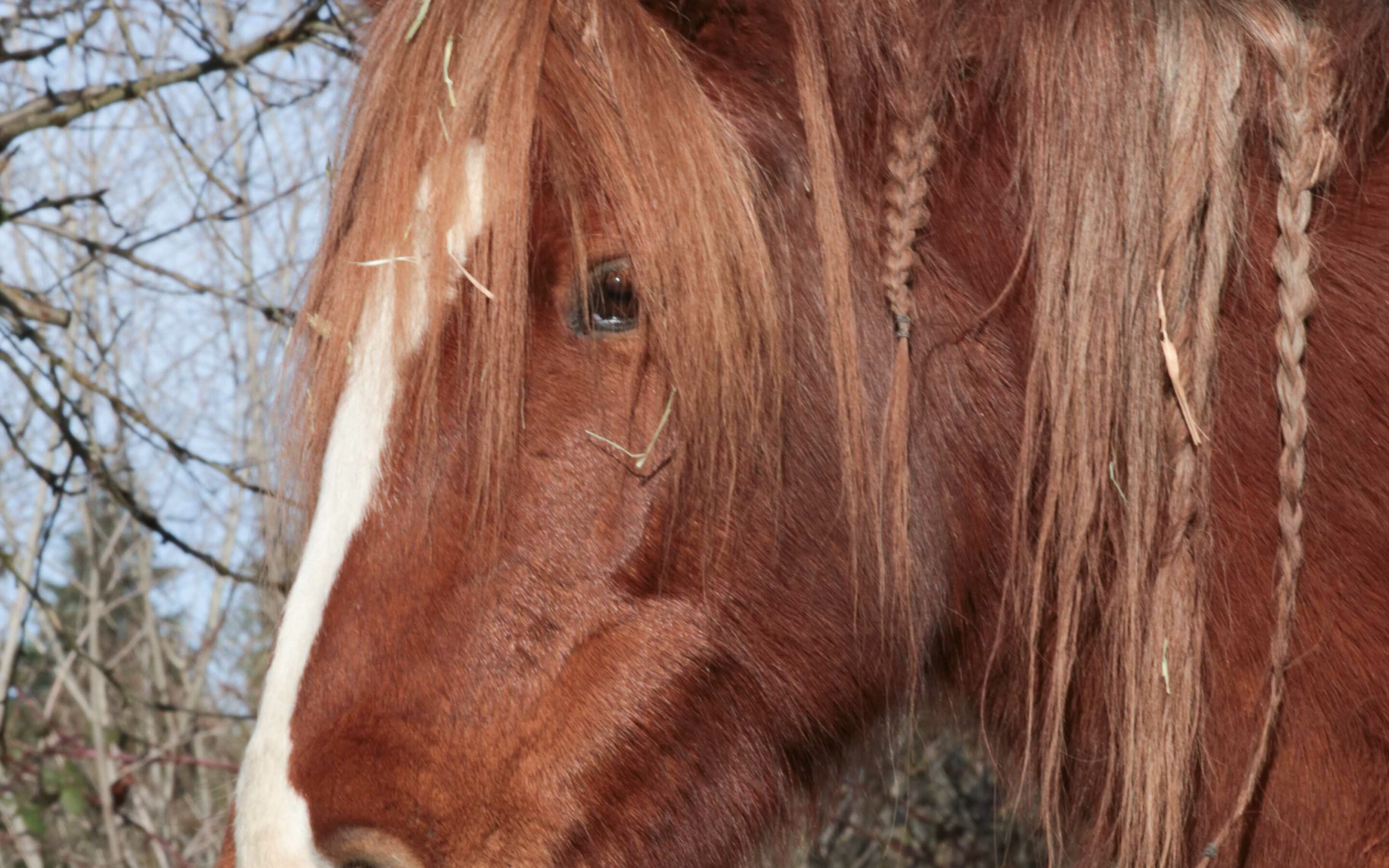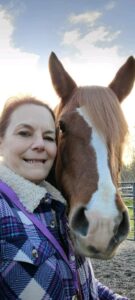 SAFE volunteer Candi K. has taken Veronica under her wing and has been consistently working with her for the past few months. Candi's patient gentling work was exactly what Veronica needed. It's moving to see Veronica opening up to human contact. Together they are creating a foundation that will be an enormous part of Veronica's future success as a domesticated horse.
Candi wrote this very thoughtful article about Veronica's progress:
Remember the excitement of learning something new and how it opened a whole new world of possibilities for you? Now imagine that as a horse. Imagine how freeing your life will become as you can navigate your days more confidently. Veronica is now successfully halter broken and will stand quiet and still to be groomed. She has the most gorgeous thick tail and much to her delight, she has figured out that it feels really good to have it brushed out.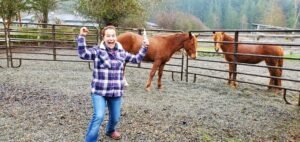 In the last couple of weeks, she has learned how to walk and stop alongside me as I lead her. She has become a champ at unified circles to the left. Her right eye is her non-dominant eye so she feels less confident on circling to the right. Slowly but surely, she is taking more strides in that direction. We have been practicing approaching the gate of the round pen, opening and closing it while she is haltered and in hand. She is waits patiently and enters and exits without any issues.
Last week we had great success worming her for the first time. She spent several days learning about a syringe and the yummy applesauce that comes out of it. She was happy to take the worming medication and only stuck her tongue out at the end to let us know it tasted a little funny.
Veronica is also getting used to having the lead line touch her all over her body. At first, she was very jumpy and unsure. She is getting more accustomed to it now. This will help as we progress further into her training and future saddling.
Veronica is very loving and eager to learn. Her movement at a trot looks like she is floating on air. She is truly a beautiful mare with a bright future.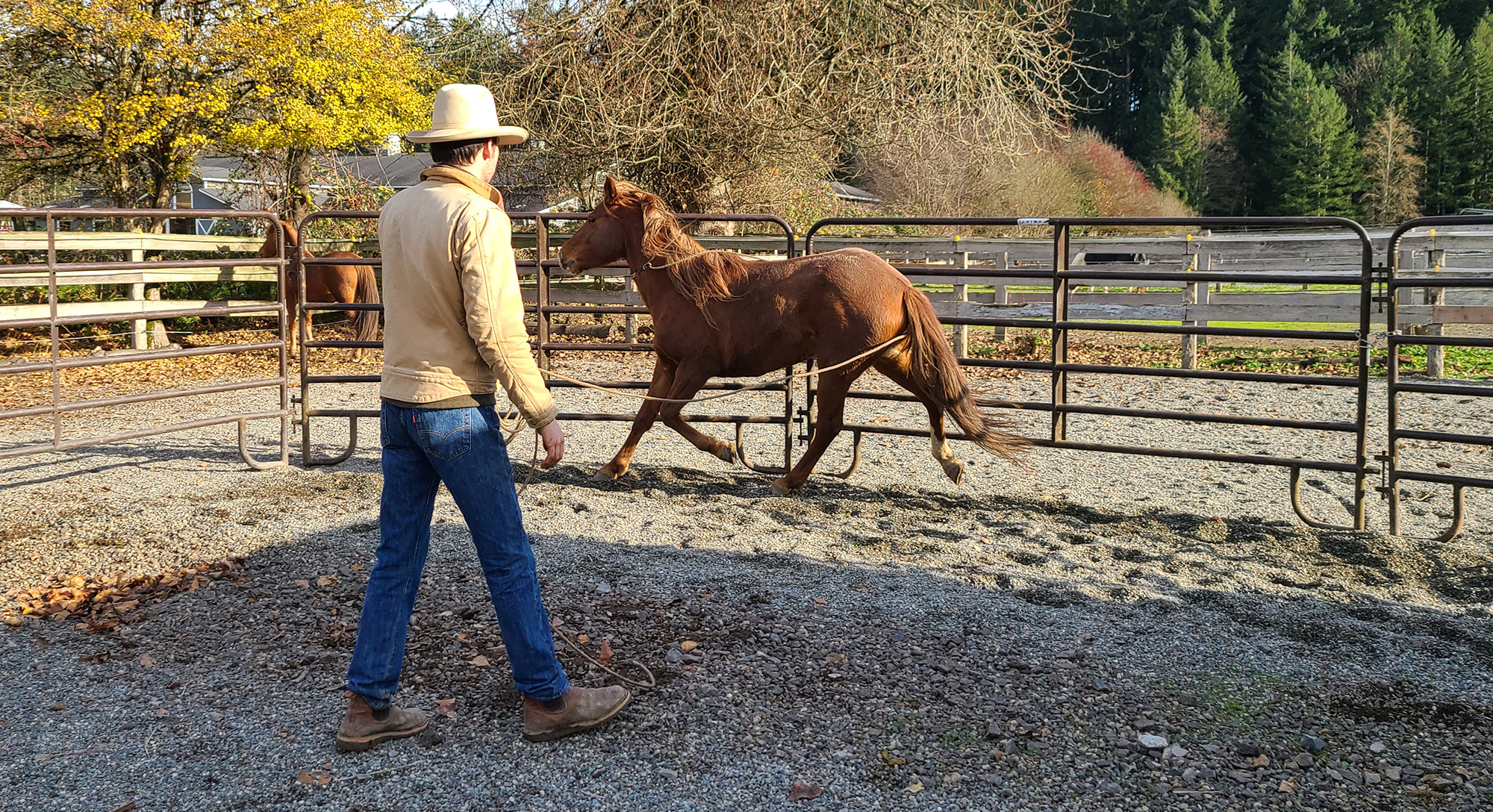 What a change Veronica has made in the last few months! She has gone from not wanting to be touched to greeting us at the fence with a nicker and inquisitive eyes.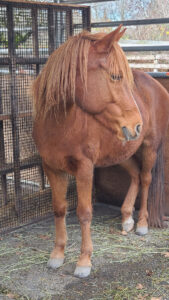 Over the summer Dylan has spent time with this sweet mare to be able to gain her trust to groom and begin haltering her. SAFE volunteer Candi was able to spend quite a bit of time getting her accustomed to being brushed and having her beautiful mane untangled. Over time she began to realize that this felt good and she would stand in place and enjoy the spa treatment.
Last week we moved Veronica and Caramel into new turnouts where they share a round pen in between their panels to further their training. Veronica is working on entering the round pen and is getting better at it each day. She moves around beautifully and Dylan has been roping her with ease. Not only has he roped her for halter work he has also done work with all 4 feet to prepare her for the farrier.
Veronica is making great progress with haltering. The first haltering of the day can be a little challenging, but once her halter is on, she will let it be taken off and put back on again repeatedly. Candi has spent a lot of time rubbing her head, ears, and neck to reassure her. She will now rest her head in Candi's hands and stand still.
She hooks on easily and is learning to walk alongside and backup. She'll be learning hindquarters and front quarters soon. This beautiful girl definitely has a bright future. She is smart, and she wants to learn and to please.

Veronica's Friends:
1. Samara K.
2. Cella H.
3. _____________________
4. _____________________
5. _____________________
6. _____________________
7. _____________________
8. _____________________
9. _____________________
10._____________________
Every horse deserves at least ten friends! Even a small monthly donation can make a difference. Plus, SAFE horse sponsors receive discounts at local businesses through the SAFEkeepers program!