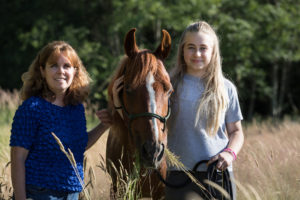 Save a Forgotten Equine (SAFE) is pleased to recognize the family of Tim Clancy and Stephanie Norman and daughter Jennifer Clancy as Volunteers of the Month for June.
Stephanie and Jennifer work a weekly barn chore shift, while Tim steps in to work alongside Jennifer when Stephanie is unavailable (she works full time as a wildlife veterinarian and epidemiologist specializing in marine creatures).
Stephanie began riding at age 12, and she was hooked on SAFE when she spied Sunny D and Shasta during one of the minis' appearances at PetSmart in Woodinville. She stopped at the SAFE booth and soon after, she and Jennifer signed on to volunteer together. Not only did they make the weekly barn chore commitment, but Jennifer and her dad, Tim, also worked tirelessly during SAFE's move to Redmond in February.
Originally from Dallas, Texas, the family now makes their home in Bothell. The three say they get a sense of accomplishment and enjoy taking care of SAFE horses until they find their forever homes. While they like all the horses, Stephanie admits to a soft spot for King.
SAFE is an amazing haven for horses because of people like this trio of dedicated volunteers!