Pepper and Tilt have been spending time in Gig Harbor with a wonderful foster family. Lisa Garr, one of our volunteer riders, lives in Gig Harbor and stops by the foster family's home to work with the two mares. Here's what she recently had to say about their progress:
"While I have had very limited opportunities to get out to work with Pepper and Tilt since October, the time that their foster family has been putting into gentling and socializing these two girls is really paying off!
I've been out a few times in the last couple of weeks, working primarily on approaching and haltering Tilt, and the changes from the fall are extraordinary! Whereas it used to be a 5 to 10 minute game of facing up and allowing an approach, she is now exceptionally willing to hook on, allow me to approach, give her some halter-free affection, and slip the halter on. After two days of playing a little catch and release, she stayed with me and allowed me to rub the halter and rope all over her (without it on), including over her back, under her chin, and on the off side. Something that was a hard not even 3 months ago!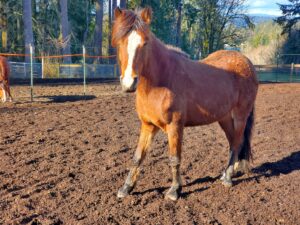 Pepper continues to be sweet, gentle, curious, and brave. Her foster family is quite new to caring for and working with horses, so unfortunately she has gotten a little pushy with her curious little mouth. But a couple of firm and respectful corrections had her remembering her good ground manners, and with a bit more consistency she'll be a little lady once again. Pepper continues to get small lessons in understanding the flag, ropes, and burlap sacks in preparation for her future saddling.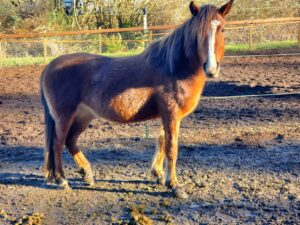 Tilt has excellent ground manners and is progressing nicely with some basic groundwork to help free her feet and find balance. Due to lack of experience and therefore confidence in the foster family, I redirected my limited time to work on catching her so they could halter and groom her more regularly.
Both Pepper and Tilt are lovely for the farrier and love a good "spa day" where we just take some good time to curry them, give good scratches, and brush out their INSANELY THICK AND GORGEOUS manes and tails. These girls are not for the grooming-faint-of-heart!"
Pepper and Tilt will soon be making their way back to Safe Harbor Stables, where Pepper will join our horsemanship program and Tilt may be on her way to being adopted!