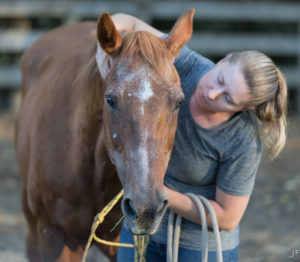 From the day we met her, this mare has proven to us that she is a fighter who has taken care of herself for a long time. We were told that no one had haltered her in the 15 years she had been on the property. It took us about two and a half hours to halter her for transport but once we caught her, she was very easy to load and manage. When we got home she actually seemed calm, not sweaty or nervous from the trailer ride.
Haltering her in the field has gotten a lot easier and takes less time. For the first weeks she would only allow Terry to approach her but this week she is opening up and Lori our barn manager has been able to halter her as well. It helps that every time we catch her we make sure she has a bucket of senior feed to enjoy. She is slowly learning that we are here to help and we are hopeful we can give her a happy retirement where all her needs are met.
Her medical evaluation has been positive for the most part. Her teeth are old and worn down but no major complications. She will need to maintained on some amount of senior feed to help her get the nutrition she needs. Her front hoof xrays looked good and while she would not let us touch her hind end just yet, we have been able to trim her front hooves and are working on her gaining our trust with the hinds. She has some issues with her left hind. At this point it seems mostly mechanical but we are monitoring for pain and comfort levels.
This mare has already come a long way in trusting us. Each day we build a better relationship with her and while there may be small setbacks along the way, there are wonderful days ahead.