Angel
1990 sorrel Quarter Horse (registered AQHA, Mach Gun Smoke)
type of rescue: owner surrender
intake date: 8/17/17
adoption date: 10/2020
length of time with SAFE: 3 years
Angel is adopted!

Angel's Story
Angel and her five herdmates were surrendered to SAFE by their owner, who was no longer physically or financially able to properly care for them. The horses were in decent weight but had not had farrier or dental care in some time. Because of Angel's age, we took her in as a Hospice case, with the intention of providing her with a couple months of good care before letting her pass peacefully. However, she is quite the spirited old gal, and remarkably healthy and sound. Perhaps there is another chapter to her story yet to be written, and a new life as someone's beloved pet and companion. Angel seems very unaccustomed to being handled, and has a lot of fear. She was quite difficult to catch when first we met, and it took over 2 hours to catch her in the field the first time we tried. Now it takes about 5 minutes to convince her to let herself be caught, which is a definite improvement. There is some sort of abnormality with her left hind foot, but she seems to get around on it just fine. We were only able to trim her front hooves when our farrier was out, so Angel will need continued practice with having her feet handled so we can get her hinds taken care of. All SAFE horses are adopted with a no-breeding clause, no exceptions. If we determine that she should be made available for adoption, Angel will be offered as a companion horse only.
Angel Today
Angel takes her time getting to know new people. She has come a long way with basic groundwork; a consistent routine with "her" person will really make her shine. Angel is still a work in progress when it comes to having her hooves handled but every time with our farrier things get easier. We are now able to trim all 4 hooves–BIG progress for a mare that was unhandled until SAFE picked her up! We monitor her closely for comfort, but nothing at this time seems to be slowing this mare down.
Angel was adopted in October 2020.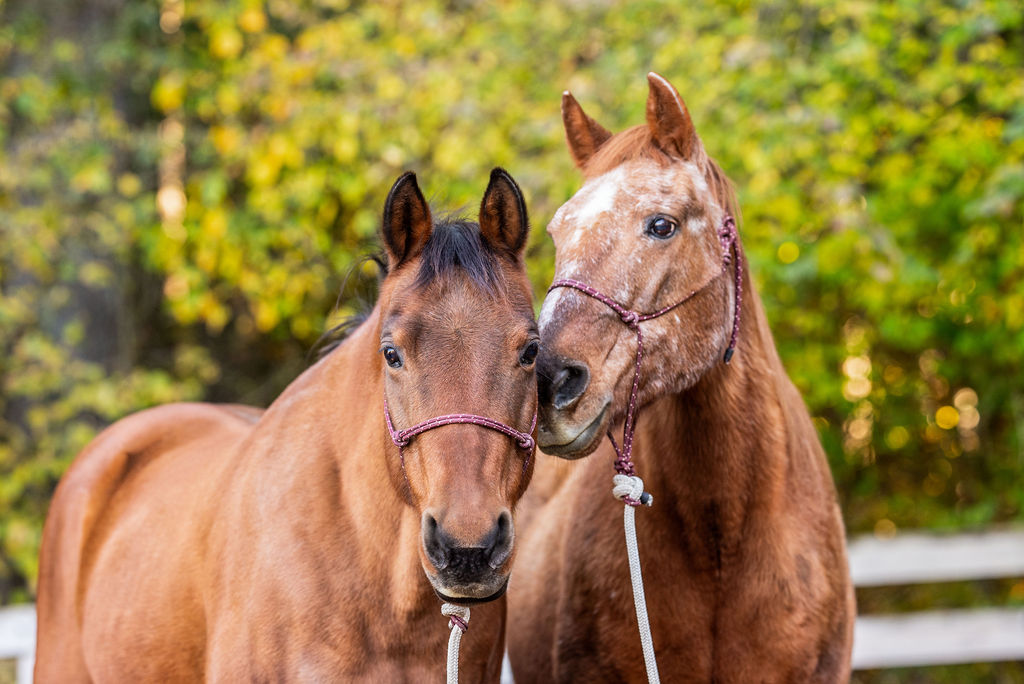 There is one thing that keeps us all motivated and inspired at SAFE and that is hope. Each time we meet a new horse and bring them into the herd, we have hope that we will be able to give them all that they need to heal from their past physical and emotional neglect. When we came into Angel and Renee's lives, all we knew for certain was from here on out, they would always be protected and loved. We are elated to announce that they have found a forever home together with a lovely local family.
Both mares came to SAFE after a lifetime being used as breeding machines. Their well-being was never given a second thought and they were only valued for what they could produce. Left to practically fend for themselves, the two mares had developed an unbreakable bond. When they came into SAFE, they found a place where they could trust humans. We proved to them we would always provide safety, show them respect for exactly who they were, and give them a life of peaceful existence.
For the past two years, these wise mares have provided SAFE with the invaluable service of raising the youngest members of our herd. We truly owe them a tremendous amount of gratitude for their role as "Aunties" to Pippi, Nova and Rae. The three fillies have not only felt comfort from their "Aunties" but have also been given the priceless lesson of how to be good citizens in a herd. Angel and Renee were the best teachers for our fillies and the lessons they taught them are far more important that anything we could have done as humans.
We had made a promise to Angel from the day she came to us to watch over her and provide her the comfort she needed. Unhandled until coming to us, her transformation of trust in us was incredible. It was sclear that living with Renee would always be the key to happiness for Angel, so a commitment was made to keep the two as a pair. This meant that unless an adopter could provide a safe placement for both mares, SAFE would keep them in our herd. We carefully watched to make sure that each remained physically comfortable and as long as that remained true, they would have a home with us.
Both mares made ton of volunteer friends while at SAFE. The "Aunties" have found a special place in all of our hearts and remind us that with hope anything is possible. Today we are pleased to report that they have made their last move. Carla reached out to SAFE looking for a new lead mare for her retirement home for horses, donkeys and mules. Over the years many lucky equines have come into this lovely family, to be part of a healthy herd living together and forming friendships with each other and their wonderful caretaker. After reading Renee's story, Carla knew the two needed to stay as a pair and offered a safe retirement home for both!
They have settled in very well to their new life, herd, and forever home. Carla reports that Renee will be a perfect lead mare she wanted for the herd and Angel is enjoying her new friends and even flirting with the gelding on the property! What can we say, the old gal's still got it! We are confident that this is the perfect home for these special horses and that they will be provided

with the dignity and respect they deserve. They are truly living their best lives and we are grateful for the opportunity to have been part of their journey. We are all filled with hope and encouraged by their story.

Angel's Friends:
1. Kit T.
2. Lynda C.
3. Jane M.
4. Lara L.
5. John R.
6. Leslie D.
7. Rebecca S.
8. Kastle H.
9. Heidi F.
Every horse deserves at least ten friends! Even a small monthly donation can make a difference. Plus, SAFE horse sponsors receive discounts at local businesses through the SAFEkeepers program!