Frosting
2020 Mustang filly
Suitability: In Training
Color: buckskin
Markings: blaze
Height: 13.2 hh
Weight: 630 lbs
Adoption Fee: TBD
Frosting is pretty little Mustang filly, who was seized along with three other horses, one of them her dam, by Animal Control in Snohomish County. During her neglect, Frosting was nursing, so she was less affected by starvation than the rest of her friends. She arrived at SAFE as a woolly little thing but eventually she shed away her long matted coat and has blossomed into quite a lovely mare!
Frosting has recently been started under saddle, and when the time comes, will be adopted out as a riding horse. She still needs some time to grow up a bit, and spends the majority of her time playing out in a herd with her other mare friends. But his little mare is a sweet and smart girl, and we are delighted to continue to watch her grow and be a part of her transformation!
All SAFE horses are adopted with a no-breeding clause, no exceptions.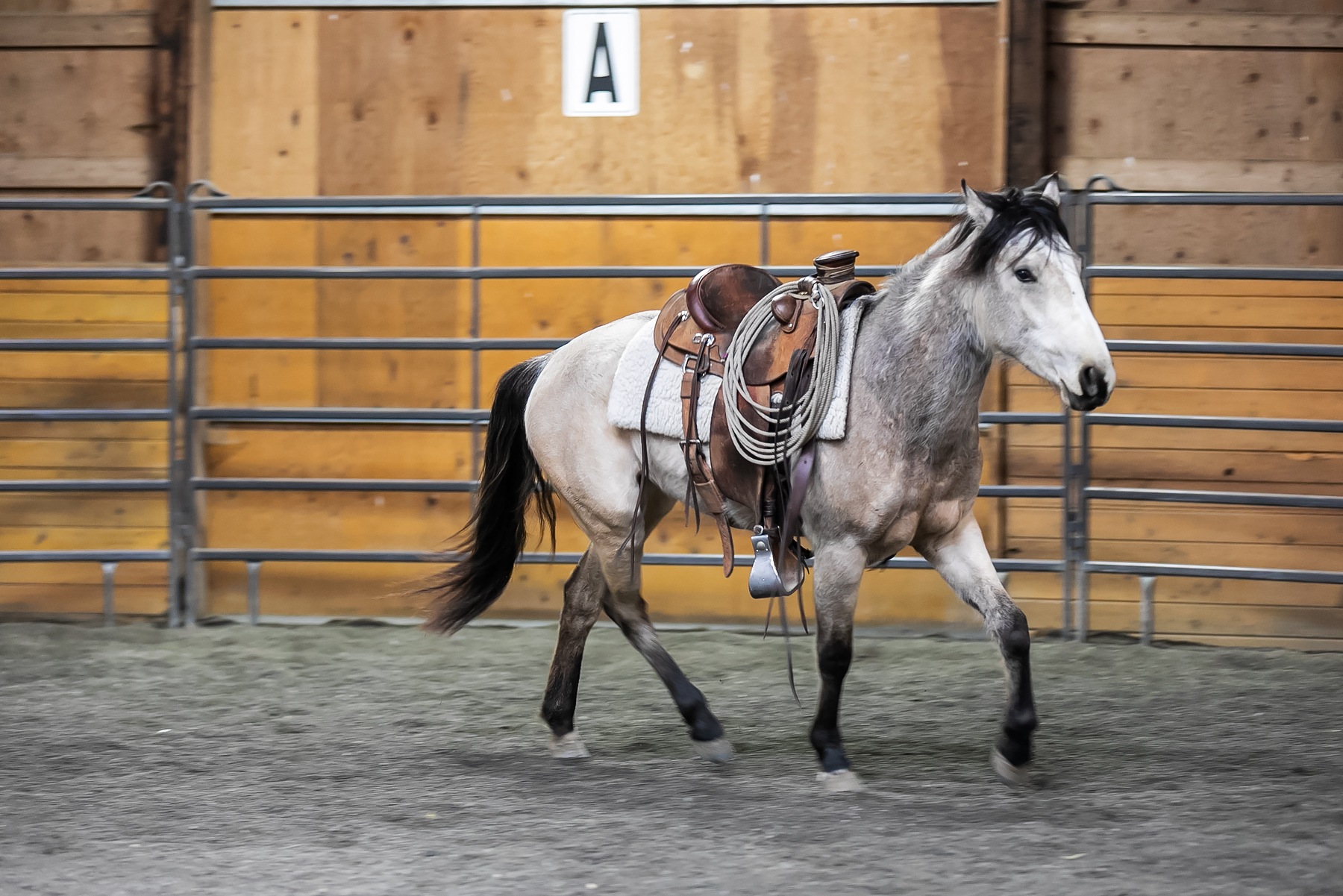 The Frosting who arrived at SAFE at the beginning of 2021 was a scraggly creature, barely half a panel high at the wither, and covered in a ratty, matted coat. She was just shy of a year old then, and still clacking at every horse around her to remind them that she was little and therefore, not a threat. She spent some time at foster, growing up alongside mother-figure Fancy, and when she came back to SAFE some months later, she had shed that stinky (literally) hair and had transformed into quite a sleek looking young lady. Taller, too. Being at foster had also helped her learn some manners, taught by both horse and human, and back at SAFE we were able to experience first hand the joy of getting to work with a horse who knew more good experiences than bad.
This meant that preparing Frosting for a saddle, and subsequently saddling her for the first time, went far more smoothly than it does for some other horses who carry the baggage they often arrive with. With Frosting, the experiences she had here were new and novel, and we could help her find understanding without the fight of having to unlearn any bad habits or braces. In short, what is often a difficult thing was made much easier.
Here, you can see Frosting's first saddling and her first ride. As always, the videos we post are only a small snapshot of the full story. Hours upon hours are spent preparing even the readiest of horses for a saddle, for a rider. Frosting handled both new experiences phenomenally well, but plenty of work was done beforehand to ensure said experiences would be as pleasant as possible for her. Glimpses of this include things like: sending her out in the roundpen after cinching up so she could move out freely, getting her accustomed to the feel of something on her back, the swing of the stirrups on either side of her, the touch of both front and back cinches. It includes tons of groundwork, touching her all over with flags and ropes, helping her differentiate when a stimulus means something and when it doesn't. It includes bumping her up to the rail so she knows what it's like to have a human over top of her, putting weight in the saddle in preparation to ride. And then of course, the first rides, more about going with her than anything else. Little emphasis is placed on steering, more on learning that she can move out freely with a rider. In a full circle kind of moment, Frosting's first ride was assisted by her old friend, Fancy, who helped move her out around the round pen. Still helping her learn, just in a new capacity.
Because she is still young, we will not ask very much of Frosting at this point. It is mostly about giving her positive foundational experiences that we can continue to build upon as her education expands. But we are extraordinarily proud of this little mare, and cannot wait to continue undertaking this journey with her.

Frosting's Friends:
1. Tiffany L.
2. Stephanie L.
3. Brie C‑D.
4. Bear C.
5. Gayle S.
6. Janet H.
7. _____________________
8. _____________________
9. _____________________
10._____________________
Every horse deserves at least ten friends! Even a small monthly donation can make a difference. Plus, SAFE horse sponsors receive discounts at local businesses through the SAFEkeepers program!