We finished off 2023's training program horsemanship clinics on a high note. The incredible dedicated volunteers were like a well-oiled machine over the intensive five days. Wednesday and Thursday, we got our hands on 21 SAFE horses! From the barely haltered to those loping out on loose reins in the arena and some starting leg-yields and counter canter.
I had the pleasure of working 5 horses during the 3‑day clinic. I joyfully started every morning with a smile on my face and sweet nuzzles from our dear Frosting. This year she has been growing and for much of the summer was sadly in a very "ugly duckling" phase. I felt that she lacked the growth and physical maturity to really get on the "payroll". I would pull her out a few times a month, dust off the groundwork and do a short ride. Each time she picked right off where I left her and felt good about letting her have time to grow.
This weekend she felt great! While I still think she needs time to fill out and muscle up into a riding horse, she felt ready to play with the big kids in class. We worked for about half of the class on building and keeping life, balance and freedom in her movement. She was a willing partner with a good expression and a ton more focus than we had earlier this year. I finished with her in the round pen with quick ride each day. The work we did in class helped these rides immensely. She had a good amount of life and checked off all the boxes quickly. She is going to be a nice pleasure horse for someone. She is a very willing, a kind hearted and well-behaved young mare.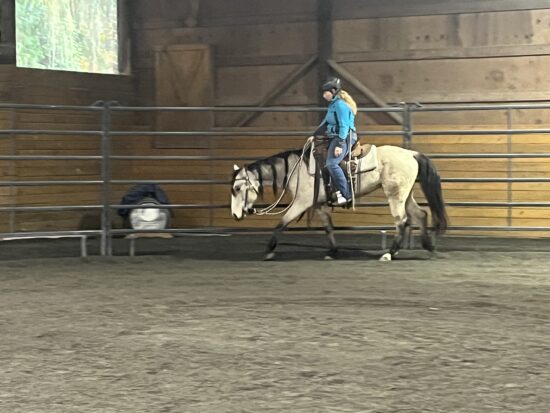 For the second half of the morning ground work class, I took our recently started Wren. This special mare is hands down one of the nicer horses to come in this year and going to become a great riding partner. She has a ton of try and after working on freeing up her feet, she is becoming confident and relaxed. I can see the horse she will become and let me tell you, I like her! She will be sensitive and have a good amount of life as well as being a brave and willing partner.
I was very impressed with her changes throughout all 5 days of work. The last day Joel really helped her get her legs underneath herself and showed her how balanced and relaxed she could feel when she engaged her hind. He is remarkable with the horses and it was impressive to watch her transformation. After class I took her each day to the round pen for a short ride. We got some great changes and I could feel her each ride pick right up where we left off the day before. If she keeps this trajectory, she will likely become one of my favorite horses to ride at SAFE. It is said that the last horse you started is always your best and better than the ones before. I am grateful for all the horse that have taught me over the years. It is nice to see all the lessons they gave me, now helping Wren.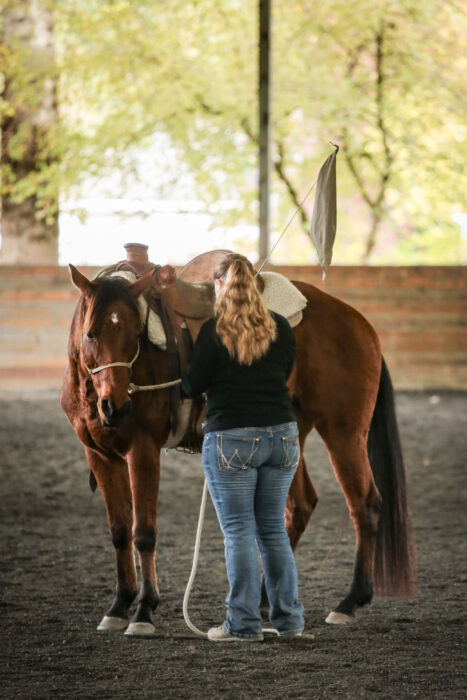 In the riding portion of class, I took in Veronica, Artie and Esme. I am literally jumping up and down with excitement for all three of these horses. Each one of them have come so far in the last year of riding.
Starting in June 2022 when Joel visited he would put a few rides on Veronica. I still remember feeling trepidatious when he handed me the reins in the fall and said she's yours now. A lot of responsibility was transferred to me that day and with-it the stress to not mess her up! This week, I started calling her my war horse. SHE WAS SO BRAVE!! Anyone who has watched and followed her during her tenure at SAFE will agree, we were never 100% sure we could help gentle her, let alone if she was going to make it as a riding horse. She was up there as one of the hardest mares to come out of the Fall City Forty herd. There were many days that I thought she was going to come running through the panels and hurt herself. Her instinct to run away from anything and everyone was very strong. Today, she is one of the easiest horses for our volunteers to catch and lead. And in this clinic, her first riding experience with 14 other horses in the arena, she was a STAR.
The first day the wind and rain decided to not play nice. We had gusts of wind making roof insulation flap above our heads and leaves on the ground suddenly without warning flying towards us with. It would have been very acceptable for her to be nervous or jump, heck I even looked at the craziness around us and shook my head. She was a rock! I felt safe and confident that she was carrying me and that she trusted me, not only to keep her out of danger, but that we were a team. I love all of our horses, but I can say honestly, I really like the horse Veronica has become. I know that part of our success is the hours of relationship and trust we have built. I hope in the months to come to help her explore more of the riding world and introduce her to her future family. Joel said that he liked the freedom in her movement which is a great compliment for the tight and flighty mare we started last year.
Artie is done being called a slow poke! This clinic he showed us all that he has a GO button now! What a flashy pony he is becoming. We jumped into the riding class about half way through and he seamlessly fit right into the group. He was very punctual in his responses and his gaits started to open up. I asked Joel to help walk me through supporting him in backing circles to the right. This has been a sticky area and I wanted to make sure I was helping him correctly. Joel helped me work him through it by freed his feet up backing straight and timing up a release when he could hold the right flexion. Artie still has some rough spots like this where the wild man we took in shows up. I am very mindful how quickly things could go wrong if he didn't have a confident rider. He can still get wide eyed at new things and takes an experienced rider to support him. But I know he is worth the effort! Just a year under saddle and feeling like he is path from here is bright. It is wonderful to see this once difficult stud turn into a gentleman gelding. He is making steady progress and really is a hoot to ride.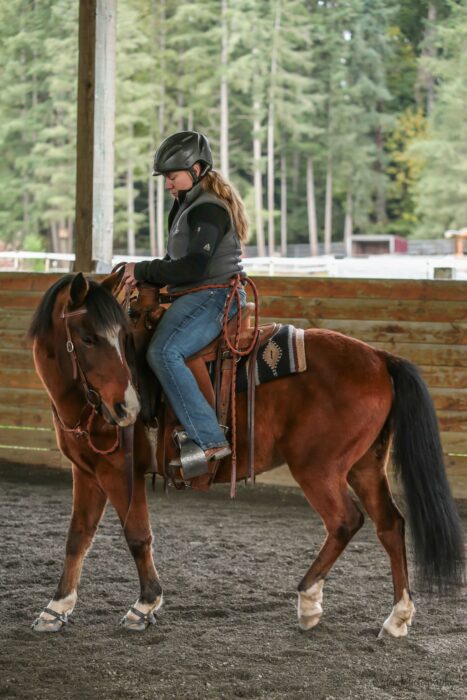 Lastly, I brought Esme out to work the last day of the clinic. She had two days off and as expected was a bit tight in the beginning but after some good ground work settled into the ride. After a year of riding, Esme is still very tight mare. She is like a little ball of energy and it has been a struggle to get her to fully relax and unwind. She has a very curious and has a genuine kindness about her but when in a bind she still feels trapped and become anxious. Out of all the horses I am working right now, she is the tightest. We get along but if something externally grabs her attention, she is not quick to relax. The biggest help has been on working on her feeling free to move which helps her letting down. When she relaxes, you can see her strides lengthen and her movement less balled up.
She isn't the most troubled or difficult horse but I do have to manage the rides and support her to unwind. There is zero filling in for the rider and she would not give a young or novice rider any confidence. I was pleased that during our ride she was following my line nicely and finished comfortably at the end of the ride with a lovely walk, trot, lope and stop on a loose rein feeling of me. I trust that with the tools we have now she is going to make it. She will just take a bit longer to become the relaxed ride most adopters need. Hopefully with some good work put in this winter, others at SAFE can start riding her and she can maintain relaxation.