George
| | | | |
| --- | --- | --- | --- |
| SEX: Gelding | BREED: Yakima Reservation Wild Horse | | |
| COLOR: Buckskin | MARKINGS: stripe | For Advanced Rider | |
| DOB: June 2018 | AGE: 4 yrs old | HEIGHT: 13.3 hh | WEIGHT: 700 lbs |
| LOCATION: Redmond | ADOPTION FEE: $4,000 | | |
George was a young stallion when we met him. He was wild and untouchable, but VERY curious about the new people who kept showing up with food. We were instantly charmed by this handsome young man. He was moved to SAFE in preparation for gelding before being adopted but the adoption fell through and he ended up becoming a SAFE horse.
We transformed him into a happy gelding and started teaching him some basic skills, like wearing a halter and leading. In 2020, George began horsemanship work in preparation for being started under saddle. When it came time for a rider to climb on board, George was extremely well prepared, and starting him as a riding horse was very straight-forward. He is still quite green, but going very well at all three gaits, and ready to be offered for adoption. We're looking for a rider with green horse experience who will continue George's training to ensure a solid future for this young horse. We brought George to the Buck Brannaman Clinic in Ellensburg in July 2021 and he did great. George has a sweet, friendly personality, and he seems to like everyone. He plays well with other horses, and…did we mention?…he is gorgeous!!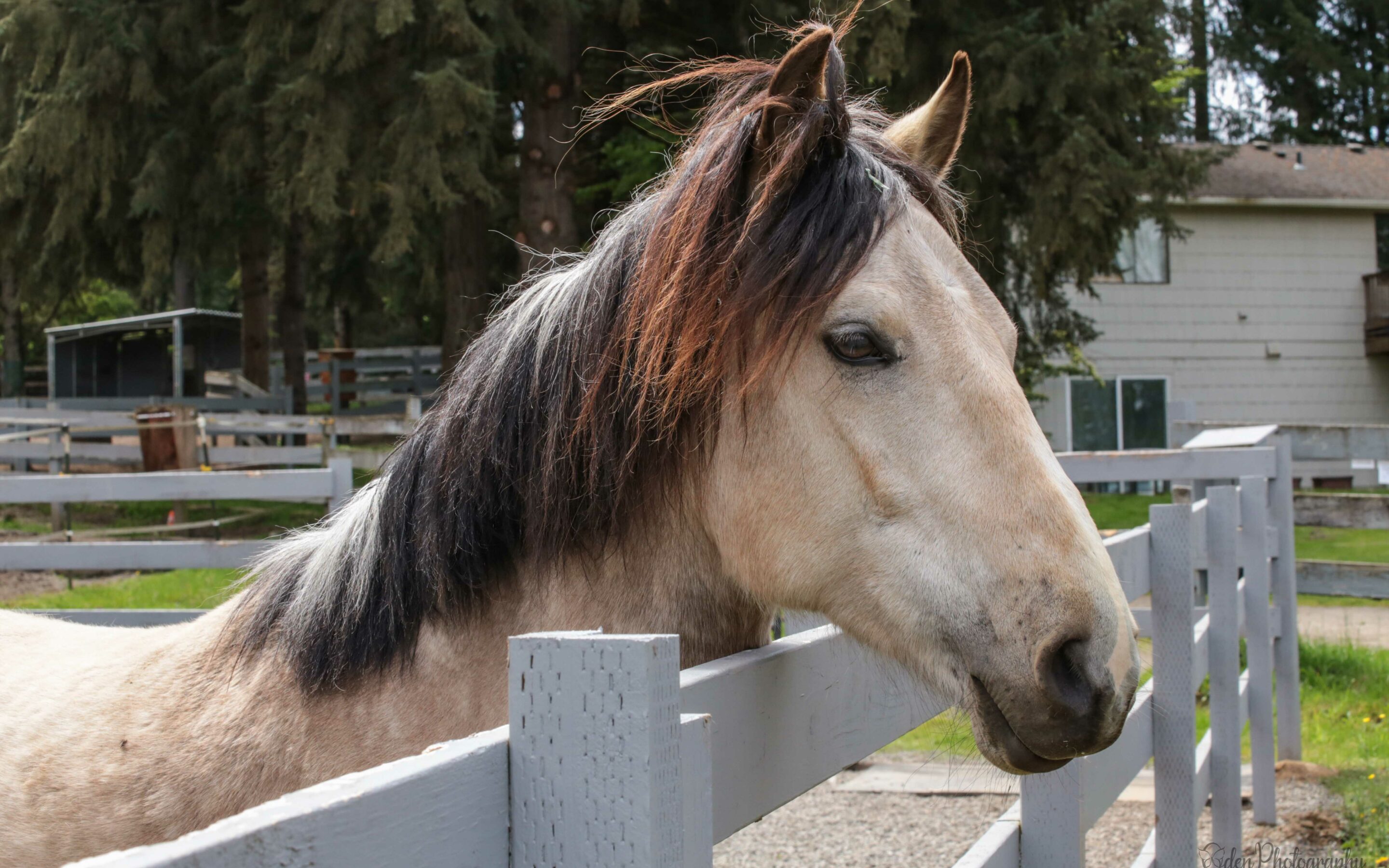 Did you know dewormer is flavored? Apple, usually, though I'm not about to test that personally. Still, flavor or no, there are certain horses who prefer the tube not even enter their sight, thanks very much. George is one such fellow, who recoils at the merest brush of plastic against his lips. If he spoke english, we could enlighten him as to why proper deworming practices are so important, but alas, he cannot comprehend why it is vital to his continued health, only that he doesn't want anything to do with a tube entering his mouth.
Enter, applesauce. Or carrot baby food, if apple sauce is not one's preference. We take a clean syringe, filled with either substance, and use it to show horses who are not keen on getting dewormed that sometimes delicious substances can, in fact, be transported via tube.
George took extraordinarily well to the tube training. Once he realized the orange delight within (George is definitely a carrot man), he almost couldn't get enough of it, and started actually seeking the tube out. To keep him tolerating and even enjoying the act of being dewormed, it will be important to sandwich his actual deworming sessions with the positive experience of getting a little carrot treat before and after. Not everything that comes out of a tube needs to be a big deal!

George's Friends:
1. George & Donna G.
2. Maureen S.
3. Tami L.
4. Anna W.
5. Lindsey P.
6. Dawn H.
7. Kirsten B.
8. Julie S.
9. Jennifer A.
10. ____________________
Every horse deserves at least ten friends! Even a small monthly donation can make a difference. Plus, SAFE horse sponsors receive discounts at local businesses through the SAFEkeepers program!