George
| | | | |
| --- | --- | --- | --- |
| SEX: Gelding | BREED: Yakima Reservation Wild Horse | | |
| COLOR: Buckskin | MARKINGS: stripe | For Advanced Rider | |
| DOB: June 2018 | AGE: 3 | HEIGHT: 13.3 hh | WEIGHT: 700 lbs |
| LOCATION: Redmond | ADOPTION FEE: $4,000 | | |
George was a young stallion when we met him. He was wild and untouchable, but VERY curious about the new people who kept showing up with food. We were instantly charmed by this handsome young man. He was moved to SAFE in preparation for gelding before being adopted but the adoption fell through and he ended up becoming a SAFE horse.
We transformed him into a happy gelding and started teaching him some basic skills, like wearing a halter and leading. In 2020, George began horsemanship work in preparation for being started under saddle. When it came time for a rider to climb on board, George was extremely well prepared, and starting him as a riding horse was very straight-forward. He is still quite green, but going very well at all three gaits, and ready to be offered for adoption. We're looking for a rider with green horse experience who will continue George's training to ensure a solid future for this young horse. We brought George to the Buck Brannaman Clinic in Ellensburg in July 2021 and he did great. George has a sweet, friendly personality, and he seems to like everyone. He plays well with other horses, and…did we mention?…he is gorgeous!!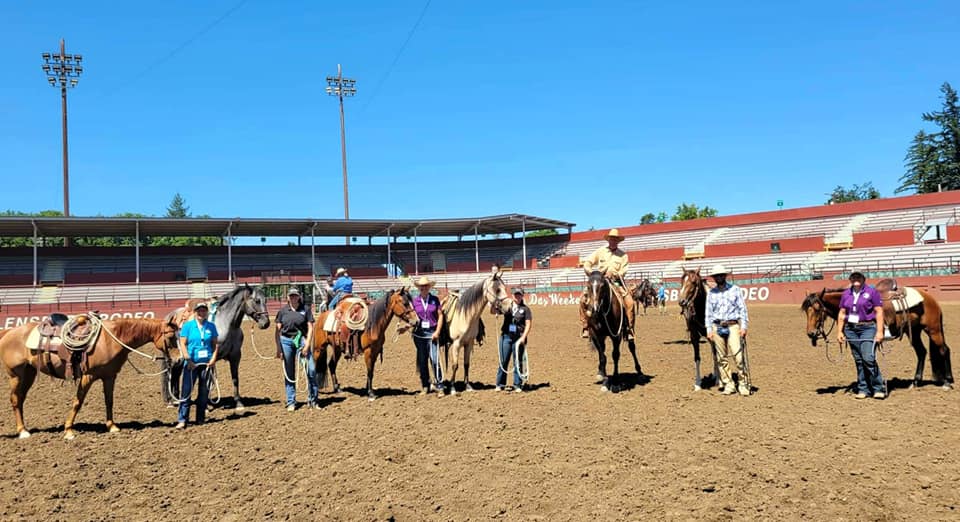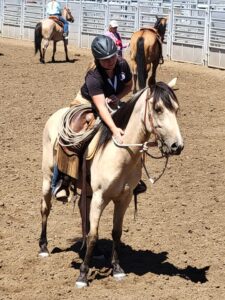 George had his first trip off the SAFE property since his rescue in 2019, as one of five SAFE horses who traveled to Ellensburg for the Buck Brannaman clinic in early July. Buck's Foundations class is a great experience for a young horse like George, and we're extremely happy that he was given this opportunity.
George did well on the trailer ride and settled into his paddock at clinic with minimal calling to the other SAFE horses. By the third day of the clinic, he was acting less herd bound than on arrival. Terry worked with George to create more engagement with the hind while backing up, keeping his head down and getting into a smooth 2‑beat backing rhythm. They also did a lot of work getting a steadier rhythm with all four feet reaching equally on hind quarter and front quarter transitions, something George is not yet an expert at, but is steadily improving. On the last day of the class, Terry rode George in the arena with 28 other horses. It was a good opportunity for George to practice staying connected to his rider with lots of potential distractions. George is impressing all of us with his easy-going nature under saddle, and he should be ready to find a new home very soon!

George's Friends:
1. George & Donna G.
2. Maureen S.
3. Tami L.
4. Anna W.
5. Lindsey P.
6. Amy J.
7. Kirsten B.
8. Julie S.
9. _____________________
10._____________________
Every horse deserves at least ten friends! Even a small monthly donation can make a difference. Plus, SAFE horse sponsors receive discounts at local businesses through the SAFEkeepers program!