Mac
2005 bay Thoroughbred Cross gelding
Type of Rescue: Animal Control Surrender
Intake Date: 1/27/21
Adoption Date: 6/17/22
Length of Time with SAFE: 1 year and 6 months
ADOPTED!! by Jerre
Jerre came to SAFE looking for a companion horse for one of her riding mares. She needed a horse who could keep her mare company, but get upset when she went out riding and took their buddy away. Mac needed a special home that understood his fear and troubles and had the skills and willingness to work through it. Mac can get startled and back up in a panic, so we are looking for a home with enough horse experience to help this sweet boy when he gets uncomfortable. Someone who understands the support Mac needs and will love him just the way he is. So when the two met and hit it off we were thrilled!
Mac and another horse were seized from the owner by Animal Control due to extreme neglect. The pair spent a few months in custody before Mac was released to SAFE. We were told he was an experienced trail horse, but after some time evaluating if he would be a good riding horse, we decided to retire him to the good life and offer him as a companion. He has a little arthritis in his right hind, so movement in turnout or on grass is helpful. He now gets to share a large pasture with friends and can finally be at peace in his new forever home thanks to Jerre.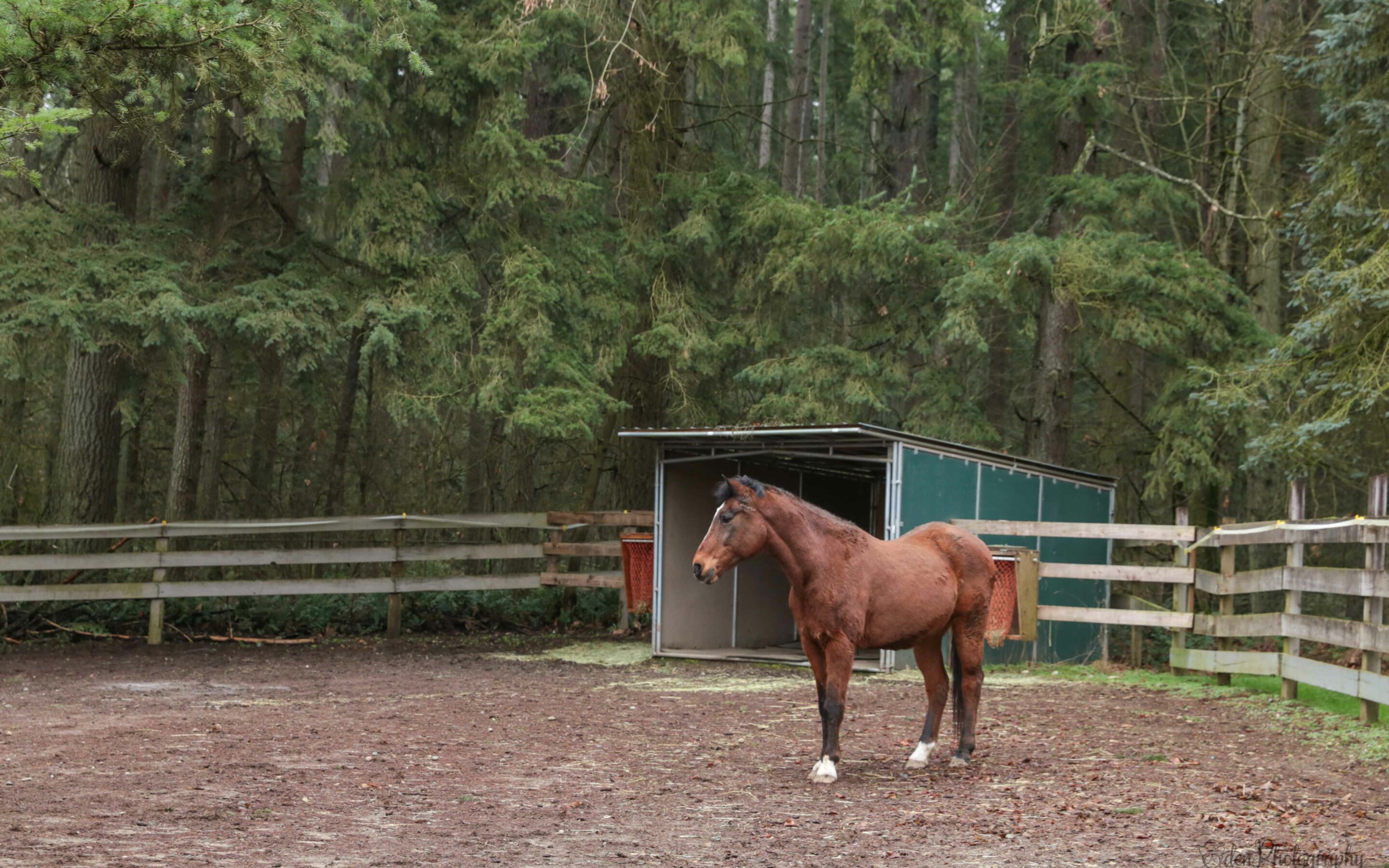 Terry had this to say our big Mac:
"I think a lot about what Mac's perfect home would be. It is hard to find because the person handling has to have good horse sense. They need to understand good timing for pressure and release. Too much pressure without a timely release and he would easily scramble backwards and sit down or flip backwards. Our great horsemanship volunteer and friend, Lexee, has dedicated a ton of time helping him with this issue and has made terrific changes. That said, in the wrong hands, he will go right back to the troubled spot. When he moves to a new home, he will need support in the transition and will need to experience everything again with his new owner. They will have to know how to work through it with him or there will be a big wreck. This is by no means impossible but very difficult. Most adopters are looking for an easy to get along with horse. Those that have horses like Mac understand their horse's behavior and manage it. No one goes out looking for a horse with trouble. So, the question is how does SAFE help Mac find a home willing to take him in and love him "just the way he is", understanding that he is frightened and needs support to successfully manage things that upset him?
We are honest about everything we experience with our horses and (maybe to a fault) lay out all the good and bad for adopters to hear. There are some truly amazing things about Mac that hopefully will help him find a home. He is easy to be around, submissive and never fights with others, he is not herd bound, he walks pleasantly to and from turnout, and he has no health or medical issues that are difficult to manage. He requires extra senior feed in the winter months and has a normal amount of age-related arthritis to monitor as he continues to age. One of the best things about Mac: his heart. He is a very dear gelding that wants to connect and feel peace with those around him. You can see this in his soft expression and clearly enjoys one on one time with people he trusts.
Mac has a few volunteer buddies now who spend time with him and Domino. Giving them extra TCL, grooming and attention. He has been wonderful for them and they are enjoying spending time with him. When the right home presents itself, Mac is ready. Until then, he is very much loved and enjoyed here at SAFE."