Mac
| | | | |
| --- | --- | --- | --- |
| SEX: gelding | BREED:Quarter Horse type | REGISTERED NAME:unknown | INTAKE DATE:1/27/2021 |
| COLOR:bay | MARKINGS:star and stripe | | |
| YOB: 2001 | AGE: 20 | HEIGHT: 15.1 HH | WEIGHT: 950 |
| LOCATION: Redmond WA | ADOPTION FEE: $500 | Online Adoption Application | |
Mac and another horse were seized from the owner by Animal Control due to neglect. The pair spent a few months in custody before Mac was released to SAFE. We're told he is an experienced trail horse, and if that proves to be true, it should be fairly easy to find this kind horse a good home. Mac still needs to gain a few more pounds and complete his three week quarantine, but once he's ready, he'll join the SAFE horsemanship program and we'll see what he knows!
Mac's friend is headed to Cowgirl Spirit Rescue Ranch for retraining and rehoming.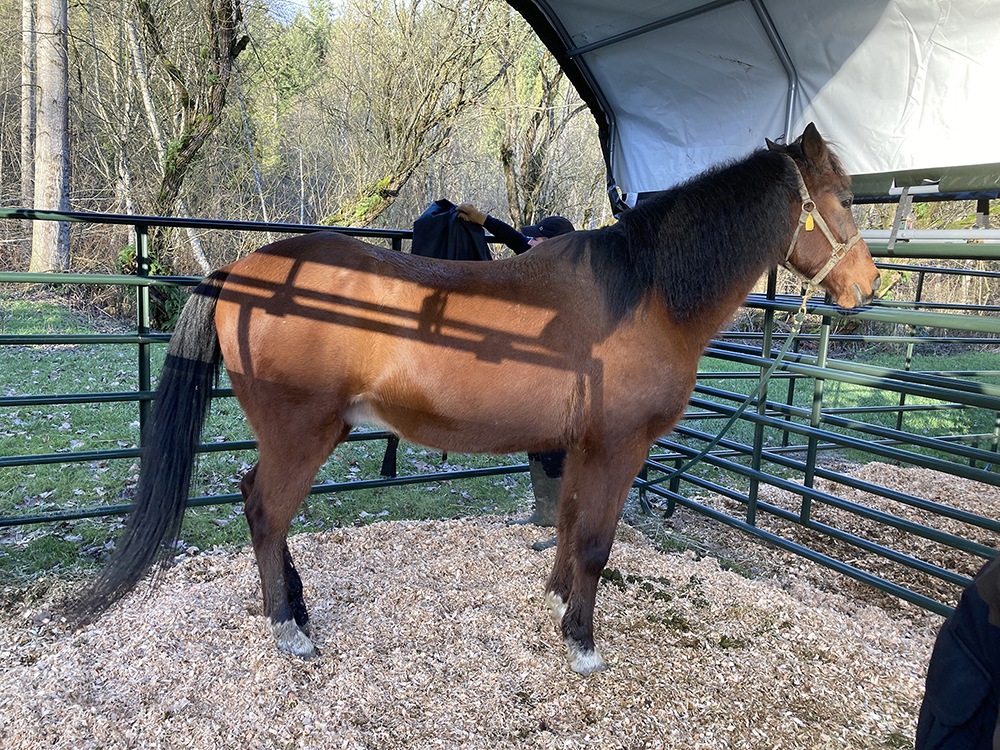 Mac and another gelding were seized by Animal Control due to severe neglect. We are told that Mac was almost as thin as Anakin was when he was picked up. He spent several months in Animal Control custody before being signed over to SAFE. We're told that Mac is an experienced trails horse, and if that is indeed true, we should have no trouble finding a good home for this sweet old fella. Mac still has a few pounds to gain, but once he's healthy and out of quarantine, he'll join our Horsemanship program and we'll find out what he knows!
Mac's friend is being taken on by Cowgirl Spirit Rescue Ranch, where he will get the care and retraining he needs to find a new home.

Mac's Friends:
1. Julie B.
2. Debra F.
3. Judy C.
4. JoAnne & Dwight L.
5. Nancy S.
6. Christina W.
7. _____________________
8. _____________________
9. _____________________
10._____________________
Every horse deserves at least ten friends! Even a small monthly donation can make a difference. Plus, SAFE horse sponsors receive discounts at local businesses through the SAFEkeepers program!