Mac
| | | | |
| --- | --- | --- | --- |
| SEX: gelding | BREED:Quarter Horse type | REGISTERED NAME:unknown | INTAKE DATE:1/27/2021 |
| COLOR:bay | MARKINGS:star and stripe | | |
| YOB: 2001 | AGE: 20 | HEIGHT: 15.1 HH | WEIGHT: 950 |
| LOCATION: Redmond WA | ADOPTION FEE: $300 | | |
Mac and another horse were seized from the owner by Animal Control due to neglect. The pair spent a few months in custody before Mac was released to SAFE. We're told he is an experienced trail horse, and if that proves to be true, it should be fairly easy to find this kind horse a good home.
Near the end of March, 2021, Mac was startled by something when being led into the barn. When he reacted, he fell and seriously gashed his left hind leg. Mac was put on extended stall rest to ensure that he moved as little as possible while his injury healed. Mac has been great about accepting his confinement. To keep him company, permanent resident mini horses Sunny and Shasta spend part of their day near Mac in a temporary fenced area. With multiple bandage changes behind him, the good news is that Mac's wound is closing and filling in. Mac loves the attention he gets during the bandage changes and is enjoying daily grass turnout with a buddy.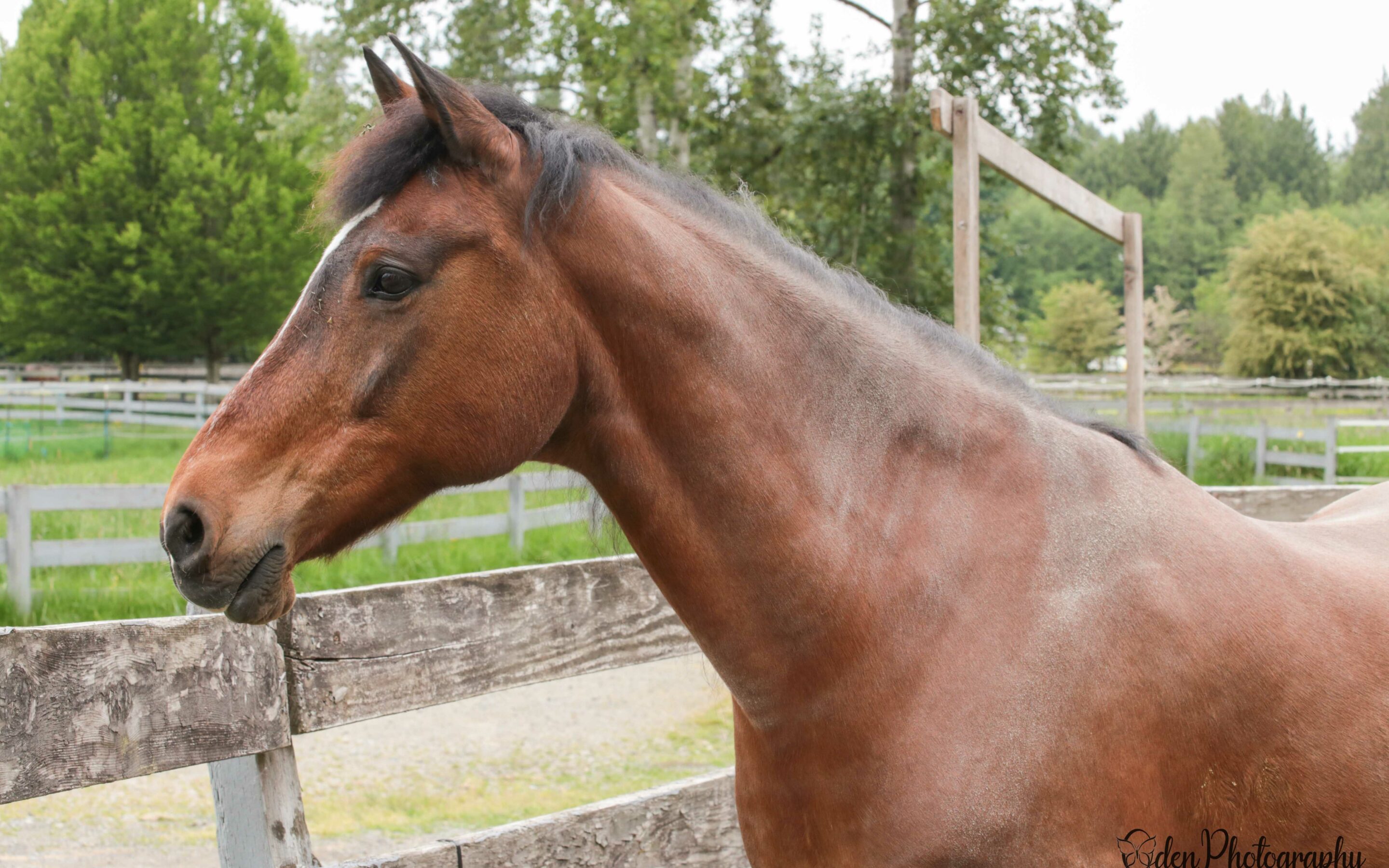 Mac just got the okay from the vet to come off of stall rest and move around some more! After 9 weeks, he has graduated from living in a stall 24/7 to getting a little sunshine in one of our rehab paddocks. Just like a lot of horses, Mac is a social guy and is happy to be outside of the barn surrounded by more friends as he goes about his day.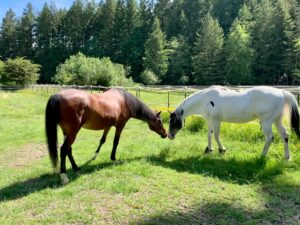 He even got to stretch his legs with a brand new friend, Domino, for a little grass time. The two hit it off right away and Domino was upset when their time was over too quickly and called to him from his paddock across the property. Don't worry, the two will have more time to hang out as we slowly increase their grass time over the next couple weeks. The future is looking up for our big Mac.

Mac's Friends:
1. Julie B.
2. L. Devin M.
3. Judy C.
4. JoAnne & Dwight L.
5. Nancy S.
6. Christina W.
7. Debbie M.
8. Virginia M.
9. Michele L.
10. __________
Every horse deserves at least ten friends! Even a small monthly donation can make a difference. Plus, SAFE horse sponsors receive discounts at local businesses through the SAFEkeepers program!