Piper
| | | | |
| --- | --- | --- | --- |
| SEX: Filly | BREED: Morgan cross | REGISTERED NAME: none | |
| COLOR: Buckskin | MARKINGS: | | |
| DOB: June 2017 | AGE: 3 | HEIGHT:15.0hh | WEIGHT: |
| LOCATION: Redmond WA | ADOPTION FEE: $3,500 | Online Adoption Application | |
Piper and her dam Zoe were seized by Animal Control when their owner refused to seek treatment for a serious wound on Zoe's leg. Since Piper was only 6 months old when she arrived at SAFE, we did our best to let her figure out how to be a horse and grow up happy and healthy.
Being somewhat of a "blank slate" with no bad experiences to overcome, Piper's education as a riding horse was consistent and solid, starting with groundwork, then moving on to saddling and riding. As a result of her extensive preparation, Piper was easy to start and has taken well to being a riding horse! She is still very green and is learning a lot through her training. She's being offered for adoption to someone with experience with green horses, who is willing to keep her education moving forward. She'll make a terrific partner for someone looking for a nice young horse!
All SAFE horses are adopted with a no-breeding clause, no exceptions.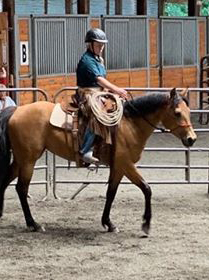 Piper is a riding horse! While she's still technically in training and on hold, Piper is proving herself to be quite a capable riding partner. In the beginning of her training, Piper was a little dull and didn't move forward very easily. She has since overcome a lot of these tendencies and has become more sensitive and forward.
One of the reasons we have not wanted to work and ride her too much these last months is that she always seems to be growing!! Not only is it awkward to be moving out on legs you didn't know you had, but it's critical she not be forced to overwork her joints since they're still developing. Piper is in it for the long haul and will have a lifetime ahead of her for long rides. So for now she is worked lightly 2–3 times a week until we get some good changes and then we GET OFF! No reason for this young horse to ride around on circles for hours. Next year, she will be more physically mature and then she can "go on the payroll."
Piper is turning out to be quite a tall Morgan cross! Her buckskin color and beautiful amber eyes definitely help her stand out in a crowd. Piper tends to be a little lower in the pecking order of her herd, but since she's made friends with Sienna (the unquestioned lead mare) she's given special preference. This young lady will make a great partner for her future adopter!

Piper's Friends:
1. Tiffany L.
2. Colleen W.
3. Jessica S.
4. Lori S.
5. _____________________
6. _____________________
7. _____________________
8. _____________________
9. _____________________
10._____________________
Every horse deserves at least ten friends! Even a small monthly donation can make a difference. Plus, SAFE horse sponsors receive discounts at local businesses through the SAFEkeepers program!