Piper
2017 buckskin Morgan mare
Type of Rescue: Owner Surrender Animal Control Surrender
Intake Date: 12/1/17
Adoption Date: 1/26/21
Length of Time with SAFE: 3 years, 2 months
ADOPTED by Talia!
Piper and her dam Zoe, were seized by Animal Control when their owner refused to seek treatment for a serious wound on Zoe's leg. Since Piper was only 6 months old when she arrived at SAFE, we did our best to let her figure out how to be a horse and grow up happy and healthy. Being somewhat of a "blank slate" with no bad experiences to overcome, Piper's education as a riding horse was consistent and solid, starting with groundwork, then moving on to saddling and riding. As a result of her extensive preparation, Piper was easy to start and took well to being a riding horse!
Piper today
Talia fell in love two years ago when opened her home to fostering Piper. She provided space for Piper to grow up and be a kid! At the time adoption was not in the cards, but Talia always kept and eye on her girl and hoped that someday it may work out. We are excited that it has come full circle and Piper came back home to Talia and her best horse buddy, Nova.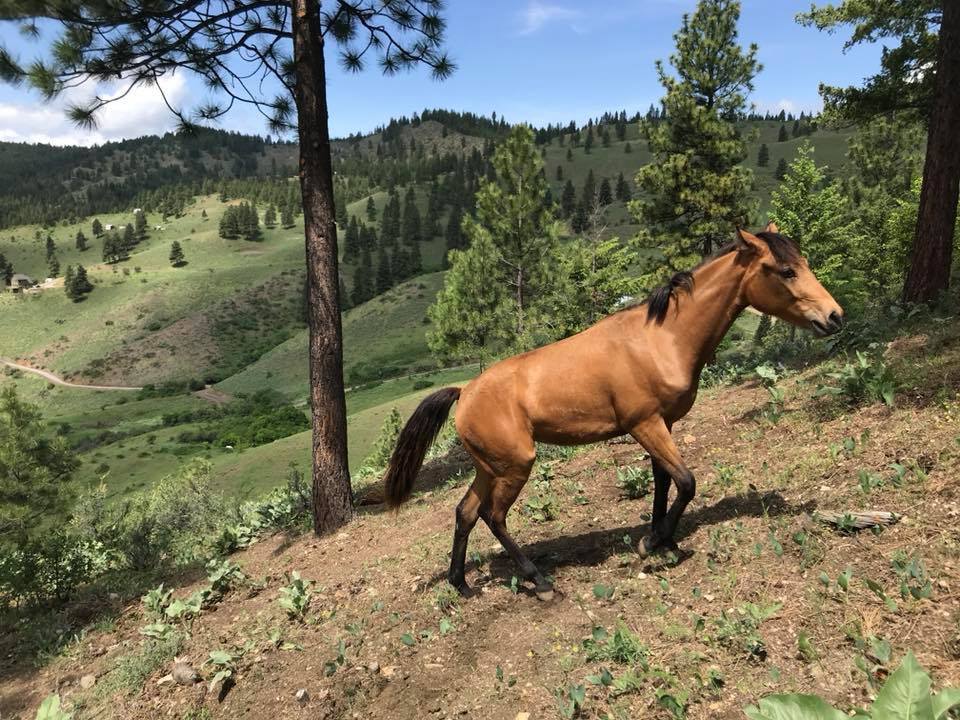 Last week, we tearfully loaded Piper into a trailer and wished her well as she headed off to her new foster home. Because Piper is so young, she has a lot of growing up to do before she'll officially start training. So we started thinking about sending her out to foster, and immediately, the perfect foster home became available to us! Piper is living on a property in the mountains just east of Leavenworth WA. She shares 15 acres of turnout with a small group of horses who can teach Piper how to be a horse. Piper's foster mom is a long term SAFE supporter named Talia who came very close to adopting Anderson at one point. (Anderson's breathing issues that came to light during last year's fires put a stop to this adoption — he's just not suitable to life in arid eastern Washington.) Talia has been keeping us all posted on Piper's progress and sharing photos of her new friends and surroundings.
5/16/2018:
Little girl unloaded just as bravely and quietly as she loaded, and she traveled very well. The boss mare pecking order shenanigans were relatively subdued, and she held her own. My sweet teddy bear mare, Cameo (pictured below), took to her right away. We've let her know that if she stands politely and keeps her little teeth in her little mouth, we'll just love on her all day. They'll stay in the dry lot tonight so we can keep an eye on her as she settles in, and she'll get her first taste of the big pasture tomorrow.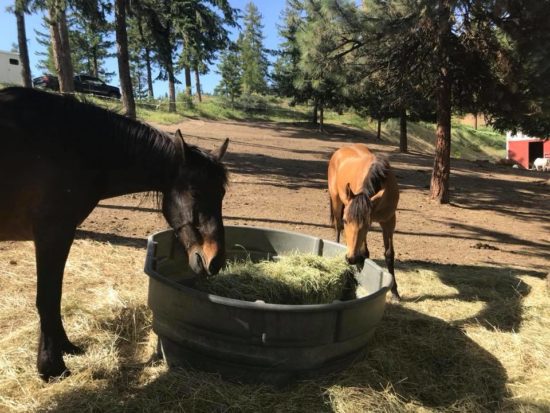 5/18/2018:
Piper is settling in very nicely, and is getting a very good education. I thought you all might like to see a short clip of one of the camp counselors in action. Boss mares expect that baby will move out of their way, but they have been very patient and gentle with her. She's getting offered the good deal first, then the not so good deal. Little one is catching on fast though, so she's mostly taking the good deal. They have been letting her eat, drink, and snooze with the herd. We had some stormy weather the last couple of days, so they've been staying in the paddock where they have access to the barn to get out of the weather. The boss mares have even been letting her in the shelter with them, though she seems to prefer the trees. Hoping the weather will cooperate for a big pasture adventure tomorrow afternoon or Sunday.
5/19/2018:
If I had to guess which herd member would be most upsetting for Piper to watch leave, it would Willow, the "beta" mare. She kept the little girl company on her first night when she was still keeping her distance from the group, and Piper seems to gravitate most to her. This morning I took Willow for a ride for the first time since Piper arrived. Piper was clearly interested in the departure (as you can see in the photo below), but just whinnied once as we left and then went back to munching hay with the rest of the group. Such a good girl!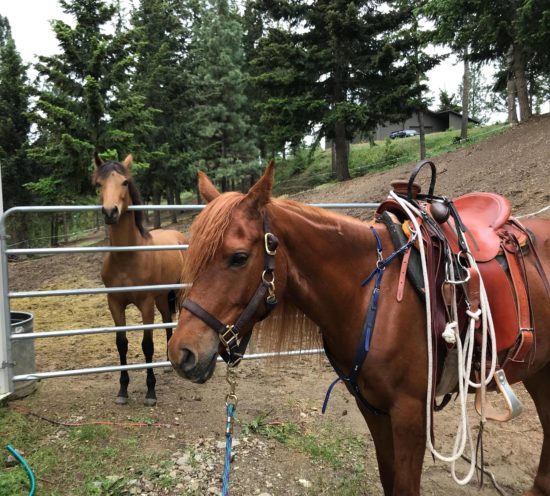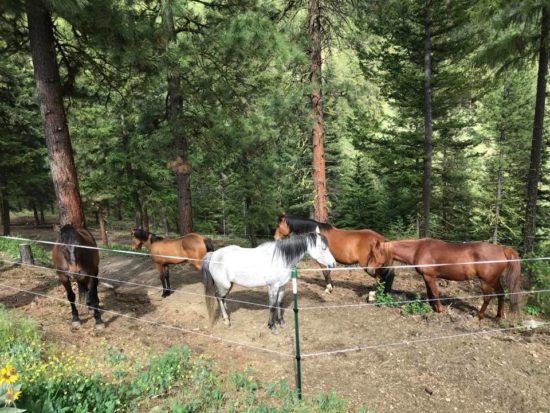 Photos of Piper's world (click to enlarge):