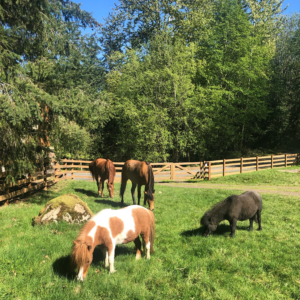 Dottie and Piper are living it up at their foster home! They get to be friends with all kinds of farm animals, they have acres to roam and graze on, and they have a foster family who adores them.
Piper is getting to be a big girl. She'll be two years old in June and she is just about ready to come back to SAFE to further her education. Once Piper comes home, she'll get started with groundwork, learn to carry a saddle, get a few light rides put on her, then go back out to foster to continue growing. It's important that horses not be worked too hard at this young age. Overworking a horse who's not developmentally mature enough can lead to soundness issues later in life.
Dottie will continue to live in this foster home, where she'll have a few miniature horses as herd mates. She's quite content in her current setup with the ability to choose between a stall, a paddock, and a pasture 24 hours a day–and we're quite content to have her there! Dottie needs a special living arrangement due to her propensity to colic when she's confined, so having a home like this is ideal for her. And having her at a foster home that's close to SAFE for easy access gives us peace of mind.
Stay tuned for a Piper update once we get her back home and started with training!