Sinatra
description: 2007 Cremello Saddlebred cross gelding
type of rescue: King County Animal Control Seizure
intake date: 2/23/2008
adoption date: 7/28/2014
length of time with SAFE: 6 years, 5 months
Sinatra's Story: Sinatra got his name from his pretty blue eyes, and his larger-than-life personality. As a youngster, Sinatra was badly neglected by his breeder/owner, but from the day he arrived at SAFE, despite his weakened condition, he has always been friendly, engaging, and funny. Sinatra is one of the most social horses you will ever meet, and he is truly a one-of-a-kind character.
SAFE provided 60 days training to start Sinatra under saddle and he was ridden on and off for several years, but he was rarely 100% sound, likely because of the extreme neglect he suffered as a foal. Sinatra was diagnosed with moderate-to-poor proprioception, which meant that he didn't always know where his feet were. This condition could be controlled to some extent with large doses of Vitamin E, but not to the point where we felt he was safe to be ridden.
Sinatra and his good friend Honeycutt were adopted in 2014, but by 2019, we had lost contact with their adopter and had concerns about the quality of care they were receiving. Fortunately, we were able to negotiate their return to SAFE. Sinatra was adopted again shortly afterwards, and was reunited with his brother Phoenix at the home of our dear friends Lauren and Brian Engle. Sinatra and Phoenix share a gorgeous farm with another SAFE horse Denton (aka King) and a pair of calves named Betsy and Jersey. We could not have dreamed up a better happy ending for this unique and special horse!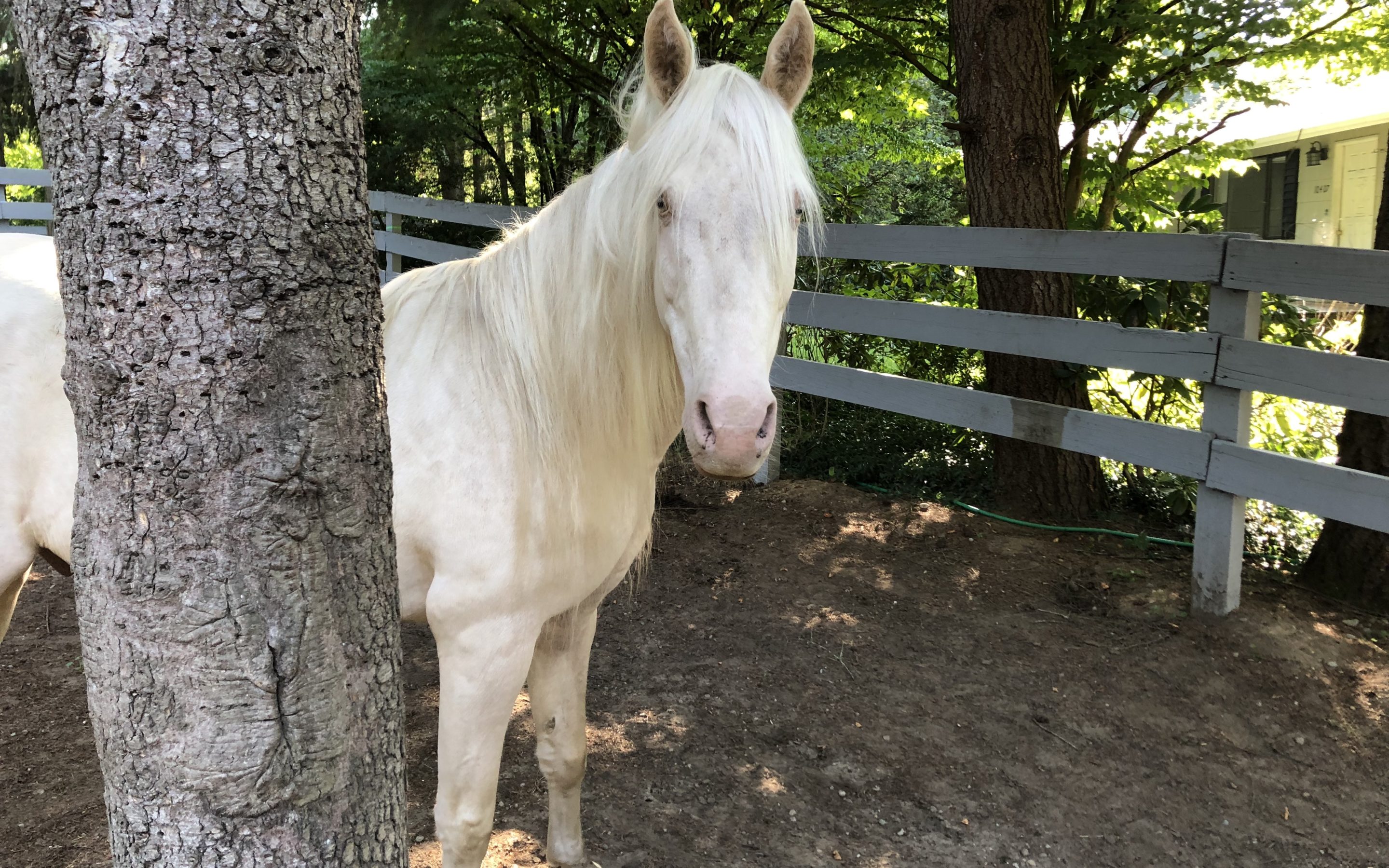 Honeycutt and Sinatra have settled in to life at Safe Harbor Stables. They reside in the paddock closest to the gate where they can watch people come and go. From the far side of the paddock they can see lots of other horses, and watch our volunteers at work.
When the boys first arrived back at SAFE, they seemed astonished to see other horses again! They are living next door to an old friend named Owen, and all three horses seem to recognize and remember each other from their time in foster together. (Here's Honeycutt's take on the Owen situation, written shortly after we rescued the Curly Horse stallion.) Honeycutt remains a little shy, but he's happy to stand and observe as Sinatra makes friends with everyone who passes by his area. Sinatra is older now, but he's retained that childlike wonder through which he views the word.
Both horses have been examined by our vet, had their teeth floated, and their hooves trimmed. Sinatra was showing signs of lameness when he arrived, so we're hoping that we can make him more sound by getting his hooves back in shape. He's got a pretty big crack on the front of his left fore, but farrier Andrea feels that it will grow out and be gone in other trim or two. Both boys had very nasty thrush, but the treatments we're doing to rid them of that appear to be working. We did a blood test on Honeycutt to confirm that he does have Cushings as we feared, so he's been started on a medication called Prascend to help control it. We'll have to control his diet and watch carefully for signs of founder, but hopefully he'll be feeling better soon. Honeycutt also has four loose teeth that will need to be pulled. We can't say for certain if this is just a symptom of aging, but it's another reminder of why horses need regular dental checkups. And regular appointments with the farrier.
All in all, both Honeycutt and Sinatra are looking and feeling better than when they arrived two weeks ago. Their dreadlocks are gone, and both have enjoyed grooming and braiding sessions with volunteers. They've gotten accustomed to hay being delivered several times a day, and they're getting the hang of those pesky slow feeders. Every day they get a little serving of tasty, tasty grain with their vitamins, and that makes them happy. And they've still got each other for company, although once their quarantine period is up, they may start making new friends and learning to be less dependent on one another. We'll take it slow.
Many people have asked if Honeycutt will resume writing his blog now that he's back in wi-fi range. He definitely plans to start writing again, once he's feeling better. He wrote a haiku for his Facebook page shortly after his return that went:
This is a good place
Lovely hays come day and night
But I still feel strange
To follow Honeycutt, his website is http://honeycutt.safehorses.org and his Facebook page is https://www.facebook.com/pg/dont.sit.on.me/
Here are some photos prior to Honeycutt and Sinatra's farrier appointment (thank you Kristina Oden!):