Valor
SEX:
Gelding
BREED:
Quarter Horse
REGISTERED NAME:
TBD
 
COLOR:
Chestnut
MARKINGS:
Blaze, two hind socks
 
 
DOB:
Jan 19, 2014
AGE: 5
HEIGHT:
14.2

WEIGHT:

818 lbs

LOCATION:
Redmond
ADOPTION FEE:
$2,500
Online Adoption Application
 
Valor's Story
Valor and his five herdmates (including his dam, Nashville) were surrendered to SAFE by their owner, who was no longer physically or financially able to properly care for them. The horses were in decent weight but had not had farrier or dental care in some time. Valor came to SAFE as a stallion, but has been successfully gelded and is recovering well. He also had a hernia, that was surgically corrected and upward fixation of the patella, which has been treated with a fenestration process. Despite these medical needs, Valor is a fine young horse who is handsome, gentle, and bright.
Valor Today
Valor was started under saddle at SAFE through our volunteer Horsemanship Program. On the ground, he's easy to be around, and he's developed nicely under saddle at all three gaits with a big step and soft feel. He's comfortable around other horses working in the arena and is generally unfazed by the noise and energy of what's going around on him.
Regardless of the direction his adopter takes him in, Valor has a great mind, friendly personality, and lots of athletic potential. Not to mention he's a handsome fellow with a shiny chestnut coat and a big white blaze!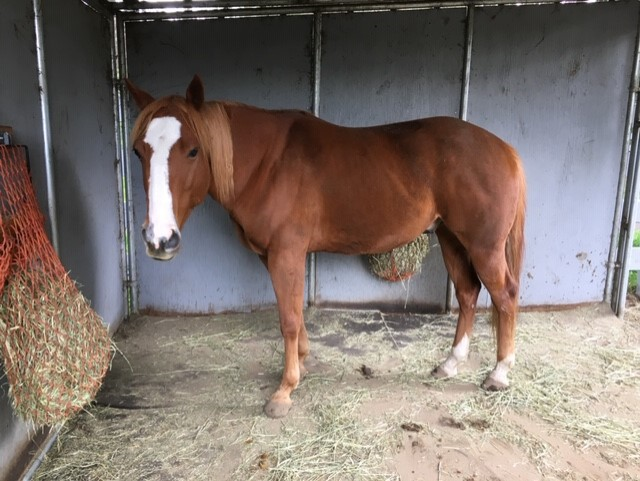 Valor took a trip to Rainland Farm Equine Clinic for his bone scan procedure at the end of September. It was great to be able to get some concrete answers and know where his lameness issues really lie. The trouble with a bone scan is that it can reveal a large number of potential problems, and someone with an un-trained eye might assume that all of those potential issues are true trouble areas. Valor had quite a few of these areas that showed up on the scan. Luckily, Dr. Fleck's trained eye easily determined which spots need addressing and which ones are clinically insignificant.
The areas that we think are true potential problem areas are his feet, shoulders, right stifle, and right hind pastern. We plan on putting him in glue-on shoes to help protect his tender feet. Beyond that, our next step is to get radiographs of his right hind pastern to determine what's going on there. Dr. Fleck suggested we also consider treating his shoulders with steroid injections, and radiographing and potentially injecting his right stifle, as well.
The information we gained from the bone scan is incredibly helpful since Valor's case has been a challenging one. We no longer feel like we're trying to find needles in a haystack. Now there's a straighter path to follow to help get him back to soundness. Dr. Fleck will be out again next week to perform the radiographs of his pastern. Once we know what that shows, we'll be able to devise an overall treatment plan. In the meantime, Valor is content to just hang out and get loved on.

Valor's Friends:
1. Chris W.
2. Kimi W.
3. Annabel F.
4. _____________________
5. _____________________
6. _____________________
7. _____________________
8. _____________________
9. _____________________
10._____________________
Every horse deserves at least ten friends! Even a small monthly donation can make a difference. Plus, SAFE horse sponsors receive discounts at local businesses through the SAFEkeepers program!