Valor
SEX:
Gelding
BREED:
Quarter Horse
REGISTERED NAME:
TBD
COLOR:
Chestnut
MARKINGS:
Blaze, two hind socks
DOB:
Jan 19, 2014
AGE: 4
HEIGHT:
14.2

WEIGHT:

818 lbs

LOCATION:
Redmond
ADOPTION FEE:
$2500
Online Adoption Application
Valor's Story
Valor and his five herdmates (including his dam, Nashville) were surrendered to SAFE by their owner, who was no longer physically or financially able to properly care for them. The horses were in decent weight but had not had farrier or dental care in some time. Valor came to SAFE as a stallion, but has been successfully gelded and is recovering well. He also had a hernia, that was surgically corrected and upward fixation of the patella, which has been treated with a fenestration process. Despite these medical needs, Valor is a fine young horse who is handsome, gentle, and bright.
Valor Today
Valor was started under saddle at SAFE through our volunteer Horsemanship Program. On the ground, he's easy to be around, and he's developed nicely under saddle at all three gaits with a big step and soft feel. He's comfortable around other horses working in the arena and is generally unfazed by the noise and energy of what's going around on him.
Regardless of the direction his adopter takes him in, Valor has a great mind, friendly personality, and lots of athletic potential. Not to mention he's a handsome fellow with a shiny chestnut coat and a big white blaze!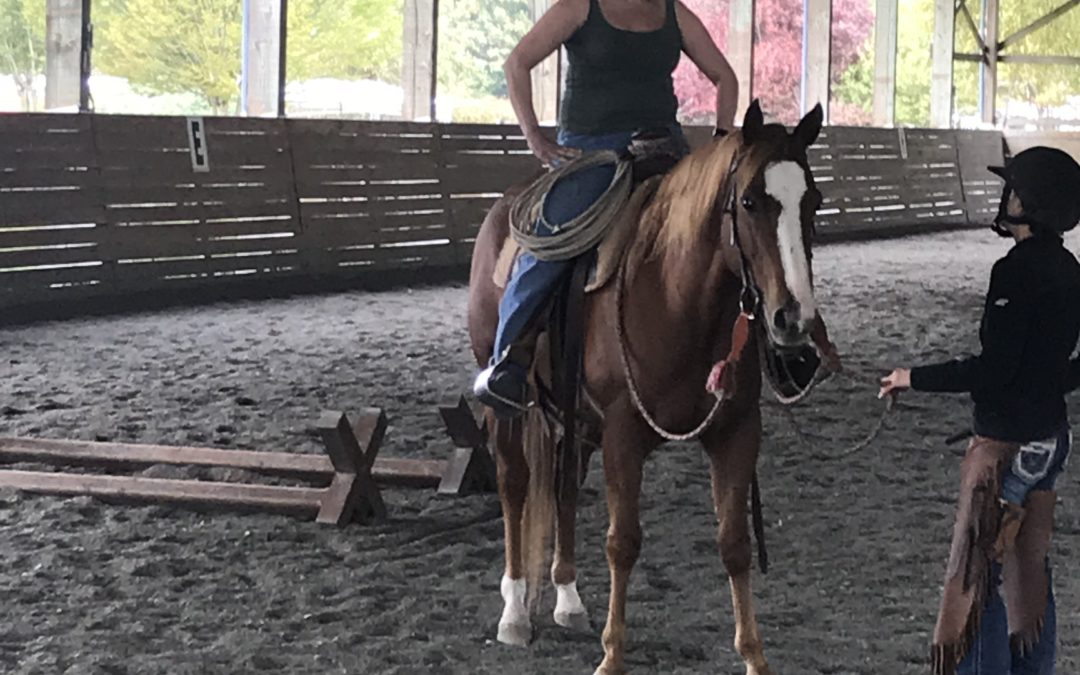 Kasey O has been considering the adoption of a SAFE horse! She came out to meet Valor, and was kind enough to share her impressions of him:
About two weeks ago, I visited SAFE for a second time. The first time was to meet and ride Roscoe. This time was to meet Valor, and hopefully make a decision as to which of the two horses would make the perfect fit into our little family. I want to share my experience in viewing Valor.
First off, there is NO reason whatsoever I could come up with to turn this one away. He is wonderfully put together, his movement is nice, his attitude and demeanor is willing and pleasant. I don't have as much insight as some more experienced riders may have, but I do consider myself an advanced rider in "ability to stay on and get by handling most horses of any level and able to get some good results in training" and I would say "intermediate" for being able to conform to certain disciplines or being able to know enough and handle myself well enough to learn a certain discipline, and "beginner" when it comes to refining what I am doing and "feeling" the horse and really "look like I kinda know what I am doing – sort of".
My thoughts on Valor when considering him for someone like myself…One, time. He deserves time. Two, consistency. He deserves a consistent hand and consistent work. I felt if I was in a different place and time, he and I could have formed a great partnership as long as I participated in training with him, allowing us to learn and grow together. But let's be real, I have two young sons. I have a limited amount of time to devote. I have some level of "knowledge" to contribute, and I'm ready to learn at a slower pace…but in being fair to Valor, I am not the right fit for him…at this time. But I tell you, were my boys a bit older already, I would have loved to bring Valor home. He is going to make an outstanding partner for someone and I would be thrilled to see him reach his potential. I felt in my heart, this boy was getting ready to go any of several directions with his right partner. And he sure is handsome.
I wish you the best, Valor, and I'm so happy you have ended up at SAFE, where they will make certain you remain SAFE for the rest of your life. You are a very lucky horse!!

Valor's Friends:
1. Chris W.
2. Kimi W.
3. Annabel F.
4. _____________________
5. _____________________
6. _____________________
7. _____________________
8. _____________________
9. _____________________
10._____________________
Every horse deserves at least ten friends! Even a small monthly donation can make a difference. Plus, SAFE horse sponsors receive discounts at local businesses through the SAFEkeepers program!