We had a marvelous time at this year's Holiday Open House — thank you to everyone who came out to see us!! Sunny & Shasta did a great job as Santa's elves, and the photos were fantastic. Big thanks to our wonderful photographer Crescent Moegling, who, with the help of her trusty assistant Brenda, kept everyone smiling for their holiday portraits. And thank you to Santa for taking time out of your busy holiday schedule to be there for us. Hopefully Sunny & Shasta had a chance to tell you what they want for Christmas!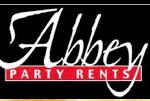 We'd also like to thank Abbey Party Rents for donating the use of a gorgeous backdrop and stand for our photos — having that backdrop for our photos was a lifesaver!! Our Santa set looked so professional, along with Jeannette's wreaths and garlands, Patti's fir trees, and the wonderful settee that Debi painstakingly recovered with pretty fabric for us!!

And a huge thank you to our friends at Peet's Coffee & Tea! Not only did Peet's donate plenty of hot steamy coffee to help everyone keep the chill off, they also donated a gift basket that was raffled off at the Open House!! Congratulations to Patti G for winning the Peet's Gift Basket — you deserved it for lending us all your lovely Christmas decorations!!!
As always we are the very most grateful for all the SAFE volunteers who worked hard to make this day so special!! Great work, team!! Can't wait to do it again next year!
And finally, thank you to our extraordinary Barn Manager Terry who created this event from scratch and used her charm & creativity to make it a success. And she did it on her birthday!!!!!! Happy happy birthday, dear Terry, we love you!!!!
Here are some of the Santa photos that were taken, along with some candids from the day!! Thank you again to everyone who made this so much fun!!!