Darla
SEX: Mare
BREED: Appy Type

REGISTERED NAME:
None
COLOR: Grey
MARKINGS:

For Intermediate Rider

YOB: 2011
HEIGHT: 14.0 HH
WEIGHT: 959 lbs
LOCATION: Redmond
ADOPTION FEE: $1,500
Online Adoption Application
Darla and Montana were surrendered to SAFE by their owner, an elderly man who suffered a stroke and could no longer care for them. His family was able to successfully rehome his other horses, but Darla and Montana are both untrained and were at a greater risk of falling into bad situations. So SAFE agreed to take them on so they can benefit from our horsemanship program.
Darla was a bit more gentle than Montana was, and while it's clear she's still quite nervous about being touched, she can be caught. She even stood for a bit of light brushing upon arrival. Darla has become a great riding horse and is available for adoption!
All SAFE horses are adopted with a no-breeding clause, no exceptions.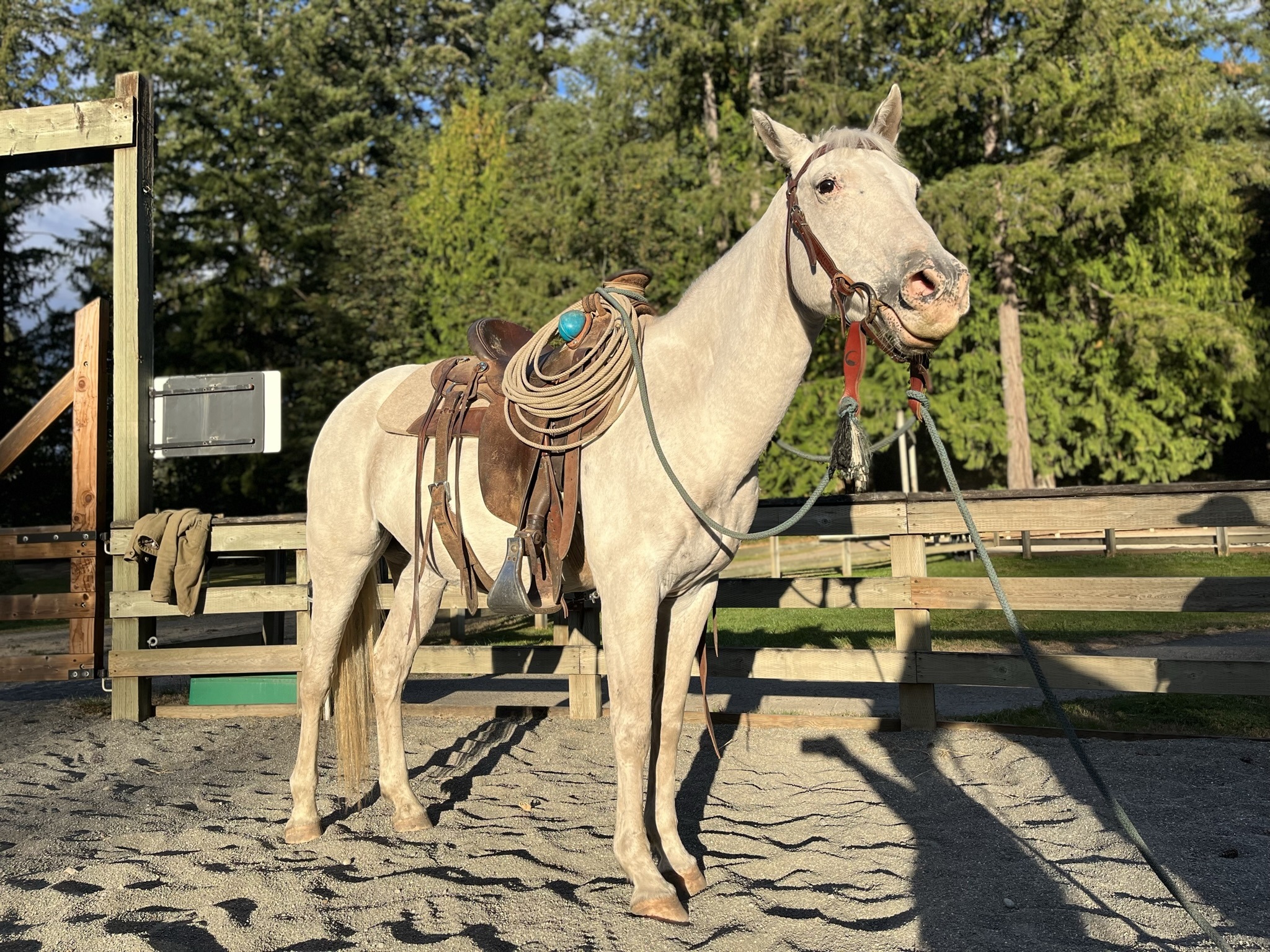 Our darling Darla is looking for her forever home! This sweet mare will melt your heart with just a single look into her big doe eyes.
Darla is going well under saddle, walk trot lope, but will still need an intermediate rider to help support her as she expands her education. Her disposition would benefit from a confident partner, and she would thrive with someone who is looking for a project with a great foundation. Helping Darla find confidence through balance has been instrumental in her journey thus far, and to go to a home with someone who is willing to help her further down this path would be ideal.
She has ventured off property, and has done well when faced with new environments. A hand walk in the park is, well, a walk in the park for Darla. She is currently turned out in a small herd with Esme and Tiva, and the three coexist with little to no drama – she has even been known to share a hay bag with Esme once in a while (but don't tell her I told you). Under saddle, she is comfortable by herself and also in group settings.
Darla loves naptime in her stall at night, and an occasional carrot treat in her grain pan. In the winter, she turns into a walking marshmallow – you'll have to be careful not to lose her in the snow. But despite her white coat, she manages to stay relatively clean.. I do say relatively.
Darla is a willing and soft mare who has the potential to be a phenomenal partner for some lucky individual. We have loved watching her blossom from a shy, nervous mare into a sweet girl whose confidence grows by the day. Meeting Ms. Darla for yourself by way of filling out an adoption application is just one click away!
See some footage of Darla from October below:

Darla's Friends:
1. Sean C.
2. Leslie S.
3. Susan C.
4. Marilyn P.
5. Alaina S.
6. Tara S.
7. Jaelyn A.
8. _____________________
9. _____________________
10._____________________
Every horse deserves at least ten friends! Even a small monthly donation can make a difference. Plus, SAFE horse sponsors receive discounts at local businesses through the SAFEkeepers program!