Darla
SEX:
mare
BREED:

REGISTERED NAME:
unknown
INTAKE DATE:
9/24/21
COLOR: grey
MARKINGS:
YOB: 2011
AGE: 11 yrs old
HEIGHT: 14.0 HH
WEIGHT: 959 lbs
LOCATION: Redmond, WA
ADOPTION FEE: TBD
Online Adoption Application
Darla and Montana were surrendered to SAFE by their owner, an elderly man who suffered a stroke and could no longer care for them. His family was able to successfully rehome his other horses, but Darla and Montana are both untrained and were at a greater risk of falling into bad situations. So SAFE agreed to take them on so they can benefit from our horsemanship program.
Darla is a bit more gentle than Montana is, and while it's clear she's still quite nervous about being touched, she can be caught. She even stood for a bit of light brushing upon arrival. We expect her to make an easier transition into a horse that enjoys the company of humans. We hope she will become a nice riding horse too.
All SAFE horses are adopted with a no-breeding clause, no exceptions.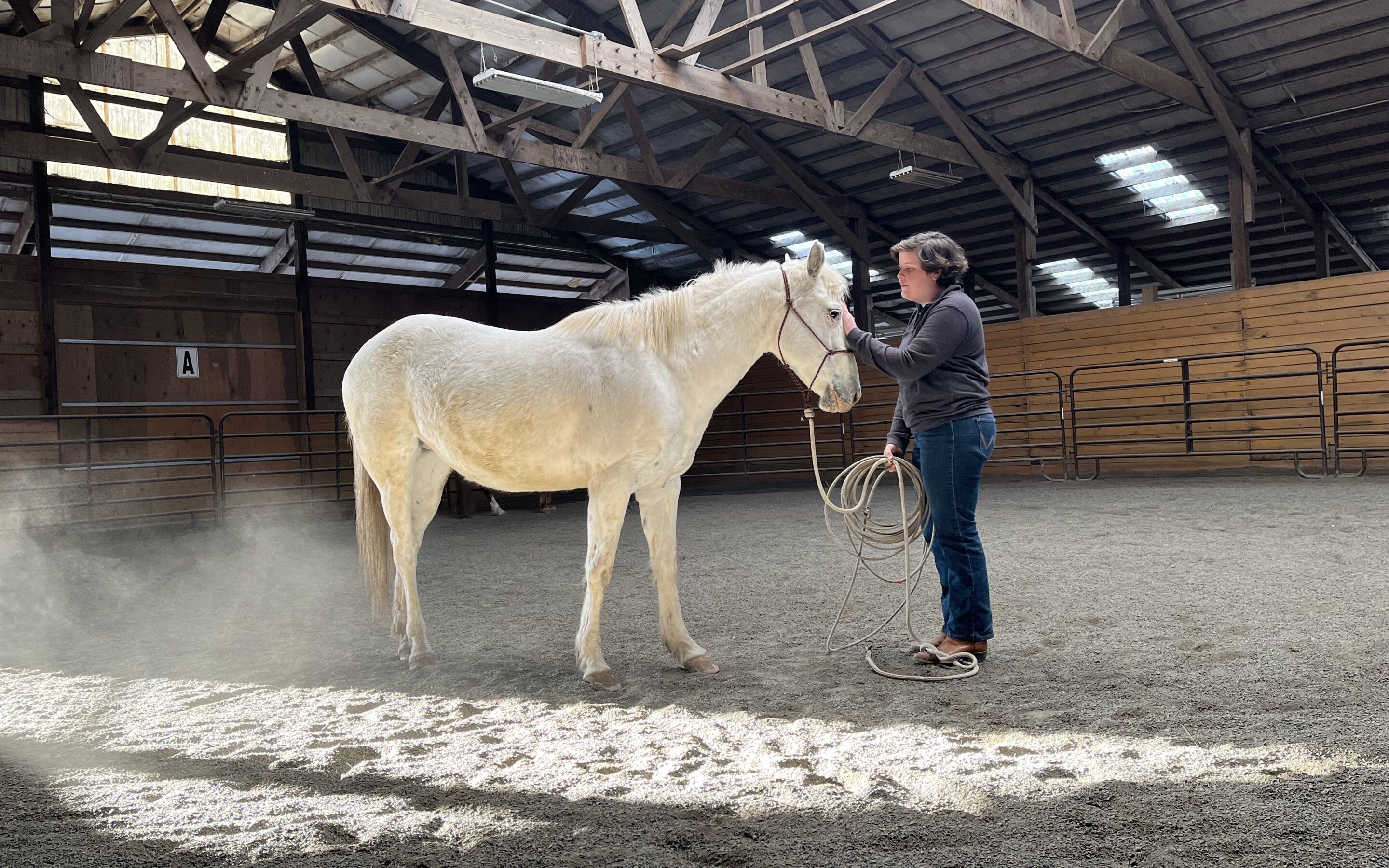 Kaya has the following to say about her time spent recently with Darla:
After struggling with her hoof injury for the last several months, Darla is sound and ready to get back to work! It seems she has used the time off to think about what she was working on before the injury. She's less touchy about her hind end than when we first got her and quicker to relax and let down.
Darla's past has left her with braces in her body and nervous when energy is increased around her. It will take some time and care to help her free up her feet to feel unstuck and comfortable when she feels pressure increase. We'll be working her on building her strength and begin saddling her again in the weeks ahead. She had a few rides put on her last November and hope over the Spring we can begin riding her and offer her for adoption as a riding horse this summer.
Pretty much everyone agrees, Darla is a special lady. It is fascinating watching her break through her braces and let down. She has a ton of try and with time and patience, we have hope that she will make it as a riding horse.

Darla's Friends:
1. Sean C.
2. Leslie S.
3. Susan C.
4. Marilyn P.
5. Alaina S.
6. Tara S.
7. _____________________
8. _____________________
9. _____________________
10._____________________
Every horse deserves at least ten friends! Even a small monthly donation can make a difference. Plus, SAFE horse sponsors receive discounts at local businesses through the SAFEkeepers program!