Dexter
description: 2005 dark bay Thoroughbred mare
type of rescue: Skagit County Animal Control seizure
intake date: 12/4/2009
adoption date: 9/11/2012
length of time with SAFE: 2 years, 9 months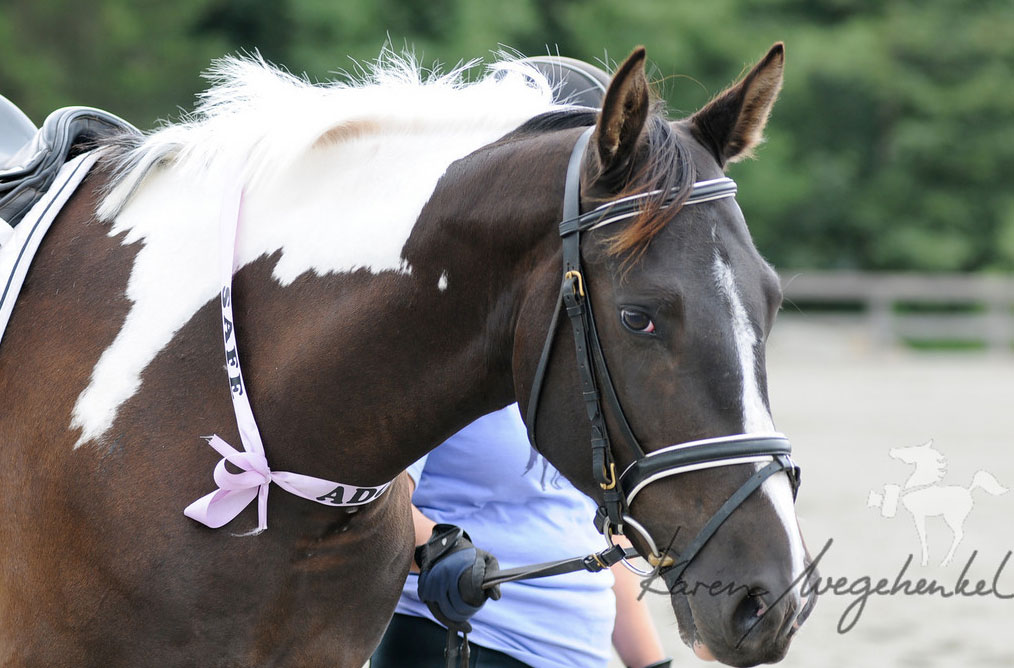 This will not be an easy post to write. I've already made four or five attempts to get started, writing tired cliches…like "Letting a horse go is never easy" or "We know we can't save them all" …and then hitting the delete key. Staring at an empty page. And finally putting the task off for another day.
But when you run an organization based on transparency, you have to be as forthcoming with the bad news as you are with the good. And sometimes the best way to tell bad news is to simply come out and say it.
We made the difficult decision to humanely euthanize Dexter last week. As rescuers we've been in this position many times before, and it's true that it's never an easy decision to make, but this time was so very much harder. Dexter was young, healthy, and sound. We made the decision to let him go because after three years of working with him, handling him, riding him, and training him, we felt that he was too unpredictable and dangerous to ever be safely adopted out.
Dexter came to SAFE in late 2009, after being seized by Skagit County Animal Control due to neglect and starvation. Initially, he seemed pretty solid under saddle, and we had high hopes that we'd be able to place him into a good home pretty easily. He was adopted for the first time in early 2010, but was returned to SAFE after two short months when his adopter could not keep him contained in her fencing. Having never had a similar problem with him at the SAFE farm, we put him back up for adoption, and again, he was placed into a new home. Again he was returned to SAFE, this time because he was behaving aggressively towards other horses and because he was displaying bad behavior on the ground — nipping, rearing, and striking. Again, we were somewhat baffled, having never seen such behavior from him ourselves.
Our trainer and key volunteers worked with Dexter regularly over the summer and he continued to behave well. He did have some bad moments, most notably at the 2010 SAFE show where he proved too anxious to be ridden safely in the show environment, but once he returned home, he was back to his usual self. Once again, he was offered for adoption to a suitable home with an experienced rider.
Unfortunately, Dexter's third adoption fell through, again after just a couple months. This time, he displayed dangerous behavior under saddle when his adopter took him to an unfamiliar place to ride. We were beginning to get a clearer picture of this horse's tendencies, but since his bad behavior was so unpredictable and hard to replicate, we were at a loss as to how to train him out of it. Most of this time, he was perfectly normal…but when he wasn't, it was as if he was experiencing a meltdown — tuning his rider out completely, and behaving very dangerously.
We had no choice but to classify him as a project horse suitable for an experienced rider only, someone who understood that there would be a lot of work needed to get him through his issues. He continued to be ridden by one SAFE volunteer who took weekly lessons on Dexter from a visiting trainer. Dexter was typically well behaved at home, but even so, from time to time he would have his little meltdowns, which made us increasingly concerned about ever being able to find him a home.
About a year ago, we got a very generous offer from a long time SAFE supporter and experienced rider to take Dexter on as a foster horse at her boarding barn and continue to work him under saddle on a regular basis. I can say with absolutely certainty that this person went as far as humanly possible to work out a solution to Dexter's problem. No stone was left unturned, his soundness was evaluated, his teeth re-checked, his saddle fit assessed, his hormone levels were checked — anything that could contribute to his behavior was explored, examined, and ruled out. His foster "mom" bankrolled most of this testing herself, and refused reimbursement from SAFE. She and Dexter had ups and downs, and we all rejoiced at his appearance at the 2012 SAFE Benefit Show in which he was a perfect gentleman and competed successfully in dressage, trails and english. Many times she told us that if only he were a taller horse, if only she could commit to a second horse, she would adopt him.
I also truly believe that during this year, Dexter thought that he'd been adopted, and that he finally had his own person. Which makes the end of this story all the more heartbreaking.
Dexter had been showing some signs of lameness and he was examined by a vet on Sept 1. During the exam, he was put on a lunge line and when asked to go forward, he suddenly and with no warning, reared straight up and flipped himself over. He hit the ground hard, and it is a wonder that he was not killed on impact. It is also a wonder that no one else was hurt. Had there been someone on his back, they would not have had time to react, and the result might have been tragic.
A horse that rears and flips displays a complete lack of regard for its own safety and is a dangerous animal that cannot be "fixed." Upon hearing of this incident, the SAFE Board of Directors immediately and unanimously agreed that Dexter should be euthanized. All the time put into him, all the work and expense…it means nothing if someone gets hurt. We could not take that risk any longer. It was time to accept that we had done all that we could do for this poor horse.
And so last week, surrounded by people who cared for him and loved him, Dexter was set free. We are left behind to wonder if we failed him, to wonder if things could have been different for him…and we'll never know the answer. But we do know that for three years, there was always enough food to eat, a dry place to stand, a warm blanket in the winter, and people near and far who cared a great deal for him. We do know that in that time, he was never treated roughly, never made to be afraid, never asked to do anything he couldn't do. We had very high hopes for Dexter, and he will be missed greatly.
No, you can't save them all. But it still hurts to fail.