Domino
SEX:
gelding
BREED:
Quarter Horse
REGISTERED NAME:
Bo T Bo
INTAKE DATE:
5/5/21
COLOR: Paint
MARKINGS:
For Novice Handler
DOB: 4/5/1996
AGE: 26 yrs old
HEIGHT: 15.0 HH

WEIGHT: 1,200 lbs

LOCATION: Redmond
ADOPTION FEE: $300
Online Adoption Application
Domino is a 25 year old, registered Paint Quarter Horse gelding, who since 2008 has lived an easy life in the backyard of a home in Woodinville. His aging owner was selling half the property in order to stay in their own house and couldn't keep Domino. He hasn't seen a vet since his gelding in 2009, but the family kept up on his hoof trims, worming and vaccines. He's a healthy hunk of a boy, who faced neglect if placed into the wrong hands, due to the owners age and ability to safely rehome. This boy has a TON of life left, and is a volunteer favorite. Domino's best home would be as the constant companion to another gentle mare or gelding that tends to be on the submissive side. After introducing him to a few horses, it is clear that Domino likes to be the leader and as long as the buddy doesn't mind, they are best of friends. Domino is very friendly and kind, a very nice horse to have around!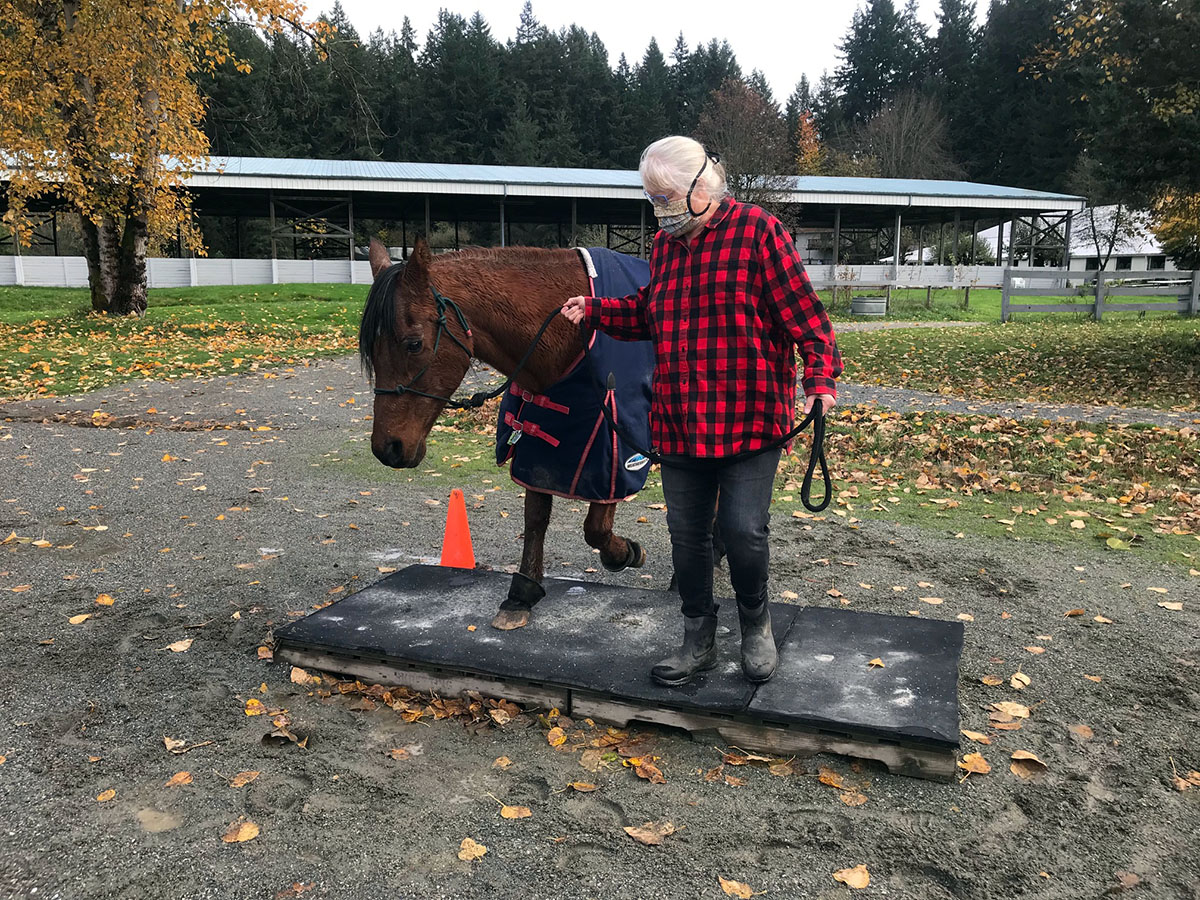 When many imagine an active horse, they envision great feats of athleticism: horses cavorting around courses and launching themselves over jumps taller than children, horses dancing around arenas with grace and finesse, horses racing around barrels with speeds reaching mach 1. They might not picture a horse on a leisurely stroll, with no saddle, bridle, or rider, merely a human friend to walk side-by-side with.
But this very image is the reality for some of our horses here at SAFE, who have been enjoying guided tours around the property. The idea was born from a need for our horses to stay active, especially as we head into the cold rainy season. It also provides an opportunity for interested volunteers to practice their leading and handling skills.
Spearheading the program are Mac, Domino, and Cameron. It just happens that the three are gentlemen of a certain age, which makes them the ideal candidates for some gentle walking. Keeping horses, especially older ones, mobile by hand walking them helps ensure they retain muscle without putting them through strenuous exercise. It also provides a little break in the routine of their days, and the three do seem to enjoy their outings.
Cameron is quite the gentleman when it comes to being haltered, lowering his head and doing his very best to help guide his own nose into the halter. It's pretty apparent that this is not his first (or second, or third..) rodeo. For an older guy, he is still quite forward at the walk, but this is really his only vice, if you can even call it that. There is a focused determination to his strides, and it really feels like he is taking it all in, but never in a nervous way, merely an interested one. On occasion he will try to dive for a bite of grass or a bit of dropped hay, and while this is quite a mischievous move, it's one that speaks to how chipper he's feeling. Gone is the thin shell of a horse who arrived, replaced with a robust (and much more filled-out) gelding. Occasionally, a stop on Cameron's walks involves a trip to the round pen, where his blanket is removed and he is turned loose for a period. Within seconds of being released, he goes down for a roll, and occasionally even kicks up his heels, running and bucking around like a colt. But when it is time to come in, he is always easy to catch back up, and stands patiently as he is re-dressed in his blanket. The only time he ever shows impatience is when there is food waiting for him, but even then he merely expresses his impatience with a slight tug towards his dish — excuse me human, I believe my lunch is here.
Domino is always waiting at the gate when you walk up, his velveteen head just begging for a pet. While he does make a slight beeline towards the barn as he comes down the hill (a man on a bit of a mission towards food), he is rather easily course corrected. He is a very pleasant walking companion, and will even allow you to lead him over the little pallet bridge we have set up in the outdoor arena. He definitely prefers a leisurely pace, but is a responsive participant, and is a friend to all who meet him.
Mac's leg is healing nicely, and certainly not preventing him from enjoying the (sometimes) beautiful outdoors. Because of his pull back risk, he is a staff only horse to lead, which means that Mac and I have spent a lot of time together walking alongside his buddy Domino. Mac is a wonderful walking companion, always very responsive to what I'm asking of him, and quite good at acting as a model for demonstrating.
With fall in full force now, the weather lives in a state of constant unpredictability, but these three boys take it all in stride. Wind, rain, sun — they remain unfazed. They really are the very definition of a pleasure to have in class.

Domino's Friends:
1. Jill M.
2. Brandee W.
3. Gretchen R.
4. Meghan M.
5. Kim D.
6. Margaret L.
7. _____________________
8. _____________________
9. _____________________
10._____________________
Every horse deserves at least ten friends! Even a small monthly donation can make a difference. Plus, SAFE horse sponsors receive discounts at local businesses through the SAFEkeepers program!