What a sweet boy Domino is! He has been a gentleman for everything we have asked of him at SAFE. His only troubled spot is that he is very herd bound to his paddock friends, and calls continuously to them until they return to be with him in the paddock. Even if he is calling out for his buddy, Domino remains mindful of the people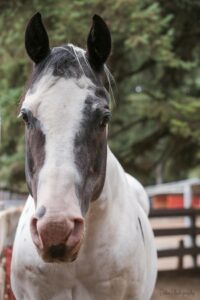 around him and does not become ill-mannered. He and Mac are the best of friends. When brought into their stalls at night, Domino demands that his window be opened immediately to see his friend in the stall next door. It is actually very sweet, even if it is a bit noisy when Mac is getting some one-on-one time with volunteers in the arena. It is endearing that Domino wants to keep an eye on his buddy. Coming from a home where he was the only horse for many years, it must be very comforting to him to have such a good friend at SAFE.
Domino's best home would be as the constant companion to another gentle mare or gelding that tends to be on the submissive side in a herd dynamic. After introducing him to a few horses, it is clear that Domino likes to be the leader and as long as the buddy doesn't mind, they are best of friends.