Pippi
| | | | |
| --- | --- | --- | --- |
| SEX: filly | BREED: Quarter Horse type | REGISTERED NAME: none | |
| COLOR: Chestnut Tobiano | MARKINGS: | | |
| DOB: September 1, 2018 | AGE: 0 | HEIGHT: | WEIGHT: |
| LOCATION: Redmond | ADOPTION FEE: ON HOLD | Online Adoption Application | |
Pippi's dam Asha was seized by animal control due to neglect and signed over to SAFE in April 2018. Unbeknownst to all of us, Asha was pregnant! We were given no information about the stallion she was bred to, so we don't know if she was bred intentionally or accidentally. We didn't even realize she was pregnant until July of 2018, when we noticed that she was getting round in the belly. Pippi was born at SAFE on September 1, 2018. Although she was the first foal born at SAFE in 10 years, everything went perfectly, and this healthyand happy little girl came into the world with no complications! Asha has proved to be an excellent mother, and the pair will spend their days together until Pippi is old enough to be weaned. She's a delightful girl, very sweet and friendly. She's brightened our lives for sure! All SAFE horses are adopted with a no‐breeding clause, no exceptions.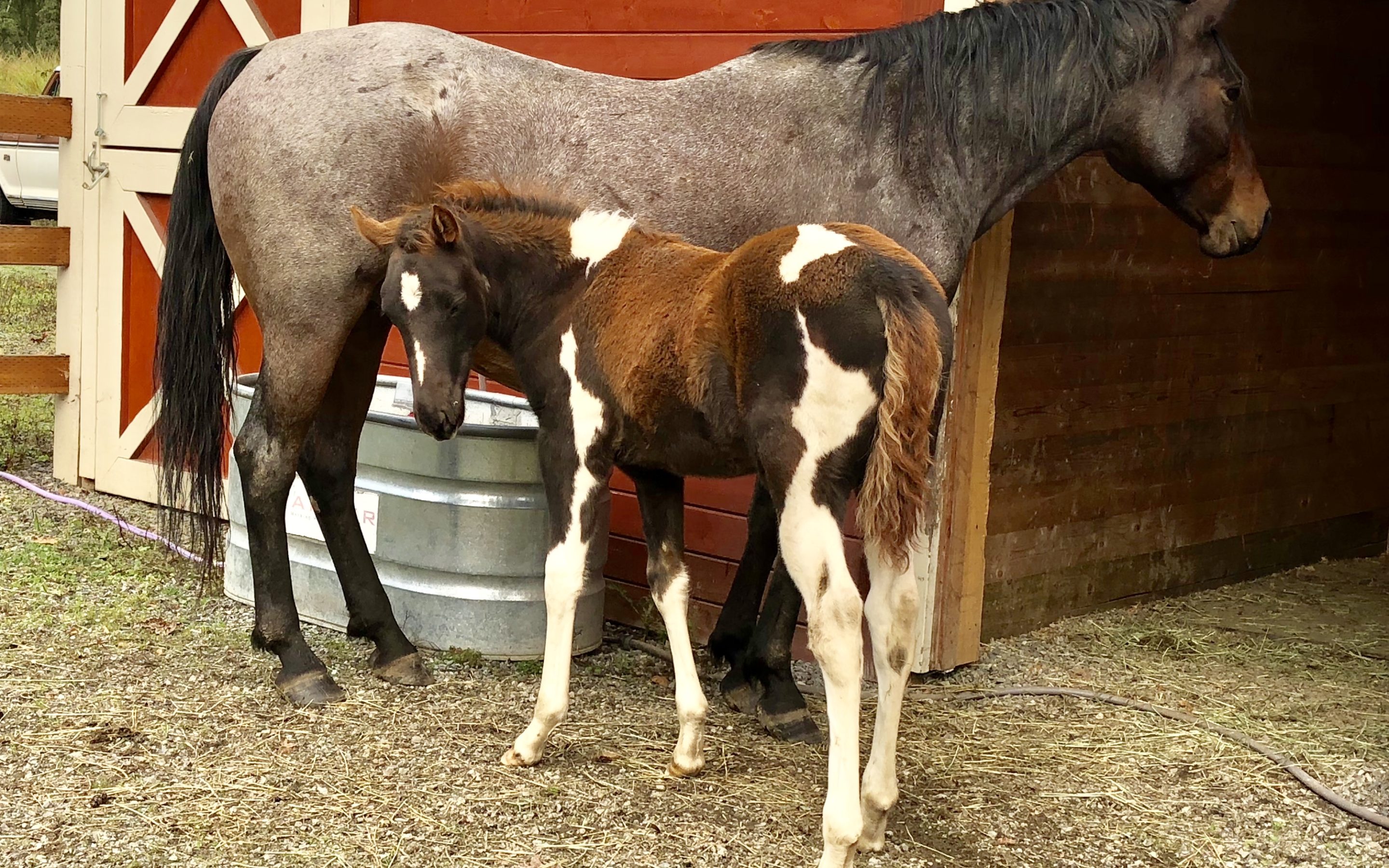 Pippi and Asha have settled in well to their foster home for the winter. Their foster family reports that they are both the incredibly social, happy, and well‐behaved horses that we expected they would be. Pippi has matured quite a bit over the last month and has gone from being a nosy baby testing mom's boundaries to a calm and loving 3 month old filly.
Mom and baby both got a visit last week from our farrier, Daphne. Daphne was able to trim all 4 of Pippi's feet with no restraint and without fuss. Such a good little baby! With sweet Asha as her mom, it's no surprise that Pippi is turning out to have such a pleasant demeanor. And look at the beautiful color she's turning!

Pippi's Friends:
1. Siri S.
2. Jane M.
3. Tiara N.
4. Caren M.
5. Skye G.
6. Barb L.
7. Leslie D.
8. Lori M.
9. Laura E.
Every horse deserves at least ten friends! Even a small monthly donation can make a difference. Plus, SAFE horse sponsors receive discounts at local businesses through the SAFEkeepers program!