Zoë
| | | | |
| --- | --- | --- | --- |
| SEX: Mare | BREED: Morgan | REGISTERED NAME: unknown | |
| COLOR: Bay | MARKINGS: | | |
| YOB: 2011 | AGE: 8 | HEIGHT: 15.0 | WEIGHT: 959 lbs |
| LOCATION: Redmond | ADOPTION FEE: $1500 | Online Adoption Application | |
Zoe's Story
Zoe and her 6 month old filly were seized by Animal Control when their owner refused to seek treatment for a serious wound on Zoe's leg. It took more than two months of treatment for the wound to heal, but fortunately it is much better now and does not affect her soundness. Zoe is a lovely bay mare who is just getting started under saddle but she's very athletic. She also seems to be a quick learner, and she's very kind & gentle. All SAFE horses are adopted with a no-breeding clause, no exceptions.
Zoe Today
Zoe is sweet, personable, willing, and ready to go in just about any direction! Her willingness and gentle nature were prevalent from the beginning as she was uncomplicated to start under saddle. She can be a bit nervous seeing new things like tarps, so her perfect match would be someone with the skills to support her when she thinks the tarp might eat her! This does not happen often and her riding skills are improving quickly without issues.
Zoe is turned out with several other mares and is middle of the herd. She is forward, sensitive, willing, and looks to please with a curious and active mind. She will undoubtedly excel in any discipline and has a great Horsemanship foundation!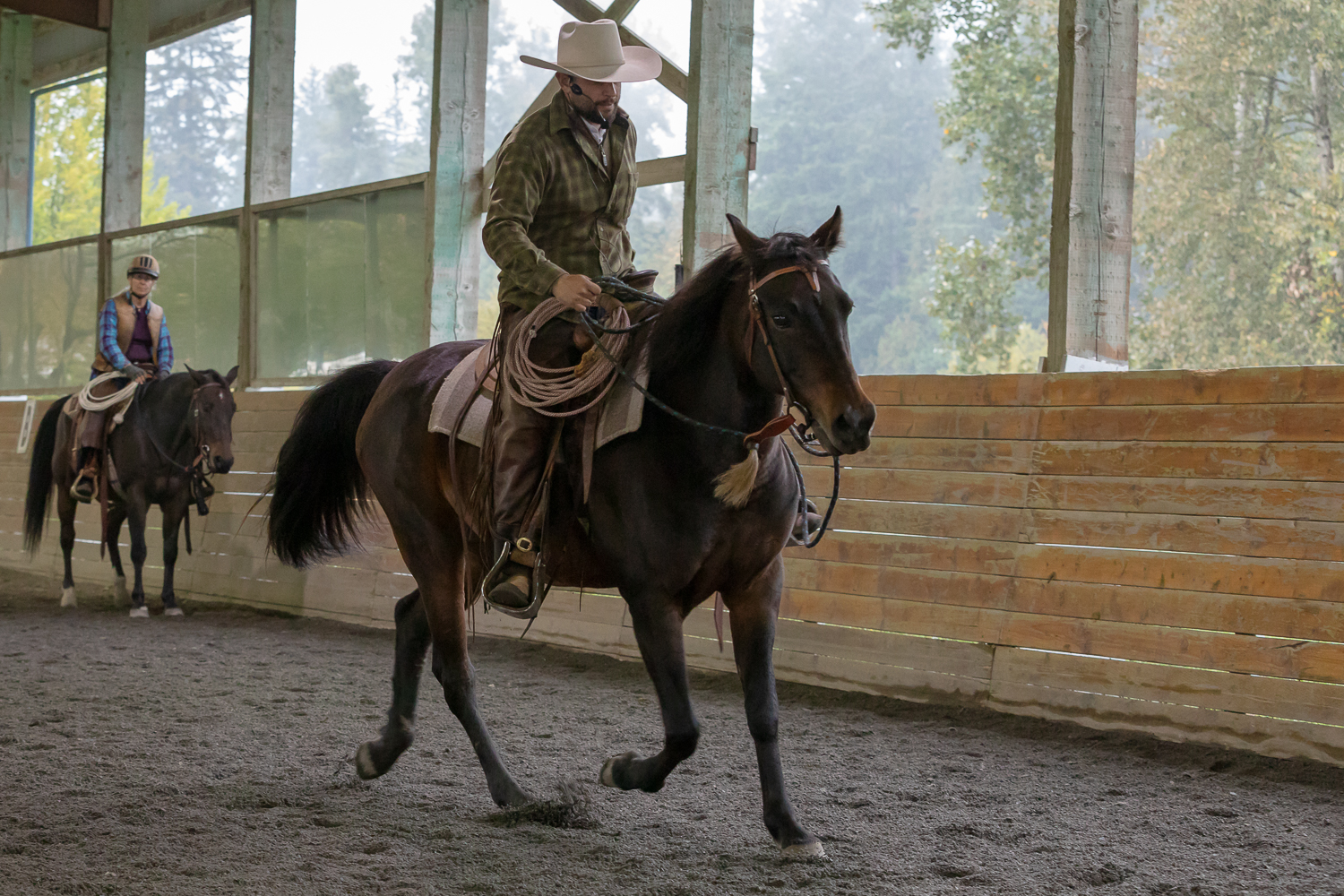 Terry has been working with Zoe, and Joel Conner rode her several times at the last clinic. Here's what Terry had to say:
Zoe has steadily been progressing with acceptance of the saddle. She is still tight when it goes on, especially if she has had some time off. Joel rode her a few more times this past clinic. She was much more accepting of the bit than last clinic. He rode her in the large arena with the other horses during the afternoon riding sessions. Helping her navigate through and around the other horses. Overall she did very well. Her expression is improving when asked to make upwards transitions.
We have a few items on our homework list. Her groundwork needs to improve. She has braces in the half circle exercise that if corrected will make her less tight when riding. She has a bit of an issue changing eyes. More rope work and just wearing the saddle a ton more is going to help. We also need to really get the "join up" work cemented. She is still not joining up very quickly or fully turning loose to the process. She is a bit on guard especially when the saddle is on. More miles and time will help along, with consistency in her training. With other horses moving off to adoptions and other volunteers riders helping out, I will be able to commit more time to her.
Zoe is a very gentle mare to handle. Sometimes in our groundwork sessions, she can give a bad expression but is easily changed and she moves off. We need to do more rope work for her hind end. She still tries pulling away when asked to pick her hooves. You can easily correct her with a confident hold but she can improve on this. The scars on her legs show struggles in the past with getting caught with fences and wires. It is important we help her learn to give to pressure on her legs instead of resisting and getting injured.
Zoe is available now for a person with experience starting horses. She is uncomplicated and only requires miles to be a great riding horse. I imagine she will be ready for more of an intermediate rider early December.
Gallery photos (click to view):

Zoe's Friends:
1. Andrea L.
2. Kimberly L.
3. Laurie S.
4. Deryck M.
5. Bonnie G.
6. _____________________
7. _____________________
8. _____________________
9. _____________________
10._____________________
Every horse deserves at least ten friends! Even a small monthly donation can make a difference. Plus, SAFE horse sponsors receive discounts at local businesses through the SAFEkeepers program!