We're starting to understand Finn's lameness issues a little better, thanks to Dr King who has determined that Finn a few hoof related problems going on. He does have chronic laminitis, but that does not appear to be the cause of the lameness we've seen. The lameness is likely being caused by navicular syndrome. Navicular syndrome, more accurately called caudal heel pain, is a chronic progressive disease caused by degenerative changes to both the navicular bone and associated soft tissue structures. Often it is treated with joint injections, but Finn's chronic laminitis prevent us from treating him with steroids. So, we've been advised to make shoeing changes to deal with this condition, in hopes of keeping him comfortable and sound.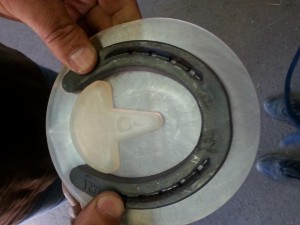 Farrier Jake Cowden has been donating his services to SAFE on Finn's behalf since he arrived at SHS. In light of Finn's diagnosis, Jake donated his time and materials to provide an extensive shoeing job for our horse. He built a full pad to give him support all the way around and help him land more comfortably on his heels as he walks. Jake also rolled up the toes of his new shoes to speed the breakover. Finn was trimmed, using x‑rays as a guide, with shorter toes and lowered heels. Jake believes that this new shoeing will help keep Finn sound, and if it does, he will need to continue to be shod this way.
We want to thank Jake Cowden, not only for his generous donation in support of SAFE, but also for his incredible skill and talent when it comes to helping horses like Finn who have complicated problem feet. Finn is a terrific little horse, and we very much want to see him remain sound and comfortable. So thank you, Jake, for making that happen for him!