Congratulations to Jill Marcell! Since starting on a PM shift in August 2019, Jill has been a kind, reliable team member, working hard to take care of our horses. Even recovering from a surgery couldn't keep her away from SAFE. Within a few weeks she picked up a shift prepping the horse's grain baggies until she can return to her original team on Wednesdays. We are very lucky to have Jill Marcell as part of the SAFE family. Get to know a little more about Jill below.
How and when did you first get involved with horses?
I have always been a horse lover since a young girl. Birthdays always involved pony rides or horse back riding as a kid.
Do you have one now you want to tell us about?
I do not have a horse of my own, but so happy to love on all of the SAFE horses as much as possible.
What do you like most about volunteering with SAFE?
The staff and volunteers at SAFE are so dedicated to the horses and their wellbeing and it shows. I love the relationships and camaraderie with fellow volunteers.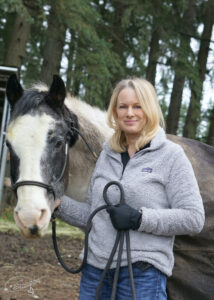 Do you have a favorite SAFE horse? If so, why?
My favorite horse at SAFE is Domino. We have a special bond as I cared for him as much as I could for last 6 years in his prior situation. I have a soft spot for the older horses at SAFE, like Beauty and Daisy. I know that they might not have had a great prior situation but at least in their golden years they are loved and cared for and hopefully they find a new home with someone to love them.
What do you do when you are not horsing around with us?
My husband and I spend most weekends in Cle Elum and like to travel as much as possible. It makes it hard to have a horse of my own because we are out of town a lot, which is why I am happy to be a SAFE volunteer.