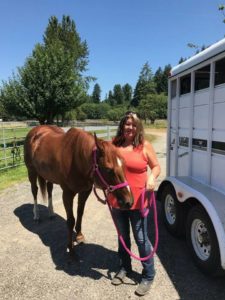 We are excited to announce the adoption of Harley! Jennie came out to see Harley and Ruger early on in their rehabilitation. She understood we needed to get them both healthy before we could figure out if they were sound and rideable.
Harley moved easily through her recovery and was able to go to Joel Conner's for a quick training refresher. We knew right away that she was going to be a very nice riding horse and that she would make someone a great partner!
The day Harley came back from training, Jennie came out to ride and loved her. They did really well together and Jennie rode her very nicely. We were able to move forward with the site and reference checks quickly and she came to pick her up just a few weeks later. Since then Harley has been enjoying her big new field, lots of trail rides and tons of love and affection from Jennie! We are so happy for this mare who had been forgotten and is now in a safe and loving forever home!