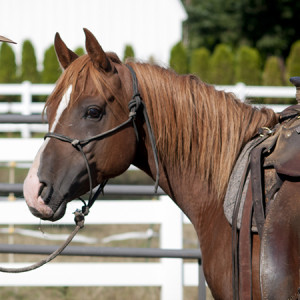 Hickory has been adopted! It is wonderful that this gentle boy has found a perfect home while he's been training with Joel Conner. Fran, his new owner, is an avid trail rider who is looking forward to having him join her two older horses.
Fran plans on leaving Hickory in training with Joel for a few more months. This is a great chance for him to learn more and for Fran to get to know him better while they take lessons.
Hickory's success began with Animal Control pulling him from a neglectful situation. SAFE then helped by taking care of his dental needs and offering the care needed to prepare for training. Finally, he was given the opportunity to work with a great trainer. Joel really has helped this boy realize his potential.
Along with a new home, Hickory is also getting a new name, Listo, which means ready. He is READY for a new life, where he'll be loved and cared for by his own family.
While we didn't get to spend a lot of time with this boy, this is a beautiful transformation. Sometimes it all just falls into place and, when it does, it is terrific to see a happy ending. We look forward to seeing the relationship with his new family grow into a forever love.