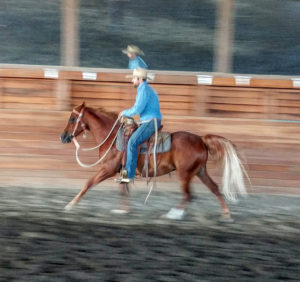 Early in July of this year, we made the decision to put Anderson back into training, this time with Joel Conner. Although Anderson had a good start as a riding horse, there were some holes in his training that had started cropping up. A bucking incident unseated SAFE trainer Terry Phelps, and although she was unhurt, her confidence in Anderson was a bit shaken. Other holes in his training were beginning to cause concern. So Anderson was sent off to Ellensburg to continue his training with Joel.
Anderson is a smart horse who learns well, and he's made terrific progress in his training. Being at the ranch means that Anderson is exposed to new situations all the time. He lives outside in a small herd made up of a young mustang gelding and another horse you'd probably recognize: SAFE alumni Owen. Owen and Anderson both came to SAFE as stallions and both grew up in relative isolation, leaving them a bit socially challenged in regard to other horses. Owen has turned out to have a very dominant personality, and he accepts nothing less than total respect from the horses he shares space with. At first, Anderson didn't understand this dynamic, and in fact he tended to behave rather rudely towards other horses, letting his studdy side show. Joel told us that when Anderson was turned out with Owen, he put on a little show of dominance, which Owen wryly observed for several minutes before putting Anderson firmly in his place. This taught Anderson a valuable lesson, one that has had a very positive effect on his training. The three horses co-exist peacefully in their shared space, but both Anderson and the mustang know that when Owen says move, you'd better get out of his way!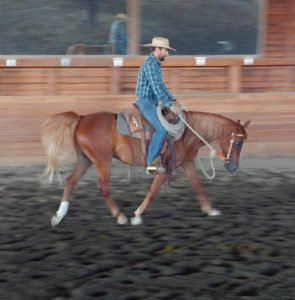 We've made several trips over the mountains to visit, and Anderson's been ridden successfully by Terry, as well as volunteers riders Casey and Jolene. He's going beautifully at all three gaits, and looks amazing with his flaxen tail flowing out behind him as he canters along. This is a fabulous horse who is going to make someone a wonderful partner, but at this point in his training, Anderson needs a rider who is very confident and has experience working with green broke or difficult horses. If you don't have complete confidence in your ability to ride him, Anderson is going to figure that out pretty quickly. For a rider with a light touch and near perfect timing, Anderson is a joy to ride. What makes him tricky is the fact that he is both sensitive and stubborn. As Joel puts it, he is not a horse who is willing to fill in for his rider. Make a mistake, or ask him with hesitancy, and he can quickly get "stuck." He can be quite resistant to the idea of moving forward, especially if he's not convinced that his rider really means it. Anderson is a horse who still believes that there is room to "negotiate" with a rider, and Joel is working with him to clear up that misunderstanding and improve his communication skills.
Joel's also worked with Anderson on two spots of trouble that we saw here at Safe Harbor: saddling and standing for the farrier. Anderson has never been a huge fan of having the saddle put on; in fact, he'd probably prefer to be ridden bareback. He's improved greatly in this area, and will now stand quietly for the pad and the saddle. Joel's also worked on his reluctance to have his feet handled, and now he stands quietly to be trimmed as well. The end result? A horse that is safer to be around, not to mention more pleasant to handle. All of Anderson's best qualities are still as strong as ever: he really is a sweetheart on the ground. He's the type of horse who greets you with an interested nicker when you walk up to him. He's a good-natured, good-looking horse. And when you remember where he came from, you can't help but admire him for how far he's come.
Anderson is likely to be returning to SAFE in Woodinville in the next few weeks. If you've got what this horse needs in a rider, and are interested in meeting him, please fill out our adoption application.