No joke, no April fooling, these gals do a ton behind the scenes to help keep SAFE programs running. With an organization like SAFE there a million little details to attend to, no one volunteer or staff person has time to make all of these things happen, which is why we rely on the talents of so many. This month we are celebrating some volunteers whose names and faces you might not know because they do their work from home, or at times when the barn is quiet. We value every minute of our volunteers' time and energy and so we are happy to tell you about our April Volunteers of the Month: Mary Jones and Suzette Mendoza.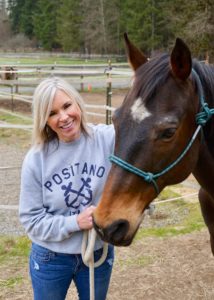 Mary Jones
Mary is the fashion wonder behind Sunny and Shasta's public appearances. Whenever these tiny ambassadors have an event, Mary comes ahead of time to groom them, be-ribbon their manes and tails, and maybe even paint their hooves! Mary patiently and lovingly makes sure they shine and look adorable so as to present the best face for SAFE. Even though Sunny and Shasta will be in the spotlight, Mary's isn't the glamour job. In truth, the minis don't adore standing around for their beauty routine, but Mary makes is nice for them with special hay in their basket and plenty of scratches and pats. Mary has helped out in other capacities too, particularly the horse show last summer where she kept the main arena moving on schedule.
SAFE Foster Coordinator Laura McCorkle and trainer introduced Mary to SAFE last year. Mary is a native Washingtonian, born in Olympia and now residing in Kenmore with her husband Ken. Mary rode as a child but did not get her first horse until she was an adult. Mary owns a big, black beauty of a Percheron named Kyrie, who she has had for 12 years. She spends as much time as she can riding Kyrie, playing with her grandchildren Jayda and Jamison, and walking her dog Sarg. Mary also volunteers for her church and enjoys spending time with her children Sara and Austin. Mary also loves to travel.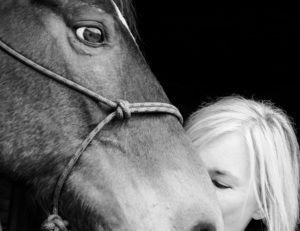 Mary loves volunteering for SAFE because she has so much heart for what we do for unfortunate horses. She loves all of the horses that come in, but obviously has a soft spot for Shasta and Sunny, who she spends most of her time with. Thank you, Mary, for your patience and attention to detail. You help us put our best hoof forward! Congratulations on being named an April Volunteer of the Month.
Suzette Mendoza
SAFE's Alumni program is something that makes us stand out as a rescue. We commit volunteer resources to making sure that all of our adopted horses are still doing well in their new homes. The Alumni program coordinates site checks with adopters, goes to visit each horse every year on or around the anniversary of their adoption, sends newsletters to SAFE Alumni, and assists when SAFE horses need to be rehomed for any reason. We make a promise to each horse we take in to make sure they are safe for life. Our Alumni volunteers keep that promise. Another behind the scenes superstar is Suzette Mendoza, who is the right-hand girl for our Alumni Coordinator, Sharman Conner. Here is what Shar has to say about Suzette: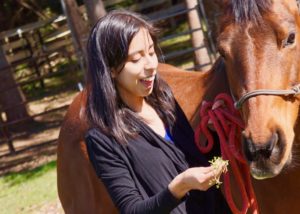 "Suzette does so much great work for both the SAFE Adoption Program and the Alumni Program. She is a busy, working, mother but seems to always be able to find time to help with things like pre-adoption reference calls. I really appreciate her support and partnership!"
Suzette came to SAFE over a year ago hoping to volunteer in the barn. Not long after she became pregnant, and was unable to do barn chores. Thankfully for us, she took us up on the offer of behind the scenes volunteer work and began working with Shar to support the alumni and adoption program. Suzette coordinates visits, communicates with SAFE Alumni, and sends out the Alumni Newsletter for us. She also checks references on potential adopters and coordinates pre-adoption site visits. This is vital work to our mission and it comes with zero perks, meaning no interaction with the horses. Suzette works mostly alone in her tasks. We think this is super inspiring, for someone to help us in the trenches and without ever being seen by the majority of our other volunteers.
Suzette is from Lima, Peru and now makes Bellevue her home with her husband and their little boy. Suzette had never been around horses, but was curious to see if she could be of service here. She enjoys hearing about the horses as they make their way through the adoption process. She reads about them on the website and says: "Unfortunately, I don't get to actually spend time with the horses but I read their stories and they all make me happy that SAFE exists and that there are good people in the world who make it their life mission to help and take in other beings who have been mistreated."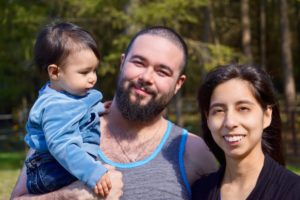 Suzette is a busy wife and mom who also works full time. We are fortunate she uses some of her free time to help us behind the scenes. Thank you, Suzette. We see the work you do. Congratulations on being named an April Volunteer of the Month!