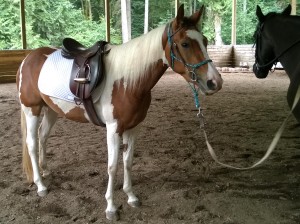 We checked in recently with SAFE horse Bridgit to see how she is progressing in her preparation for training as a saddle horse. Bridgit has been in a foster home for the past year to give her a little time to grow and mature. Her foster mom had some wonderful things to say about this beautiful little mare…
Bridgit has been with me for over a year now. In that time, she has grown a couple of inches and finally filled out from her ribby state. She has also matured emotionally and behaviorally and is a pleasure to work with. She still has moments of insecurity, where she looks to her person or her herdmate for comfort. This can include crowding into your space, which is something we continually work on. She does get anxious when her herdmate leaves.
Bridgit has been lunged lightly in a surcingle and recently wore a saddle for the first time. It was a non-event! She is carrying a bit as well, and looks very grown up wearing her big girl tack. She is doing very well with voice commands on the lunge in both directions.
Bridgit bathes, clips, stands for the farrier and she loads and trailers well. Recently she went on a field trip around the neighborhood in-hand. She crossed a wooden bridge, walked on pavement (with neighborhood cars causing no concerns). She encountered many suspicious looking mailboxes, which she was willing to investigate when asked. She was a little excited about the herd of neighbor ponies that came running over to say "HI!" but she settled quickly.
Bridgit is a sweet youngster who is nearly ready to get started under saddle. She will never be a big horse, but should be able to carry a petite rider just fine. Her future looks very bright!