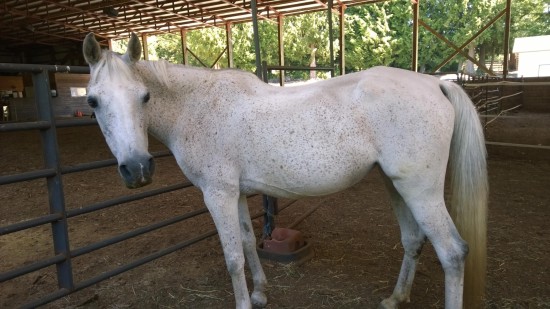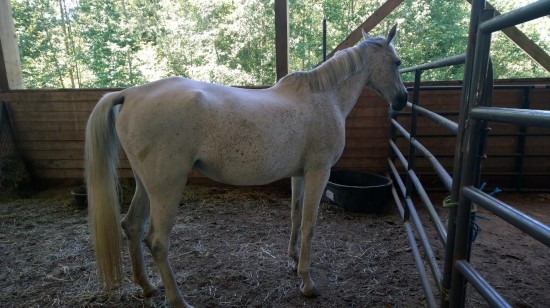 The new girl, Karma, was taken straight to NWESC after we picked her up from Pierce County Animal Control. We were concerned about some edema on her chest and belly, as well as the slightly snotty nose she was exhibiting. Since NWESC is better set up to quarantine a horse, we thought it best to send her straight there initially rather than risking the health of any of the horses at Safe Harbor.
Karma's snotty nose developed into a full fledged cough, but tests showed that she was battling a non-contagious infection, and she was treated with SVMs to get it under control. She also had a mild colic episode a few days after her arrival, but thankfully she was under De Hannah's care and the issue resolved itself quickly. Karma also has some swelling on the bridge of her nose, which likely happened when she was being transported away from her former home. PCAC informed us that she was very difficult to load and fractious in the trailer during that first ride, and she may have banged her head in the process. (Note: she was a bit difficult to load for us as well when we took her home, but not too bad, and she rode in the trailer without incident. A few training sessions with Terry and Karma will be loading in and out of the trailer like a pro.)
In the last four weeks, Karma has gained some significant weight and is looking much better! We are ready to bring her to Safe Harbor as soon as we have a stall available for her — many more updates and photos will follow once she is "home"!