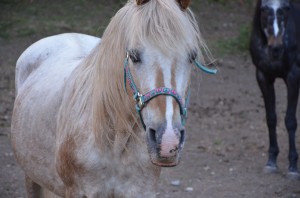 Chip has been a SAFE horse for a while…three years in fact…and we've had the opportunity to watch his transformation from a breeding stallion to the best and happiest gelding in the herd. And today we can happily announce that he has finally found his forever home! We couldn't have dreamed up a better placement. Chip has a lovely 10 acre farm to roam, lots of good food to eat, a family with kids to play with him, good horse pals and even a few goats and pigs for him to get to know!
Andy and Mollie H contacted SAFE looking for a companion for their two horses, retired mare Paisley and riding horse Victor. They brought their daughter Elizabeth to visit Chip at his foster home. His inquisitive and gentle personality won over the hearts of the entire family, even the boys who aren't into horses all that much.
It was Elizabeth who picked Chip. Just like us, she knows that her family will make sure he is well cared for and loved for the rest of his life. And what a good life that will be!
We are grateful to the everyone who has supported and helped Chip along the way. This long list includes the Pierce County Animal Control officers, volunteers who took care of the horses while they were held at the Frontier Park, Dr. Hannah at NWESC, all the wonderful volunteers at SAFE, and finally, the generous foster homes who cared for him over the years.
Chip has truly been a joy to care for and we are so very pleased that he is on to his next journey.