Amelia has been moving along steadily in her training with horsemanship volunteer Phoebe. They have been able to take thing slow and at a comfortable pace for Amelia who has had some trust issues from her past life. A few weeks prior to the clinic, Phoebe was able to sit in the saddle and Amelia did very well for a little stroll around the round pen. She was relaxed and cooperative with Phoebe aboard. While Amelia's days of being a regular riding horse are probably behind her, it's very possible she could be a nice leadline mare for a family with kids who want to start learning to ride.
Here is an update from Phoebe about Amelia for the recent Joel Conner Horsemanship Clinic: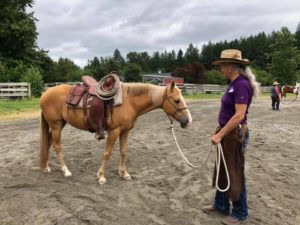 This was another breakthrough for Amelia and I. For me, more confidence with a better understanding of how the exercise Joel teaches us, translates into free feet under saddle. Her right shoulder drops inward on a unified circle, so I need to strengthen her hind so she is more balanced. She has steadily become softer but she still had a very hard time going backwards. This time, after substantial effort to resist on her part with stiff forelegs and head up, she finally gave & her feet broke free. It was a beautiful moment for both of us! She is much better at moving her front over and I am much better about knowing how/when to ask. Although I only worked with her on Friday, we got a lot done.