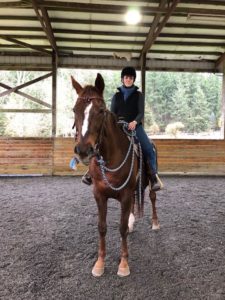 SAFE's Herd Health Manager Melinda is now riding Ben to help get him ready for adoption. Here is what she had to say about her ride with Ben in last month's Joel Conner clinic.
Ben and I participated in the riding portion of the Joel Conner clinic in November. I've just recently started riding him a few days per week so it was great timing to get some insight from Joel. Ben and I developed a rapport when I started doing groundwork with him at one of last year's clinics, so I have enjoyed this opportunity to continue working with him. He's a really fun horse!
Ben did great for the clinic. He was level-headed and calm with the busy activity level in the arena. He focused really well for the majority of the session, only fading a little bit at the very end–but in reality this was likely me that was fading, and him just going along with it.
One of my favorite things about Ben is how responsive he is. He's a very sensitive man and picks up on the slightest cues from his rider. Joel was able to give me some good goals to work toward. Ben and I are going to focus on transitions off of seat aids, and figure 8's to help keep him balanced.
This clinic was a lot of fun for me, because I have gotten to watch Ben's progression in previous clinics with his other rider, Lisa. He's come a long way and I look forward to getting to continue this work with him.