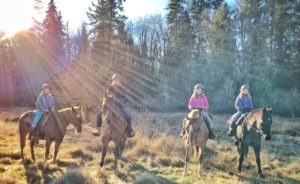 Sometimes we come across families looking for horses that we know will give the absolute best home for any of our horses. The sad part is we might not have the perfect match in our herd while they are looking. When Cosmo was ready to meet potential adopters, we called Rebecca first. Rebecca and her family had come out a few months before but at the time we didn't have the perfect horse. Hoping they were still looking, we reached out. Rebecca told us that the horse they were leasing just wasn't working out as a partner to their older horse Cooper. She was interested in a horse that was safe around her kids and would fit better with Cooper. Cosmo was a perfect match!
This gentle boy, now known as Theo, has become part of the family. Here is what Rebecca had to say about him:
We've spent the last year looking for two horses to join our family. My husband and our girls are new to horses. We needed horses that were patience, kind and tolerant of our kids. We were in search of the elusive 'unicorn' kid/husband horse. We found our first horse Cooper, who is wonderful with the kids and puts up with all the craziness, of life on our farm. However, we were having trouble finding him a buddy. I received an email from Terry about Cosmo (now Theo) and I had a hunch, he might be just what we were looking for.
When I met him, I knew his gentle demeanor would be a perfect fit for our family. He loves the girls and is interested in these little people with endless amounts of energy that come running into the barn to greet him, usually with a herd of friends close at their heels. He gets a lot of love from them and is a constant grooming project. His favorite pastime is rolling in the mud, multiple times a day! His true love is trail rides. Our eldest daughter loves trail obstacle competitions, so I'm sure they will be a great team this summer. As I write this I'm watching both of the horses happily grazing out in the field. He deserves the best in life and we aim to provide him with that every day!
Thank you SAFE for all you do, we feel so fortunate to have been introduced to your organization. A special heartfelt thank you to Terry. She spent hours with me, helping me brush up on my horse skills and making sure Cosmo/Theo and I were a good match. We are forever grateful to you and all the volunteers at SAFE that put in countless hours so the horses will have a better life.