Arigato, Ari for short, arrived on a busy Wednesday last week with matted hair, muddy and in desperate need of a hoof trim. Ari is a 4 year old, BLM Mustang from a herd in Salt River, Wyoming. Her previous owners got her from the Adoption Incentive Program in September 2020, but were never able to handle or gentle her. Ari lived at their home, standing in mud without proper care until her feet were long and cracked. They hired a trainer to help them, but they were never able to touch her.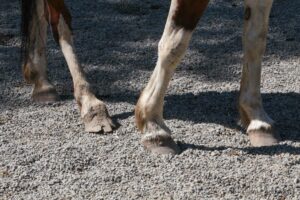 Our plan is to focus on teaching her that human touch is not a bad thing, and that she can always move her feet. Learning that we aren't going to hurt her and we will give her all the time and space she needs to earn our trust. Once we establish that relationship, then we can take care of her feet and other medical needs that require us to be able to handle her.
We immediately got to work, and she has already let Candi, one of our volunteer riders, pet her on the face after only being at SAFE for two days! Ari seems to be a curious mare, watching our volunteers come in each day to clean her paddock, keeping distance between them, but then slowly inching her way over to check out what's going on. We are excited to see this gal bloom into a horse with a bright future.