Edward, along with the herd mates he arrived at SAFE with, Esme and Jacob, were all named after characters from a certain mid-2000s book series you may be familiar with, featuring vampires and werewolves and rain, oh my! Edward, the horse, was named after Edward, the vampire, and it turns out that the two share more similarities than just sparkling in the sun; now at a healthy weight, on those rare winter days when the sun does appear, Edward's coat is positively lustrous liver chestnut.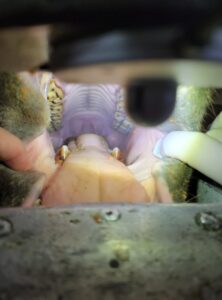 At his most recent dental exam, it was discovered that Edward was hiding some serious sharp points. These points are typically caused by uneven wear on the teeth, and for domesticated horses who tend to chew far less each day than their wild counterparts, routine dental visits are required to check for and remedy such situations. After a bit of filing from our vet, Edward was back to being fangless – a much healthier and more comfortable situation for him.
We might brag a little about how proud we are of this young gelding. A lot has changed for him over the last months since coming into SAFE and he has hit a good stride in his training and preparation for adoption. He had very little to no issue with our vet, getting sedated or having his first ever dental examination. Very proud of the good citizen he is becoming!