We've had to stay pretty quiet about the situation with the Fall City Forty for two reasons. One, because we were being threatened with legal action for our involvement in this rescue mission; and two, because we were holding out hope that we would be allowed to return to the Fall City property and continue caring for these horses. We feel it's time to let our community know what happened, and what is continuing to happen.
First, some background. The horses we called the Fall City Forty were wild horses, originally rescued from Yakima. There were between 14 and 23 horses in the original herd, but because stallions and mares were turned out together and allowed to breed freely, the herd grew in size to the 40 that we encountered last June. While the owners of the Fall City property had originally agreed to let some horses live there temporarily, the situation had grown well out of hand: horses not being fed, not receiving vet or farrier care, not being gentled, handled, or trained, not being adopted to new homes. These horses were just being stockpiled, and all the while their owner was collecting more and more horses from auctions and feedlots.
The property owners wanted the horses gone, but their owner would not remove them. In late June, the property owners had a lawyer send notice to the horses' owner that they had 15 days for the horses to be removed, after which time they would be considered abandoned under the law. The horses were not removed within the time allowed. The property owners then invited SAFE to come in and assist them in finding new homes for the 40 horses.
On behalf of the property owners, SAFE came in and began working with the horses. We had tons of hay delivered to the property so the horses could be fed 2–3 times per day. We photographed and cataloged the herd, and put the word out that we were looking for people who had experience with unhandled horses who might be willing to adopt them. And we began taking first steps toward gentling these wild animals and helping them become accustomed to being around humans.
Public support for this rescue effort was tremendous. Over 350 people made donations to help these horses and we received adoption applications from more than 40 people. We carefully selected those that that had prior experience working with wild, unhandled horses, and who had the resources necessary to provide regular and sufficient feed, veterinary and farrier care, and training. We conducted phone interviews with candidates to learn more about them and pair them with suitable horses from the herd. We did reference checks with veterinarians, trainers, and personal references. And we evaluated the suitability of new homes with photos and videos taken on site.
One week after we began working with the Fall City horses, a cease and desist letter from an attorney representing the horses' previous owner was delivered to the property. The letter was addressed to both the property owners and to SAFE, and demanded that we cease our rescue efforts immediately. Because the property owners had taken the necessary steps to establish the herd as abandoned, we were not overly concerned about the cease and desist demands. But for our protection, we hired the same lawyer who drafted the 15 day demand letter for the property owners to represent SAFE, and we continued with our work on their behalf.
The next week, with the help a wonderful group of horsemen and women, we began preparing these horses for the next step in their journey towards better lives. Over the course of two days, 15 of the 40 horses were safely and calmly loaded onto trailers and sent off to new homes. Those who stayed behind continued to be gentled. We began strategizing the best and safest way to geld the many mature stallions who remained. This itself was not an easy problem to solve, but given time, we were confident that these stallions would no longer be capable of bringing more unwanted horses into the world.
It turned out that time was the one thing we no longer had. With the rescue operation in full swing and great progress being made, we were informed that rather than risk a lawsuit, the property owners had decided to try to settle with the horses' former owner, and allow that individual to take the horses back. Although they were satisfied with the work that SAFE had done and the incredible progress we had made in a very short time, the property owners were no longer willing to fight for the well-being of these horses.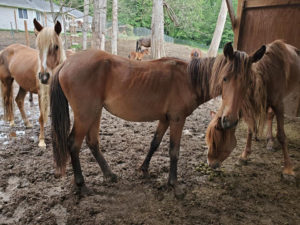 This was a crushing blow. It wasn't just the work or the money that we put into this rescue effort. We'd come to care a great deal for these horses. We'd gotten to know them, given them names to suit their personalities, and started to earn their trust. We were deeply invested in helping all of them get new homes where they'd no longer go hungry. And we were SO CLOSE. The horses were getting healthy with regular feedings. We were winning the confidence of the shyest among them. We had more approved homes for them to go to, with people who genuinely wanted them. It was all going so well…and then it all came to a crashing halt.
Immediately after the property owners gave up the fight, the attorney representing the horses' owner came after SAFE, demanding the return of the horses that had been placed on behalf of the property owners and threatening lawsuits against us if we did not comply. We did not comply.
As for the rest of the Fall City horses, we held out hope until the very last minute that somehow we would be allowed back in to help them. But it was not to be. Our attempts to convince the horses' owner to allow us to find new homes for the Fall City horses were ignored. And last week, their owner was able to move them to a new property. They remain in King County. They're back to having to rely on their owner for care. Maybe this time things will be different…but based on past history, we remain very concerned about the well-being of these horses, and the many other horses owned by this same individual.
Thanks to the many people who helped with the Fall City Forty, we can take comfort in the fact that 15 of those 40 souls are safe. There is another large group of horses on a property in Auburn belonging to this person and we're told that they are in the process of being evicted. So if you or someone you know is approached by someone looking for help to quickly move a large group of horses, please feel free to contact us for advice.