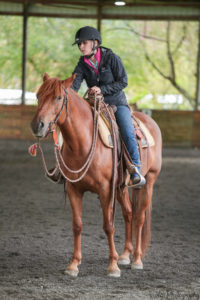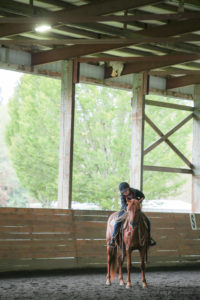 Fancy is growing into a beautiful young mare with tons of potential and promise. She is will continue working with SAFE to establish the foundational riding work before being made available for adoption. These early months of riding are key to laying the groundwork to insure a future without trouble. Casey has done a masterful job guiding this mare through the process and she's created one fantastic riding horse.
Here is what Casey had to say about working Fancy in her first horsemanship clinic:
Fancy has been coming along really nicely, and she did amazingly well in her first clinic setting in September. Though she did get a bit bothered when the energy picked up around her, I was able to keep her out of trouble. Moving her hind quarters is soft, and she's really developed fluidity when she comes across in the front. She is a very forward-thinking horse, so I've had to go back to working on having her feel of me to go down through transitions from trot to walk, but each ride I see improvement. I'm starting to pick up on two reins to get a soft feel which is coming along, but she is a bit braced when backing. Under saddle, she can be a bit opinionated, but that spark makes her a great partner. On the ground, she is very respectful, and the volunteers often comment on how well-mannered she is to be around in her paddock and to lead in and out. Fancy has been a great teacher.